This year, I made it. I got my overpowered piece of junk electric tractor into The World's Greatest Junk Parade!

Last year, I took this old GE Elec-Trak frame and added a forklift motor and 6 Nissan Leaf Cell Modules. The driveline was a little complicated, and I didn't get it working in time for the parade.
Here's the video playlist of when I built the tractor:
https://www.youtube.com/playlist?list=PLmHss3DBZUinqLnG4PfwmPNDahBeFLu1t
A few days ago, I pulled the tarp off this tractor in my backyard and looked it over to see if I could get it in the parade. I had some issues with the Open Revolt 500A motor controller. It kept giving an error code, so I swapped it out for my 300A motor controller. That one worked a little better, but I tracked the issue down to some corrosion on the DC Forklift motor. The commutator itself wasn't in good condition, and two brushes were stuck. I freed them up and ran a commutator stone to clean up the copper. After that, it worked great! (So the issue probably WASN'T the Open Revolt at all, but I had already swapped it out!
My daughter, Sophie, and I planned to exhibit in the parade. I'd drive the tractor, and she would ride her rebuilt electric ATV. The parade route is about four miles. I doubled the size of the batteries in her ATV, so I figured it would last the length of the parade route, but I had no idea for sure!

We hitched the utility trailer to the back of the 2012 Mitsubishi iMiEV electric car and loaded up the tractor and ATV. Then, we drove to Rome, Wisconsin, where the event would start.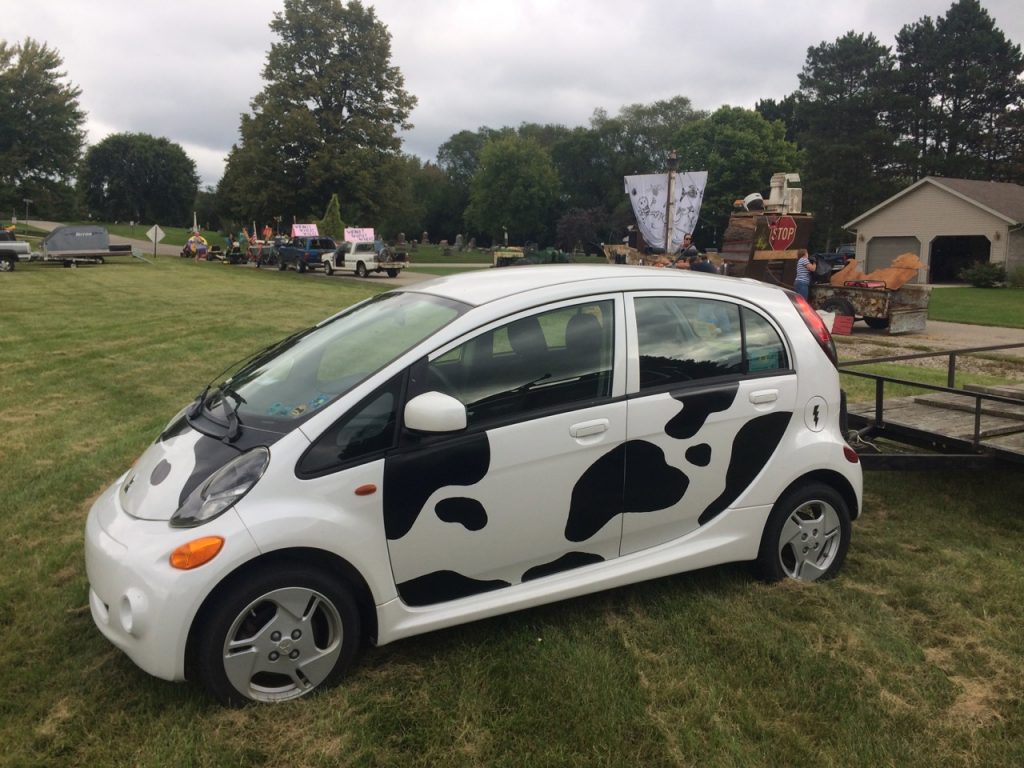 When we made it to the Fireman's park, we checked in with registration and unloaded. It was fun watching all the other floats come in. One of the best was a full-size pirate ship. (Junk for Sail!) Another was the Zombie Apocalypse Now, featuring a full-scale helicopter and the undead.

Once the parade started, we were now rolling down the streets in front of crowds of cheering beer-drinkers. The parade is basically one big excuse for a party.
When people recognized that it was a Wheelie Bar on the back of the tractor, they would holler for me to pop a wheelie. As long as there was enough space in front of me to safely do so, I could comply, and the crowds would cheer!

Sophie did a great job of staying with the flow of the parade on her ATV. Unfortunately, she was also in front of me, so when my tractor broke down, she just kept going!
Popping wheelies was fine, but it was actually doing a burn-out on a turn in a gravel driveway that one of the sprocket keys gave way and shut me down. (Of course, I couldn't see what the exact problem was at the moment, just that there was a lot of chain and sprocket noise and the tractor wouldn't move!)

I had to push the tractor to the side of the road. I caught a ride in a utility vehicle with one of the volunteers who got me up close to Sophie. After that, I was walking for the rest of the parade!
I did grab the "trunk" off the back of the tractor. It was a cardboard beer case which I was using to hold my drinks, snacks, multimeter, and tow rope – items I did't want to leave behind. It also made an excellent prop while walking in the parade. I could mime as though I was going to hand out beers or crack jokes about how I was "out on a beer run"!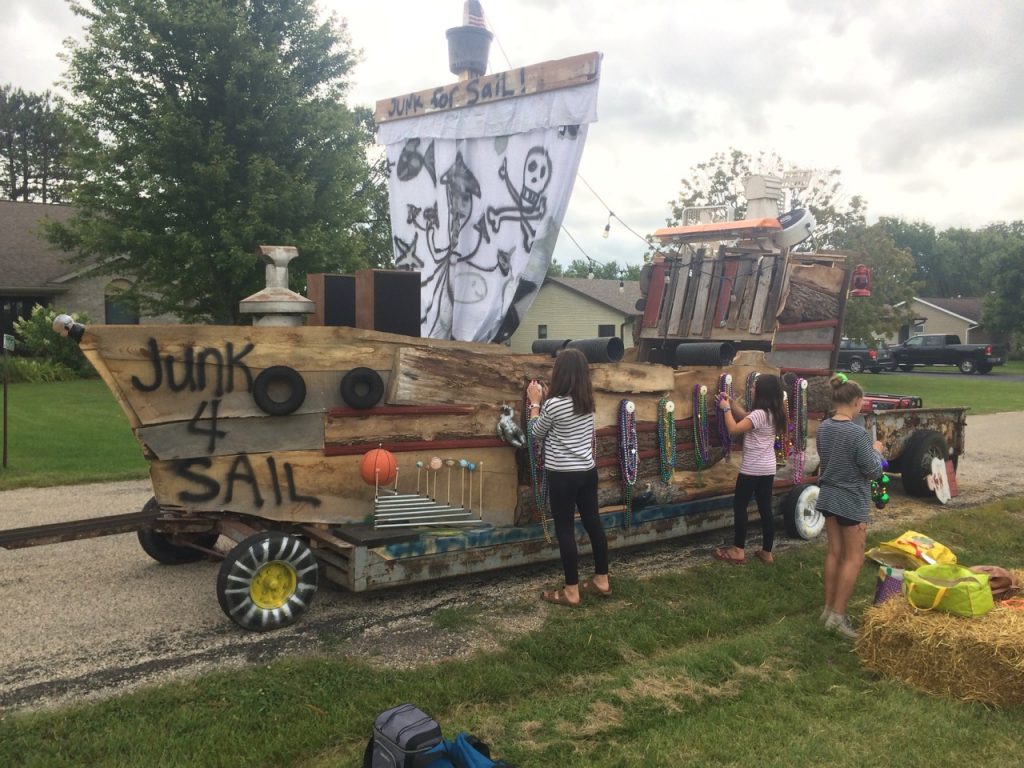 At the end of the parade, we stopped and watched some of the other floats come in, including a great family-themed Jurassic Park cart, complete with dinosaurs and the little kids in Park Ranger uniforms. Sophie had a great time, even while my legs were killing me. We grabbed lunch and a snow-cone, as all great summer events need some good festival food to go with them.

I was a little disappointed that the tractor broke down, but it sure was a blast up to that point!

We'll be back next year, and will probably try to plan something a little bigger and more interesting, possibly a float with some friends.

Until next time, stay charged up!
-Ben Nelson
Helicopter blade spun, had collored smoke and shot confetti.

Junk Pirates

Our tow vehicle.

Sophie is ready to go.

Powered picnic table.

Technically, it's a pickup truck.

I also wore a silly hat.

My daughter during the parade.

I liked this little boat. I think it was originally a sandbox, mounted on an ATV frame.

Jurassic Park float deflating their dinosaurs.

Broken down on the side of the road. Damn you, 3/16keyway and set screw!

Sophie's ATV was "junked up" with toys and dolls.

All electric tow-rig with all electric parade units.

Tractor and ATV on my trailer.