Batteries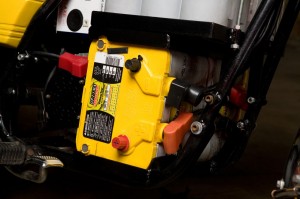 This motorcycle is powered by four off-the-shelf batteries. They are Optima Yellow-Tops, rated at 55 amp-hour capacity, and cranking current of nearly 900 amps. They are AGM – absorbed glass matt. That's a style of lead-acid battery that is sealed up and the electrolyte is soaked into coils of fiberglass matting. They cannot leak, spill, or slosh around.
While there are other types of batteries available, this seemed to be the best combination of price and performance for my project. "Flooded" lead-acid batteries are really not acceptable for a motorcycle. Besides being challenging in adding water, the movement and possible tipping-over of a motorcycle would not be good for flooded batteries.
Sealed lead-acid batteries (VRLA) would also be fine, as would gels. However, neither of those can crank the power as well as an AGM can, which is what gives the cycle good acceleration. Lithium batteries are excellent for weight, capacity, and power, but are currently only for those with higher budgets. If you use lithium batteries, everything else about the project is the same, except for a different battery charger and a battery management system.
Figuring Range
Going back to some simple math, we can get an estimate of motorcycle range. I have four batteries, each of which is 12 volts, but they are wired up in one series string of all four of them, so it's really 48V in total.
The batteries are rated at 55Ah.
So, in theory, 48V x 55AH = 2640 watt-hours capacity. 100 watt-hours per mile is a typical ball-park number for energy consumption per mile on an electric motorcycle. (Of course that does vary by weather, speed, riding style, etc.) But this is just a rough estimate.
2640/100 = 26.4miles
Just a real rough estimate, but it's good enough to say "Will this vehicle meet my needs? Will it perform the way I want it too?"
In this case, yes. I only live a couple miles outside town, and the next town is ten miles away. I can use this cycle to drive all over locally, and head to the next town over and back on one charge.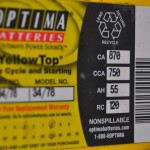 In real-world driving tests, the single-charge range of the cycle came to 23 miles if I drove full-tilt, and 32 if I was doing easy acceleration and in the city 25 mph zones.
Mock-ups and CAD
Lead batteries are NOT light. It helps to make a mock-up from foam or cardboard, so that you have a LIGHTWEIGHT, easy-to-handle version of the battery to experiment with. I like to think of this as the poor-man's C.A.D.
If you are into computer design, there are many great programs out there to help you create 3D images and think in three-dimensional space. Google Sketchup seems to be getting fairly popular. Still, you really can't beat an actual, physical object in your hands. I just prefer something that weighs less than lead.
In my earliest version of the cycle, I had three batteries in it. Then I moved up to four (for more range and higher top-speed.) I was never sure how to fit four inside the frame in a way that fit well and looked good. By using cardboard mock-ups, I was able to experiment with various arrangements of batteries until I found one that I liked. In this case, the fact that I could mount these batteries turned on end allowed me to come up with a configuration that I liked.
Once the size and number of batteries are decided on, they need to be physically mounted inside the motorcycle, and solidly connected to the frame.
Here's a little video for you explaining one way to use cardboard to make your life easier designing and working on your electric motorcycle.
Next: Battery Rack —>