BUY NOW – Ryobi 18V Light Bulb Adapter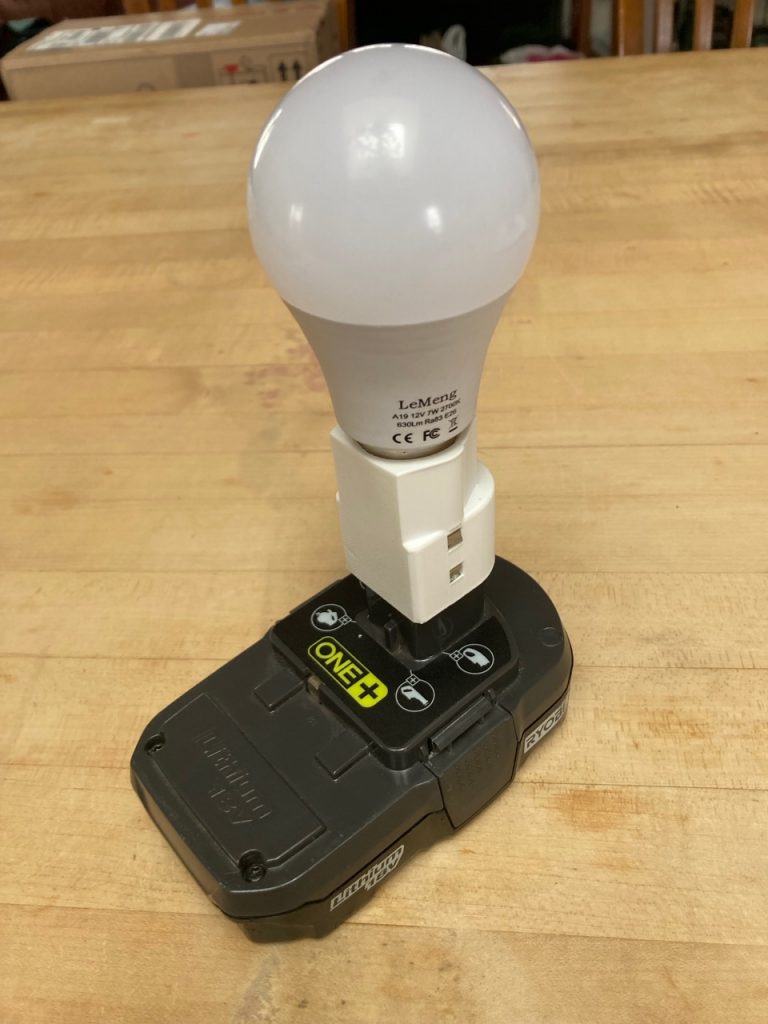 Because there has been such interest in our Ryobi light bulb project, we have decided to sell a test run of them.
The Ryobi adapter is 3D Printed of PLA plastic and is designed to mount a low-current, low-voltage LED light bulb to a Ryobi One+ 18V battery.

Intended use is to make an inexpensive and simple lighting alternative to brand-name commercial products which is appropriate for emergency use, camping, automotive repair, and otherwise making good use of the Ryobi batteries you already have.

The light bulb for use with the Ryobi adapter needs to be a DC bulb, typically rated as 12V, but which can support a higher voltage. Bulbs like this are often listed as "Landscape Lighting" or for use in RVs.
Mail-order bulbs that we have tested and work well include:
LeMeng https://amzn.to/3qO1Ozv
and Bluex https://amzn.to/3jvJabx
This product is NOT designed for incandescent or 120V bulbs.

A 7 watt LED bulb will run for 10 hours continuously on a 4AH battery.
(Battery is NOT included.)

The adapter is $10, with you providing your own bulb. You also have the option of including a bulb from us in the drop-down menu. Make sure to select whether you want just the bare adapter, or the adapter and a bulb. Quantity is selectable after clicking the BUY NOW button.

Hand-manufactured in Wisconsin, shipping to United States only, via First Class U.S. Mail.