Electro-Metro
https://www.youtube.com/playlist?list=PLmHss3DBZUilepzTmr-XAVwpRRCqMv7Ny
Hey folks, if you are looking for information on how to build your own affordable, DIY, Electric Car, you've come to the right place.
A few years ago, I had gotten sick and tired of driving crummy cars that leaked oil and used too much gas. I started looking around and found out that people were building their own electric cars, and that it didn't have to be complicated or expensive. I started hunting for a simple used car and eventually found a nice little 1996 Geo Metro.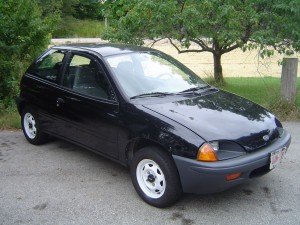 The Electro-Metro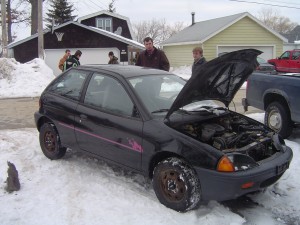 Geo Metro as originally found for sale
Here's what the Metro looked like when I originally found it. It had a few dents, rusty rims, and a bad transmission. I could only test drive the car by starting it in gear and making left-hand turns, as the hood was up so the seller could complete the starter circuit.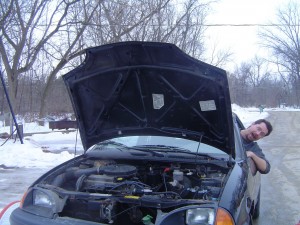 Dramatic re-enactment of the test drive
I bought the car for $500, rented a car dolly, and towed it home. I pulled out the engine (with a clothes line – seriously) sold the engine, gas tank, exhaust system, etc. for a total of just a little over $500. Including the car dolly rental, I still came out about $20 ahead on buying the car.
Of course, my phone had to ring the whole time while my hands were full pulling the engine.
"De-ICE-ing", removing all of the Internal Combustion Engine system components, can be messy. I didn't have a good way to drain the gasoline from the tank either. THAT was messy.
The project was much more fun to work on after that. The next big component was the motor. I found a rummage sale where a guy had half of a forklift in his garage. He was selling parts off of it. Inside was a big motor. Icky and rusty-looking, but very serviceable.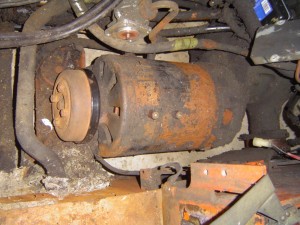 The car's motor as it was found in a forklift.
I paid $50 for the motor, threw it in my trunk, and drove home. Even though I had never opened up a motor before, it was really easy to work on. It's only a couple of bolts that come out, and there are very few parts inside. I bought new brushes for the motor, (another $50 from a forklift motor shop) degreased the whole thing, re-varnished the coils, threw a coat of paint on there, and put it all back together. I now had a car frame and like-new motor for only about $100 out of pocket.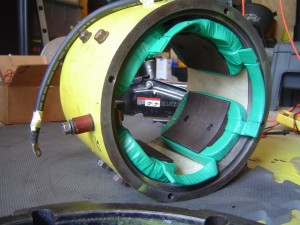 EV Motor clean, with fresh varnish and paint.
To see a playlist of ALL THE VIDEOS I shot on this project, watch at: http://www.youtube.com/playlist?list=PL2077F803C62CF0E5
The motor ended up needing some modification as well. To fit in the car, I had to chop off the tailshaft.
I'm currently adding in detail of all the work I put into the project. Please check back often for updates!
In the mean-time, check out my YouTube video account for videos on this and other projects!
http://www.youtube.com/user/BenjaminNelson
One big thing I've done on this project was that after I was done, I created an instructional DVD teaching about every step I put into this project. That DVD is two hours of "how-to" training and also included a ROM disc of all my YouTube videos, all my photos of the project, tips and tricks, web links and more. Check out the DVD at: http://300mpg.org/electric-car-instructional-dvds/