iMiEV Heater Installation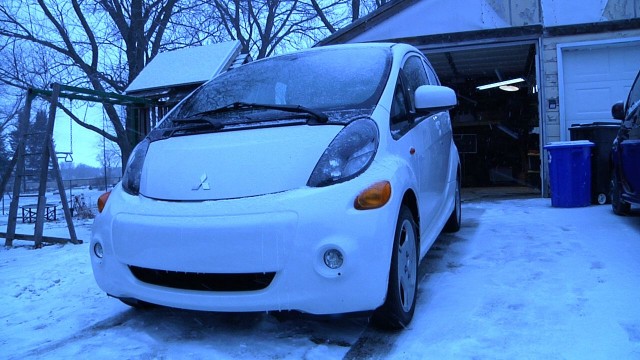 Overall, I love my little electric car, the Mitsubishi iMiEV. It's a good, affordable, all electric commuter car.
It's one shortcoming is that it was never designed for COLD Wisconsin winters. The heater is electric (of course!) but it heats a liquid antifreeze (coolant) which then circulates through a heater core, where a fan finally blows the heat into the car. It's not particularly efficient and has a bit of a warm-up time. On top of that, the system only heats the coolant to around 140 degrees Fahrenheit. Most typical gas cars keep the engine coolant at 190 degrees once they are at temperature!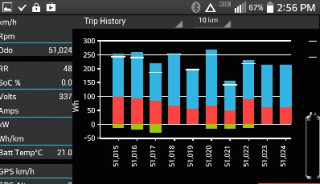 The car also has the smallest battery pack of any commercially-available battery-electric car in the United States. Combine a small battery pack with an inefficient heater, and a Wisconsin winter, and it becomes a recipe for short range and a cold driver. In this screen grab, red shows energy used by the heater, and blue shows energy used to push the car down the road. When it's really cold, range can be shortened by a third or more!
So, after reading lots of information about "Winterizing" these cars on the MyiMiEV forum, I decided to install a dedicated fuel-burning heater. The heater I chose was one already used by several of those forum members. It's a generic version of an Espar 5kW liquid heater. My heater was roughly $500 and was purchased through Aliexpress.com. You can also find the heater through the manufacturer's web page. It's the 5kW 12V Gasoline version.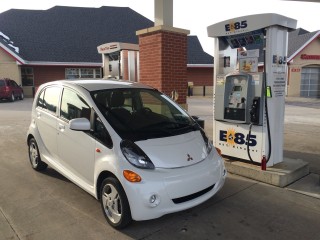 So, far, I'm running the heater on E85 from my local gas station. I have a friend who makes his own ethanol from scratch, and I intend to get some pure, sustainably produced ethanol from him. Even with the heater running full blast, fuel use translates into hundreds of miles per gallon.
Mounting the heater in parallel with the original electric heating system allows me to use the electric OR liquid-fueled heater, and I can still use the car's electric "pre-heat" feature. I intend to use the fuel burner when it's either very cold, or when I have concerns about range, due to the electric heater otherwise sapping power.
In effect, what I am doing is using a liquid fuel for heating, to maximize battery energy for propulsion – trying to "use the right tool for the right job"!
After the heater arrived in the mail, I first rigged it up on a stand in my garage to learn what I needed to do to hook it up and test it. I also shot some thermal video of the heater running hot water into a bucket as an initial test.
Once I had a basic understanding of the heater, I started the process of the actual installation of the heater into the car.
What follows is a series of 6 videos showing step by step how I installed this heater in the car.
A big Thank You to other Mitsubishi iMiEV owners who have shared information on modifying the heater systems in their cars! I hope these videos help anyone else who is interested in hybridizing their heating system in cold climates!
I'll add some more information here as I get more experience using this heater!
-Ben Nelson