Greenworks 80V Chainsaw Review
Recently, we had an opportunity to check out a Greenworks Pro 18″ 80V electric chainsaw with a new owner. We tested the saw on a windblown tree and used the time to see how we liked the saw.
Besides the saw, the kit also includes a 2AH, 80V battery and quick charger. This kit lists at $349, but can often be found for around $300 street price. https://amzn.to/3i0p3RY
It's also available as a "bare tool" for those who already have an 80V battery and charger. https://amzn.to/3t4Auyk

We also had a 4AH battery with us for additional cutting time. https://amzn.to/3pZTkEY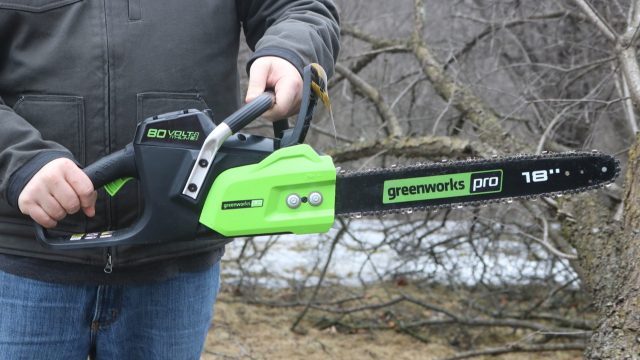 The very first thought on the chainsaw is just how quiet it is compared to gas! There's no idling and even when it's running full speed, it's quieter than our electric kitchen blender. Of course, ANY brand and voltage of ELECTRIC chainsaw is going to be significantly quieter than a gas counterpart.
Another huge advantage of electric is ease of starting.
We put the 2AH battery in the saw. It just drops in vertically and locks in place with a confident click. The user has to press a power button, which then causes the saw to chime three times and turn on a green LED. At that point, the saw is ready to go. Just press the safety with your thumb and pull the trigger and the blade springs to life. No having to pull-start a gas engine!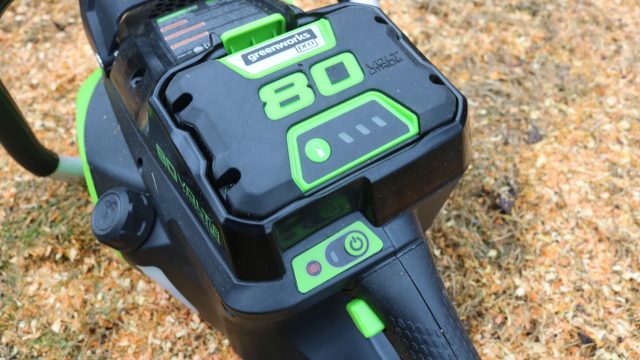 In using the saw, we also found another safety feature. If not used for about a minute, the saw automatically powers back off. The user then has to press the power button again. However, it's neither slow nor inconvenient. Just hit the button and you are ready to go again. We liked this as a safety feature and could imagine how that could protect somebody's child who came to look at the saw while the user had set it down to move some logs or branches.

Speaking of safety, the Greenworks 80V also features an Anti-Kickback bar. In event of kickback, the guard in front of the user's left hand gets struck, powering down the saw and engaging a blade brake. That's a feature we've seen missing on many basic electric chainsaws.
The saw weighs 11.2, 15, or 17 pounds, depending on whether it is the tool only or has installed the 2 or 4 AH battery respectively. That's enough that it feels very solid, but isn't too heavy. It did make me want to let the saw rest on the wood and let the weight do the work.
Run time is estimated at 30 minutes for the 2 AH battery and 60 for the 4 AH battery. Since the 2 AH battery can fully recharge in 30 minutes, that means that if you have a pair of batteries and put them on charge as soon as you are done with them, you can essentially cut all day, just by swapping batteries. This does assume you are in your backyard, not deep in the woods away from an electric power source.
Most of the work we did with the saw was on a tree which had blown over this winter. It wasn't a particularly large tree, but it's probably a very good example of what a typical home-owner would need to use a chainsaw for.

The saw easily buzzed through the small branches and made solid cuts on the thicker, 7-inch diameter, wood of the trunks closer to the ground. In fact, the 18″ blade was far longer then needed for this type of work. So, we next hunted down something thicker. We next found a 12″ diameter log, and the saw went right through it.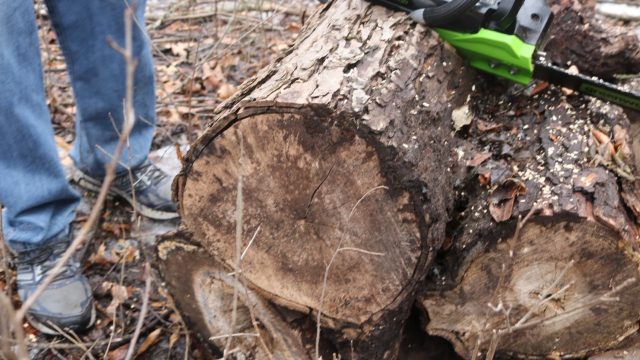 Although the Greenworks chainsaw is electric, it still uses oil. BAR OIL, that is. The saw features an automatic oiler which did a good job of lubricating between the bar and the chain rotating around it. The front of the oil tank is translucent so that you can see how much oil remains.
This saw features a professional style tensioner. There's two bolts and a screw. Loosen the bolts, turn the screw to tension the blade, and tighten the bolts again.
We also compared the Greenworks to a Stihl saw at the same property. Frankly, they seemed pretty comparable in terms of weight and size. One thing we did notice is how the Stihl had very long and aggressive bucking spikes on it. The Greenworks was a bit shorter and the tips of the spikes were more rounded. But it was really only in comparing them to the Stihl that they seemed like anything lesser. The next day, we took a look at a Ryobi 40V chainsaw and noticed that the bucking spikes on it were mere plastic bumps that were part of the casing!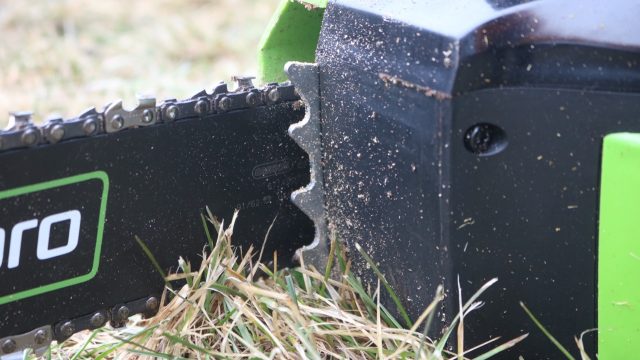 Overall, we really couldn't find anything lacking with the Greenworks 80V 18″ saw. It's plenty powerful and with the long bar, there should be absolutely nothing a typical homeowner wouldn't be able to do that they could do with a gas saw. It really felt like an electric tool that had complete parity with a gas tool. BUT it's also quieter, lower maintenance, and starts with just the pull of a trigger. No more carrying gasoline in your car, or fooling around with spark plugs or carburetors. Pull-starting a gas chainsaw was also never my favorite task!
If you want to go to an electric chainsaw, this would be a good one. The only caveats we would have would also apply to other saws. Think about how you are investing in a particular BATTERY system, and how else you would use the system. I don't know about you, but I don't use a chainsaw all that often. It's great to have after a storm, but most the time, it's just sitting in a box. Think about what other tools you might use and that the brand and voltage are appropriate for that.
For example, the owner of this saw also purchased a Greenworks 80 self-propelled lawn mower. That mower will be used weekly all summer, and runs on those same batteries. If you are in a cold climate, you might consider the matching snowblower. (https://amzn.to/3t5JS4J) That way, those batteries are useful to you all summer long and then also in the winter!

Lastly, it's typical of almost all chainsaws to leak bar oil while in storage. To prevent that, run the bar oil down to almost nothing or simply drain it when done with the saw. At a bare minimum, store the saw in an appropriate case or tray, or set it on some scrap cardboard.

TLDR; It's a great saw. If you are in the market for one and haven't already invested in another brand or system of batteries, just go get it.