EV Cycle Parts Suppliers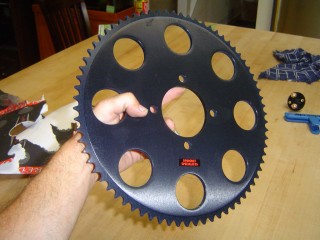 If you are interested in BUILDING an electric motorcycle, and wondering where to get parts from, don't worry! There are PLENTY of places to get the components you need.
In fact, EV motorcycles use many parts similar to those used on scooters and electric golf carts, so there's plenty out there at reasonable prices.
The suppliers I used are as follows, but there are MANY places you can buy motors, throttles, chargers, and other parts for your project!
Cloud Electric
I ordered my Alltrax motor controller and 0-5Kohm electronic twist throttle from Cloud. They also have chargers, motors, instrumentation, and plenty of other components available.
On-line Scooter Parts Store
I ordered several parts from an online parts store like http://www.electricscooterparts.com
It's a fine place to order throttles and chargers from. I originally ran a low-power 48V charger on my cycle from such a store and also ordered some replacement cycle parts from there, such as a turn signal switch.
Custom Sprocket http://www.sprocketspecialists.com/
I ordered a custom higher-tooth-count rear sprocket from Sprocket Specialists. You just tell them what cycle you have, what chain you want to use, and how many teeth, and they will make a custom sprocket just for you.
Farm & Fleet / Tractor Supply / Large Full-Service Hardware Store (Find locally)
Lead-acid batteries, chain, chain breaker, master links, and front sprocket can all be found locally at a good full service hardware store. In my area, we have a few stores called Farm & Fleet. You can get everything from blue-jeans to tools, to tractor parts. Tractor Supply is another store that will have sprockets, chain, and other hardware for your project.
eBay – http://www.ebay.com/
eBay has everything. If you need a replacement disc brake for your cycle, you can find it, or anything else, on eBay. I purchased my BXB100 DC/DC converter for $10 from eBay.
Other lists of suppliers:
The Electric Automobile Association has a page of links of dealers, suppliers, conversion companies and more. Click their link and scroll about half-way down to see parts suppliers.
MAEAA Links page
http://maeaa.org/links.html has a great compilation of links, including parts suppliers.
Here's some additional supplier links below.
Canadian Electric Vehicles Ltd.:  EV parts and conversions
Electric Vehicles of America, Inc.:  electric vehicle parts
ElectroAutomotive:  electric vehicle parts
EV Components, LLC:  EV parts and supplies
EV Propulsion:  motors, adapter kits, chargers, controllers, battery boxes ect.
EV Source:  Zilla controllers and Manzinta Micro chargers
EVolve Electrics:  …where we provide both the knowledge and EV parts necessary to convert your gas-guzzler into a full electric vehicle.
EVParts:  formerly Wilde Evolutions
EVsNorth West:  electric bikes
Grassroots Electric Vehicles:  motors, controllers, and more
KTA ServicesInc.:  Nice folks
Largo Scooters:  Stealth Hub ebike conversion kits
MES-DEA:  Zebra batteries, Mes-Dea inverters, AC motors and accessories for Italian market
Metric Mind:  Siemens AC drive motors and controlers
Nu-Kar Electric Vehicles:  Citicar and Comutacar Parts
PowerTronX:  Electrical Supplies for Automotive, Electric Vehicles, Industrial Equipment, Marine Applications and the Home
SD Scooters:  Electric scooterparts
And, OF COURSE, you can get your BUILD YOUR OWN ELECTRIC MOTORCYCLE instructional DVD right
HERE on 300MPG.org!
Good luck on your project!
-Ben