Elec-Trak E10 Tractor
After building an electric car, the irony wasn't lost on me having to drive that electric car to a gas station to buy gas for my riding lawn mower.
Two weeks later, I got a phone call out of the blue from someone I had never met before, asking if I wanted to buy his old GE Elec-Trak riding lawn mower. The mower wasn't in great condition, there was plenty of rust on it, and even a tree branch growing through the rear axle. I started cleaning up the mower and getting it to work again.
Here's a video overview of doing a little repainting:
In that video, I was working on cleaning up the rear deck of the mower.
Here's the deck as it was when I got it, other than that I removed the seat.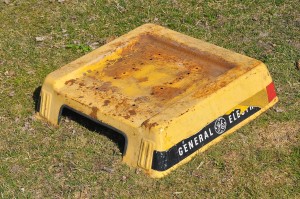 Here is the deck after paint stripper, an angle grinder with a flapper disc, and a drill with a sanding wheel on it.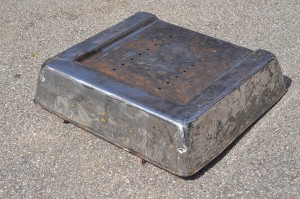 After all that, I finally got to prime it.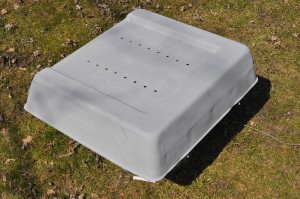 It's a lot of work to clean up like that. I really haven't done any restoration work before, but I am pretty happy with how this looks primed up.
A while back, I did spend a weekend over at a friend's house doing some major work on the tractor. We had to pull it apart to replace the bearings that held the steering in place. We also pulled off the front wheels, cleaned and painted the rims, and put on new tires.
In the above photo, you can see the cleaned up rims and new tires. The hood is laying on the ground to the right, repainted, but not mounted.
I still have more work to do to restore this mower, but I sure feel better about not using any more gas to putt around my yard!
Some of the smaller parts were powder-coated. Powder-coating requires heating, so there was a size limitation of parts I could do. The parts had to fit inside my friend's garage electric oven.
NEW RIMS
Removing the old rear rims was a big pain in the you-know-what! We ended up breaking a Snap-On puller on the one rim, and had to cut the other one off.
My buddy, Tom, salvaged some decent rims for me from the scrap yard. They were for 3/4″ driveshaft, and I needed 1″. I bought a single foot of 1″ID steel tube and gave it to my other buddy, Rich. He drilled out the old middles with a hole saw on his big lathe. Turns out the hole saw was the exact diameter of the outside of the steel tube. He just slid it in there and welded it in place! Poof! New rims. I already had the new tires. (They still make the same tread pattern!) I pulled new valve stems through the rims, and wrestled the tires on. Brand new tires, and rims, with that stock original look!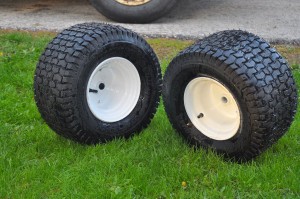 EDIT: And four years later…. Here's what I did. Some welding on back corner, as well as wheel work. The one tire wasn't holding air anymore. http://300mpg.org/2014/05/19/electric-tractor-repair/