Electric Motorcycle – KZ440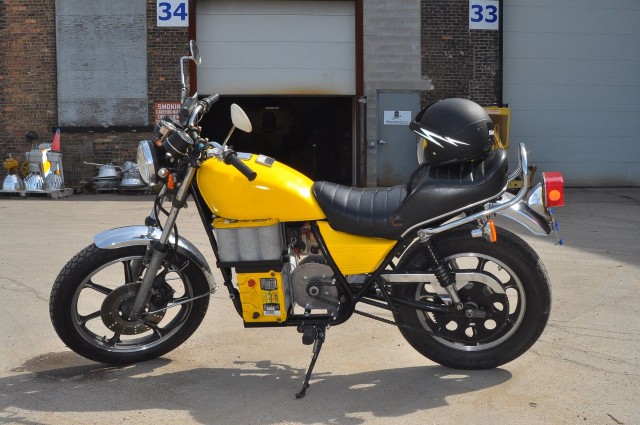 Hi Folks!
If you are interested in building your own electric motorcycle, you have come to the right place! I'm working on posting all the information on how I built my own electric motorcycle to share with your. If you are ready to jump right in to building your own, please check out my BUILD YOUR OWN ELECTRIC MOTORCYCLE instructional DVD set!
Here's a teaser video to get you going.
My electric motorcycle conversion DVD is now available IN FULL, for FREE on YouTube. Watch the PLAYLIST HERE.
For "Chapters" of how I built the cycle, please see the links on the sidebar, or click the links below. I'm currently going through and adding in all the details to this project. Don't worry if all the detailed info isn't there yet, I'm going to keep adding to it!
Donor Bike and De-ICE-ing LINK
Motor Controller and Throttle LINK
Parts supplies and other links
The cycle uses a single-speed gear reduction. 14 tooth on the drive sprocket, and 72 tooth on the rear wheel sprocket. This low gearing was designed to give the bike good acceleration, with a top speed of 45 mph, the top speed limit in the area that I use the cycle in. (I mostly use it in the city, where it's all 25 mph zones.)
The Briggs & Stratton Etek motor is rated at 150 amps continuous, and rates as a 8 – 12 HP motor, depending on voltage. With my 300 amp controller, and 48V of batteries, that comes to about 20 HP peak, which you get INSTANTLY from an electric motor. If I swapped out the inexpensive drive sprocket ($10 at the Farm & Fleet store) I could probably go 60 or 65 mph and still be within the amperage rating of the motor, although I wouldn't have as good acceleration.
The cycle goes 20-30 miles per charge, depending on speed, weather, hills, etc. on 4 Optima Yellow-Top batteries. It charges overnight with a built-in 48V charger. I've also charged it directly from a 48V 400 watt solar panel.
Here's a video of my friend testing the cycle in the parking lot after updating some work on it.