Ford Ranger EV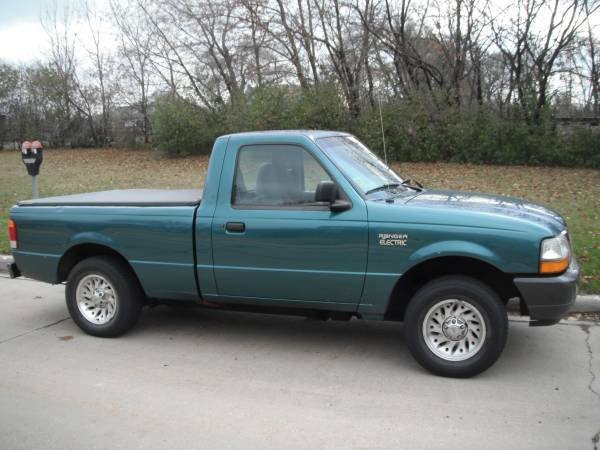 In December, 2018, I had an opportunity to get a FACTORY-BUILT electric pickup truck!
This was a 1998 Ford Ranger EV. Back at that time, GM had built the EV-1 and there were other factory-built electric vehicles on the road. Those included electric versions of the Chevy S10 and the Ford Ranger.
An owner in the Chicagoland area had one of these Ford Ranger EVs. He had ordered a Tesla Model 3, which his wife said he could, as long as he made room in the garage for it! Well, the Model 3 was supposed to arrive a day or two after I got the pickup truck out of his garage, so he was motivated to get rid of it!
The truck originally ran on Lead-Acid batteries. When I received the truck, it was in working condition, but with non-original batteries, and they were in the BED instead of properly mounted in the box under the truck.
The plan will be to upgrade the batteries. Hopefully, I can locate some appropriate lithium batteries from a salvaged electric vehicle to upgrade the truck. Depending on which BMS we install, it MIGHT also be possible to add a CHAdeMO DC Fast Charging upgrade!
The truck was designed with a Avcon charging port – an outdated interface. I'm hoping we can build an adapter to keep the truck's original charge port, but make it compatible with the modern J1772 standard.
For more information about how this truck was originally built by Ford, please take a look at the Wikipedia entry: https://en.wikipedia.org/wiki/Ford_Ranger_EV
Here's a video of the first walk-around, showing off the truck.

How far can the truck go per charge? Once I got temporary plates for the vehicle, I took if for a ride to see what the current range is.

Dec 22, 2018:
I shot some thermal video of the batteries after having gone for a drive:
https://300mpg.org/electric-truck-thermal-video/
Make sure to subscribe to the blog, YouTube Channel, and Patreon to stay updated on this project!
Stay Charged-Up!
-Ben Nelson