SuperTruck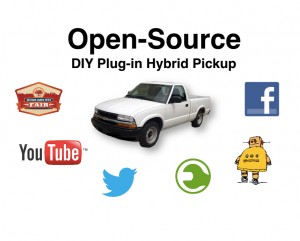 Well, if you made it here, you are probably interested in my "Super Truck" concept. I'm just calling it that right now because DIY Open-Source Plug-In Hybrid Diesel Electric Pickup Truck is more than a mouth-full.
The basic idea of the project is to combine a diesel engine (running on bio-fuels) with an electric motor from a forklift, along with the needed motor controller, batteries, and charger to make a truck that is both high fuel-economy AND a practical vehicle for farm, homestead, and general use.
So far, I have the engine from a Mercedes 240D, an 11-inch series-wound forklift motor, and a Chevy S10 truck and manual transmission. The fun will be in combining the diesel and electric motor, and then working on Open Source electronic designs of the motor controller, charger, and BMS.
I'll add links to the end of this entry as the project progresses, so that I can continue to post about the project as we get more done.
-Ben
Original Blog Post on Project Concept (8/13/2012, includes components photos)
Jack Daniels Contest Entry (8/29,2012)
First test with FIBERGLASS (11.21.2012)
Start of the flat bed cover (11.25.2012)
Foam Bed Cover Continues (11.27.2012)
Four-Way Foam (12.2.2012)
This is Getting Fun (Cover and Driveline 12.8.2012)
Start Removing the Bed (1.7.2013)
Clutch (5.12.2013)
Aligning the Engine & Transmission (5.27.2013)
Firing up the Diesel Engine (7.16.2013)
Glow-Plugs, Part 1 (7.15.2014)
Glow-Plugs, Part 2 (7.16.2014)
Mercedes Manual Transmission (8.7.2014)
T5 Transmission and Bell Housing (8.11.2014)
Wood Adapter Plate Mock-up (8.13.2014)
Documents related to the project:
Hybrid Twist Throttle Concept (PDF
DriveTrain Layout Concept (PNG)