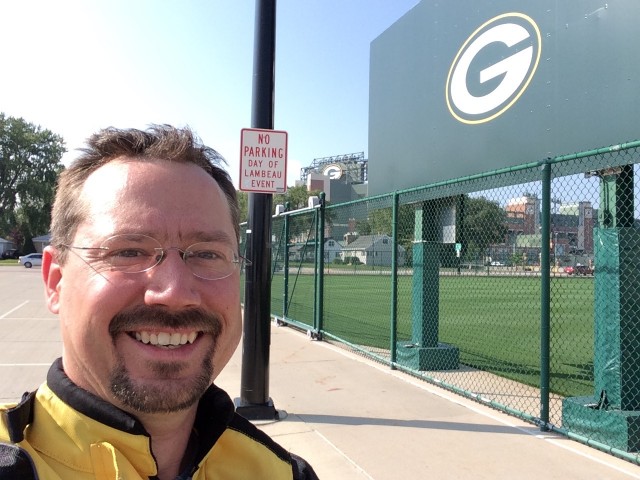 Loop the Lake: Day 2 – From Green Bay to Escanaba, Part 2
Getting from Two Rivers to Green Bay was pretty uneventful. The weather had cleared up and skies were a beautiful blue. The main trick to Green Bay was that it had the LAST public EV charging station in about 250 miles. In fact, it actually had a NUMBER of public EV chargers.
I haven't spent much time in Green Bay, so before the trip I looked up to see what there was to do in town. Of some of the more interesting and unusual places there, Green Bay is home to the National Railroad Museum. The city itself is a bit spread-out. Once in town, I headed south towards the museum, using Plugshare to locate the nearest public charger. The closest one was a ways south, at a Wisconsin Public Service building. That's the power company in the area. Makes sense for them to have electric vehicle charging.
As I got closer to the charger, I realized I was headed AWAY from the Railroad museum. Just ahead was a Chevy dealership. I pulled into Broadway Chevrolet, hoping that I might be able to use a charger there. Many Chevy dealers have an EV charger for the VOLT. Of course, not all Chevy dealers sell Volts, but this was a large place. I was pretty sure they would have a charger, and they were closer to the Railroad Museum than Wisconsin Public Service. As I pulled up to the curb, a salesman happened to stepping outside. I talked to him and inquired about the charger. He said he would check, and then disappeared for a few minutes. When he got back, the story was "Sorry, it's being used right now. It's only 120V anyways."
Interesting that such a large dealership wouldn't even invest in a real 240V charging station, and instead just use a 120V outlet.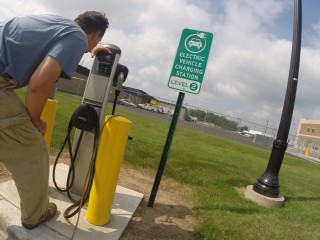 Oh well, I continued south and found the Public Service building. One nice thing was that it was a Chargepoint Charger. Chargepoints have a great mobile app for locating their stations, and even showing if they are in use or not. While charging, you can even check on the status of your vehicle over the internet. That means you can see if it is done charging, or even if it came unplugged. This charger had both level 1 and level 2 charging. Some of their other stations have dual Level 2 cables.
I plugged in. Although it took a minute to figure out how to specifically activate the Level 2 instead of Level 1 connection, I was soon getting some juice. At this point, the only problem was that I was sort of in the middle of nowhere. I checked the map. Although I knew roughly where the Railroad Museum was, I didn't know EXACTLY where it was. Doing a GPS search for "Train Museum" didn't help. Later, I realized I needed to search for "National Railroad Museum". Instead, I flipped my GPS map to satellite image mode and found where a whole bunch of train tracks came together. Bingo. There it was.

I headed north on foot. I was next to a big road. There was no sidewalk. This was an area designed for cars, period. No thought had been put in to pedestrians at all. It was also 2 in the afternoon, and I hadn't eaten since that instant oatmeal for breakfast. Every step I took, I was hungrier than the last. In my haste to find the EV charging station, I had neglected to instead find a restaurant FIRST, get my meal to go, and then find a place to charge. That would allow me to spend time eating WHILE charging. Instead, I was on foot and hungry with no quick way to food. I checked on my map and found an area with restaurants… in the OPPOSITE direction of the Museum. I could tour a museum hungry, or I could skip it and eat. I couldn't do both. My stomach won.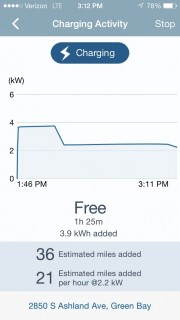 Half an hour later, I had made it up to the next major intersection. I crossed Holmgren Way, dropped off the lighthouse postcard at a post-office, and found my way to a bacon double deluxe cheeseburger. While at Culvers, I used the wifi to check in on how my bike was charging. On the way out, I stopped at an office supply store and bought a pack of silver Sharpie brand markers. These are permanent markers that write silver ink on black material. I had wanted to log my travels right on the side of the bike, and the marker I intended to do that with wasn't working well.
It was still a long walk back to the cycle, but at least I wasn't starving any more. The bike was charged up. It was past 3 o'clock, and I was still supposed to make it to Escanaba, MI today. That was still a LONG way away.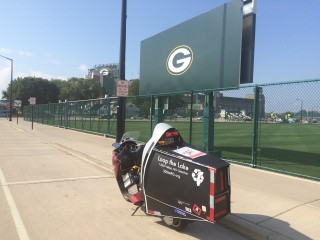 I headed north out of town, criss-crossing Holmgren Way and McCarthy Way. Was any road in this town NOT named after a Packer's Coach? I especially liked the unusual parking restrictions in the area; "No Parking Day of Lambeau Event."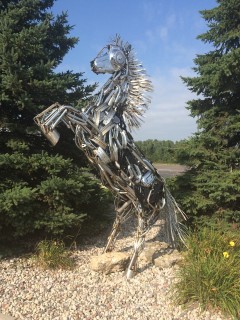 On the north side of town, I had to pull over to take a phone call, so I rode into Vendervest Harley-Davidson. Although I was parked there for a while, there was ZERO interest in my cycle from the leather-clad bikers. Go figure. There was, however, a VERY cool sculpture there – an iron horse made completely from motorcycle parts.
Done with my phone call, I was FINALLY back on the road, this time for real. I turned right on Lakeview Dr. and headed north, hugging the lake as best I could. I continued right through Oconto – Plugshare didn't show any charging there.
After a turn in the road, a small sign pointed ahead, indicating some sort of a park. It was about then that I could really use a charge, and it was the best bet I had seen so far. I followed the curve of the road and discovered the North Bay Shore Recreation Area, complete with a self-register campground! Not only that, but it was an RV campground with  electricity at every camp site.
By now, it was 5PM, going into Labor Day Weekend. While the park was hopping, I still found an empty space easily enough. I started charging, plugging in all three chargers to the 20 and 30 amp connections. Next, I wanted to explore the area. I let the guy at the next space over know that my cell phone number was listed right there on my cycle, and I would be happy to move it if somebody pulled up in their RV.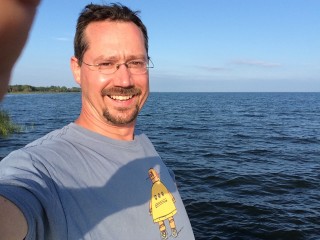 I walked over to the Lake. Finally, without darkness or fog, I had my first real view since leaving Milwaukee. The sky and water were both true blue, with waves rippling north, east, and west. The sun was getting low in the sky. It was beautiful.
At the boat launch, people were still coming in and out of the water. On the breakwater people were fishing. Some folks just walked out to enjoy the view. The holiday weekend was getting into full swing, and people were there to enjoy themselves.
Near the south end of the park was a pavillion that could be reserved and rented. An extended group of family and friends had it boxed in with four giant RVs, radios blaring rock and roll music, bubba-kegs of beer in hand. I checked the electrical there and saw it included 240V power. I snapped a few still images and uploaded them to Plugshare.

I took a few minutes to shoot some video, documenting the trip. This park was the perfect place for me to stop on the way, but I still had many miles to go! Once I had a full charge it was time to ride off into the sunset. Er, well, north, and it was getting towards dark.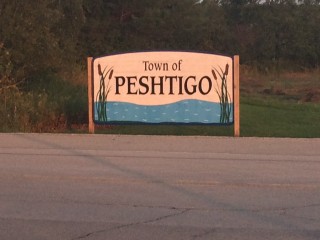 I wish I would have had more time and light. I would have stopped in Peshtigo. That town has a long and interesting history, but it's probably best known as being the center of the largest recorded forest fire in North American history. In October, 1871, a tremendous fire destroyed a million and a half acres and killed somewhere around 2,000 people. And chances are, you have never heard of it. Why? Because the Great Chicago Fire happened on the same night.
Continuing down the road, I saw a… wait. What was that? I'm pretty sure I just saw an ostrich. I doubled back. Sure enough. Fenced in at a small farm were ostriches. Wisconsin keeps getting weirder all the time. Somehow I should expect this sort of thing, but just by turning down the side roads, you never know what you will see.
Enough fooling around with exotic birds. I had to make it to Escanaba tonight! I travelled through Marinette, over the river and in to Menomonee. A "Welcome to Pure Michigan" sign greeted me. I had made it to the second state of my trip. Again, Plugshare didn't show any public charging in town, but it was still too far to make it to Escanaba without charging at least once more. I continued through town.
As it grew dark, I realized two things. 1) There's no street lights out here. 2) Upper Michigan does not believe in reflective materials on street signs.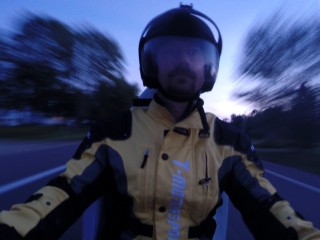 I kept traveling north, but in the dark, and with all signs painted BROWN, even when there WAS a sign, I couldn't read it. There was a county park or two on the way, (which I only realized AFTER passing them,) but they looked like poor prospects for electricity. Finally, I spotted a reflective sign for a State Park! I pulled in.
It was 8:30 at night. No, I had crossed a time-zone, that made it 9:30 at night. At the entrance to the park, they were just getting ready to close up. I saw a sign saying that they did have a campground there. Would they have electricity too? I talked to the ranger and purchased a season pass Michigan State Parks vehicle sticker. I needed to make a decision – would I just camp here for the night, or would I charge and keep riding? I explained to the ranger how I wanted to at least charge, and then maybe or maybe NOT camp that night. She had no problem with me doing either. (The fact that I just spent a bunch of money on the park sticker probably didn't hurt either!) There was only one empty camp-site, and the ranger pointed out on the map where it was, then closed up for the night.
I rode in to the camp-ground. If the people at the last campground were having fun, the folks at this one were having an all-out party. Music was cranked. Most RVs had some sort of festive lights hanging from them. I'm pretty sure I saw at least one disco ball. I pulled out my RV-50 adapter and let the bike soak up 240V power. A ten-year old girl stepped out of the RV next to me, screamed "STRANGER DANGER!!!!", and ran off into the darkness…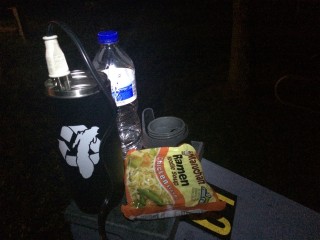 It was a little late for dinner now, but I finally had an opportunity to eat while charging. I plugged in the water heater loop, boiled a pint of water in my coffee cup, then poured it over ramen noodles in my Thermos. Not fancy, but it was hot food. I ate with chopsticks in the dark while sitting on the picnic table. "STRANGER DANGER!!! STRANGER DANGER!!!," as the girl had returned, this time with several friends. This was getting old fast…
I talked with some other campers there. They were fascinated by my cycle and my trip. "Where do you sleep?" a girl asked. I was getting ready to pull out the tent, but I instead told her that it's an RV, "I just fold down this hatch and sleep inside!" I think I had her going for about 5 seconds before she realized I was joking. I'll have to add "Do you sleep in there?!" to my list of frequently asked questions.
I looked at the map. I really wanted to still make it to Escanaba. If I didn't it would just mean that I would have to go that much further tomorrow. Also, I had started hearing rumors of the Mackinac Bridge being closed on Labor Day. If I was delayed and had anything else happen, I might be stuck not being able to cross the bridge and end up an ENTIRE DAY behind schedule! I was supposed to meet up with my friends, Kraig and Tony, and Tony only had the one day off work to go riding together. I packed everything up to trudge on, riding in the dark.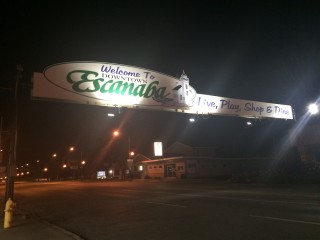 It was really dark out here. At least all I had to do was just keep following the only road. In the dark, I hoped that my reflectors worked well, as speeding traffic would fly past me. I started looking around for the RV park that I originally intended to stay at, somewhere on the south side of Escanaba. I didn't see it. I did see a motel, motorcycles parked out front with their riders relaxing  on the front porch. I kept riding, and made it to town.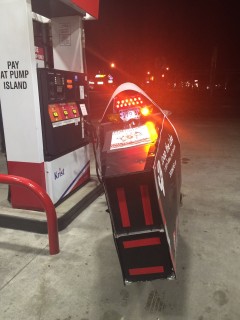 Almost 11 at night, I actually did make it to Escanaba in the moonlight. I pulled in to a gas station to check my map again and wash all the bugs off my helmet visor. At the next pump, a young man was filling his pickup truck. "Hey, I passed you on the road back there!" he said. I noticed that I was now far enough away from home that people talked different. The kid definitely had a "Yooper" accent.
"Yeah? Could you see me OK? I wasn't sure how well the lights and reflectors would work at night."
He replied, "Yeah I could see ya! No idea what you were, but I could see ya!"
If the motorcycle looks weird, but it gets people to slow down and pay attention to their driving, I think the design works.
After that I decided I must have missed the RV park, I checked the map one last time, and doubled back. Nope. Still couldn't find it. Either this RV park didn't exist, or it was so poorly marked that nobody could find it. I did see another RV park listed on the far opposite side of town. It was still that much farther to go, but at least it was the right direction for my entire trip.
Riding through town, I got to a bridge crossing the Escanaba river. It was all metal grate, the type that really messes with a motorcycle's steering. It was also pretty short though. Oh well, good practice for going over the Mackinac Bridge. Just on the other side, I found the the turn for the RV Park. The Pioneer Trail Park office was closed for the evening. Not surprising at 11:30 at night. I rode into the circle and took the first empty site I could find, set up camp, and called it a night.
End of day 2.
183 Miles, 2 nuclear reactors, a football stadium, and an ostrich.
Can't wait to see what tomorrow brings.