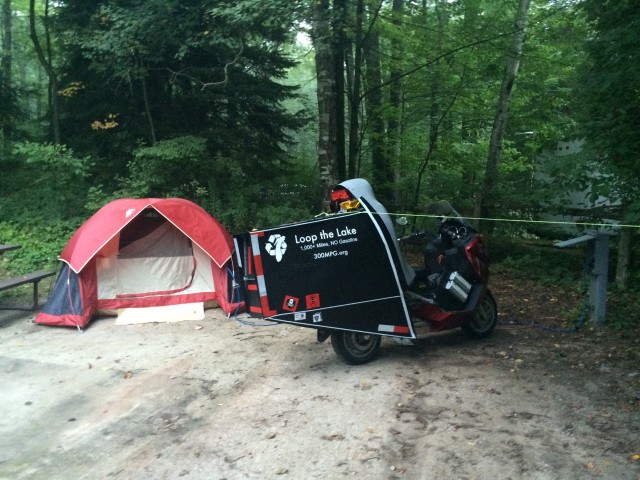 Loop the Lake: Day 2 – From Green Bay to Escanaba, Part 1
I woke up to the sound of rain.
Not what I wanted to hear first thing in the morning when I would be traveling all day on an electric motorcycle. I didn't even know where I was exactly. I had pulled in last night in fog in the dark. All I really knew was that I was right next to the camp host site. I peaked out the tent window. It was gray and cold. I sighed to myself, but eventually unzipped the tent to head out. The dirt and gravel of the camp-site actually looked rather dry. The cool morning breeze was making the tree branches sway, and the night's dew would shake off down onto the tent. Combined with the fog still sticking around, it was nature's perfect imitation of rain, without actually raining at all.
Maybe it wasn't such a bad start to the day after all.
One problem with State Parks is that they tend to be AWAY from restaurants. That's great for being in nature and away from the hubbub of civilization, but not so good when I'm hungry. Normally, when I would go camping, I would bring a portable Coleman camp stove. It has two burners and can boil up some coffee while frying eggs at the same time. Unfortunately, it's also pretty big and bulky – not a piece of gear I would drag along on this trip.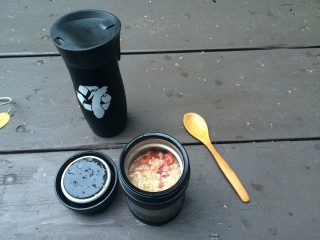 On the other hand, I knew I would always be by electricity. So, I had purchased a small water heating element. These are popular for heating a single cup of water for tea. A metal loop comes off the end of an electric cord, with a small clip to hook to the rim of the cup.
I brought with my stainless steel insulated coffee mug and a short Thermos, one really designed for soup. It is short and has an extra-wide mouth.
With my electric heater, I could boil a pint of water in my coffee cup in just a few minutes, then pour it into the Thermos over some instant oatmeal. I also had with some freeze-dried strawberries. I sprinkled those over the top, and screwed the cover back on. With no where else for the heat to go, the Thermos becomes a miniature pressure cooker, cooking the instant oatmeal even faster than what the package directions say.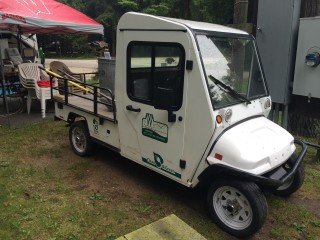 After breakfast, I checked out where I was, finding the bathroom and other necessitites. The camp hosts were clearly University of Wisconsin Badgers fans. They were even electric vehicle users too – the park vehicle being a Columbia ParCar – an electric utility vehicle made in Wisconsin. It makes sense. EVs are quiet and practical, and there was even the main power post right at the camp host site for easy DIY refueling.
As I was packing up, other campers were stirring and setting about on foot. One woman who stopped over to check out the bike was an author, on a retreat of sorts, using the quiet of the campground to get some righting done. She had a VERY German-sounding last name (too long and difficult for me to remember!) and we chatted about everything from electric vehicles to my adventures in Austria, of course with the Wisconsin/German beer and bratwurst connection.
Two other couples also came to see the motorcycle. Unlike yesterday, when I had only a very small amount of attention because of the vehicle, today I couldn't get away from it! In fact, when I checked my watch, it was already far later that I thought. I had woken up early, but between packing up the tent, loading everything in the motorcycle, and talking to folks, I was already leaving camp later than I had planned!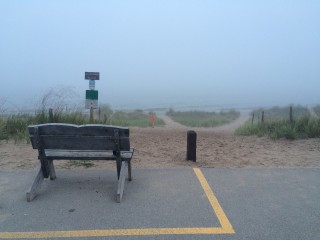 I zipped across the street to get a view of the Lake. Of course, there was none. The fog still clung to the water, with only a glowing gray purgatory extending forever to the east. I headed to the park office to pay for my campsite. The park ranger must not have been a morning person. She was grouchy and exceptionally slow. I simply wanted to pay for my use of the campsite. Instead, I had to do a complete registration, including my ridiculously long and hard to spell home address, motorcycle license plate number (which I don't have memorized), and all sorts of personal information. It wouldn't have been bad except for the EXCEPTIONAL sloth-like speed of the registration. All I was trying to do was be a good guy and actually PAY for the site.
I would have been better off dropping cash in the box outside and running away.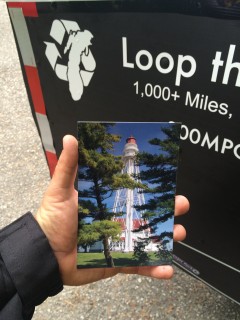 Right on the edge of the State Forest was a lighthouse. This was my first lighthouse of the tour. Lake Michigan is surrounded by lighthouses, each with its own unique history. The Rawley Point Lighthouse is interesting in that it's been rebuilt and upgraded several times, changing from a brick house to a steel tower, converted with materials from Chicago, replaced because of the 1893 World's Fair. The residence is still used by Coast Guard personnel, and at 2 million candle-power, it's the brightest light on Lake Michigan. Still, the weather prevented me from getting a good photo, so I picked up a post card of it at the park office.
It was almost 10:30 in the morning by the time I actually hit the road again. I headed north, again hugging the coast but with really no view. As the road curved, I saw an interesting private road (barricaded off) and a sign warning of live ammo firing. This was the back entrance to the Point Beach Nuclear Power Plant. Clearly this was a warning – "Hey you, Terrorist, KEEP OUT!" I checked the map and I was now on "Nuclear Rd."
Continuing along, I found the main front entrance, which did NOT look inviting, but the guard house was empty and the turnpike was up. A sign listed the days and hours of a visitor center. In fact, it would be open today, although not until later.
Curiosity got the best of me. I decided to ride back to the power plant. I would see how far I could get before I would have to turn around or get kicked out. Several side parking lots had signs of "Authorized Users Only!" and "KEEP OUT!" There were plenty of extremely large signs declaring the merits of safety – obviously intended for the workers there.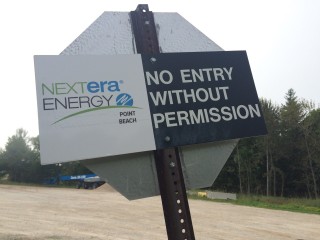 It was a strange combination of Welcome/Unwelcome/Lets all be safe!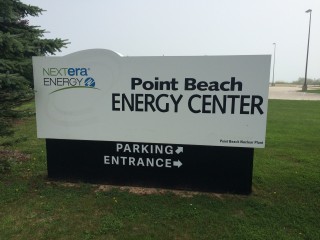 I continued up the road, and sure enough, right there was visitor parking and a modern building clearly marked POINT BEACH ENERGY CENTER. It was separate and away from the actual power plant itself. I pulled up to take a look. Although it was still too early, the door was unlocked and a pleasant woman behind the reception desk welcomed me!
Ruth Ann told me how she always opens a little early. "If I'm here and ready, I unlock the doors."
I told her about my cycle and my trip and asked if there was somewhere I could charge. She pointed to the electric outlet on the side of the building. "If that one doesn't work, you could just come up on the sidewalk and run an extension cord inside."
Sure enough, the one outlet didn't work, but the one on the opposite side of the door worked fine. I pulled up there and plugged in. I hung up my coat and helmet inside at the coat-room and looked around.
The building had large windows out the back for a view of the lake (although still obscured by the overcast weather.) There was a large classroom and lecture area. In the middle area were tables with all sorts of fun and educational games – 3D jigsaw puzzles, motion puzzles with ball-bearings, shoots and ramps for marbles. It was the ideal place for a grade-school field trip!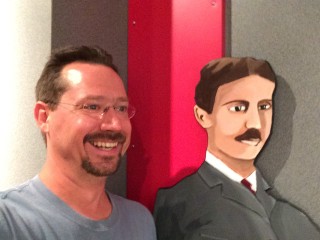 The best part was the "Energy Experience", a hand's-on energy exhibit museum. The entry way itself represents the size of the pipes that feed water from the lake to the nuclear reactors. Just inside was an eight-foot-tall Jacobs Ladder, arcing towards the ceiling as visitors approach it. The museum wasn't just about nuclear energy either, it had a great display of all the pioneers of early electricity – everything from a video tour by an actor portraying Benjamin Franklin to the early Italians to some great information on Nikola Tesla. Of course, I had to get a selfie with the Father of Alternating Current.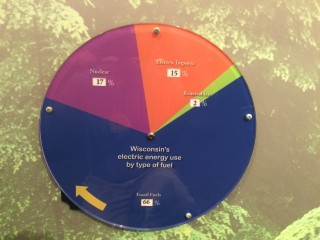 The museum had plenty of information about where and how electricity is produced. With the noticeable exception of "Hmmm, how do we deal with nuclear waste in the long run?…" There was a wealth of learning to be had. I spoke with another man who was coming the exhibit who noted, "I didn't know HALF this stuff!" Indeed. We do tend to take electricity for granted. As long as the lights come on when we flip the switch, who needs to know how it works! It may as well be magic. Getting a chance to "look behind the curtain" is as exciting as it is enlightening.
As I was getting ready to leave, a power-plant employee was inspecting my cycle.
Stan, one of the engineers there, couldn't help but smile as I told him about my trip, especially when I mentioned that the batteries are from a Leaf. "I drive a LEAF! I even charge while I'm here at work!" Stan loves the lack of emissions from electric vehicles, as well as the quiet and instant torque. Since he only lived about 10 miles from the job, even on a regular 120V outlet he was always at a full charge!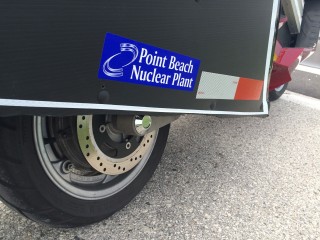 Before leaving, I got a pair of complimentary bumper stickers from Ruth Ann, and slapped them on opposing sides of the bike. The people at the nuclear power plant were great! They were friendly, inquisitive, and positive. While mentioning nuclear power is usually a great way to get an argument going among environmentalists, I think this visit actually changed my mind a bit about nuclear. No, we STILL do not have really good long-term ways to deal with nuclear waste, BUT the plant also produces ZERO CO2 – something we REALLY need to be working on right now. The actual power plant looked more like an office building than like a factory.
Overall, stopping at the Point Beach Energy Center was really an unexpected treat, and I was so glad I stopped.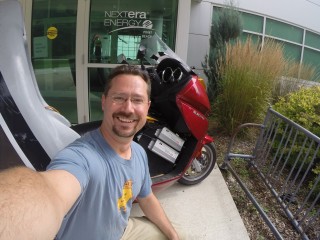 I waved goodbye and headed north-west towards Green Bay and home of the Green Bay Packers. I was at full charge, but the power plant was only ten miles from the campground. Although I breezed through the museum, it was also time that I wasn't on the road. I really needed to make sure that I was taking advantage of charging the whole time I was stopped. Stopping when I have basically a full battery pack didn't help me!
I followed the country roads that paralleled the main road to Green Bay. At one point, I stopped to check the map, using the GPS on my smart phone. I didn't have a destination set it the GPS, I just wanted to make sure I was headed the right direction. I had pulled over into a gravel driveway of what looked like a part-time car repair shop on a farm property. Nobody was there, but as I was stopped, a pickup truck pulled up. A gray-haired but vibrant man stepped out. "Are you lost?" he inquired.
I wish I could remember the exact words I responded with, because they were poetry or philosophy, depending on how you look at it. I said something like "I'm not lost, I'm just not sure how I'm getting to where I'm going." The exact words were somehow more elegant than that. Suddenly, I wasn't talking about just getting to Green Bay anymore. Here I was, in the middle of nowhere, talking to a farmer, and suddenly I'm a Zen Buddhist from the top of a mountain. But the words were dead-on. I truly had a sense of where I was going. The exact where and how wasn't important, and I knew I'd get there just fine.
Not all who wander are lost.