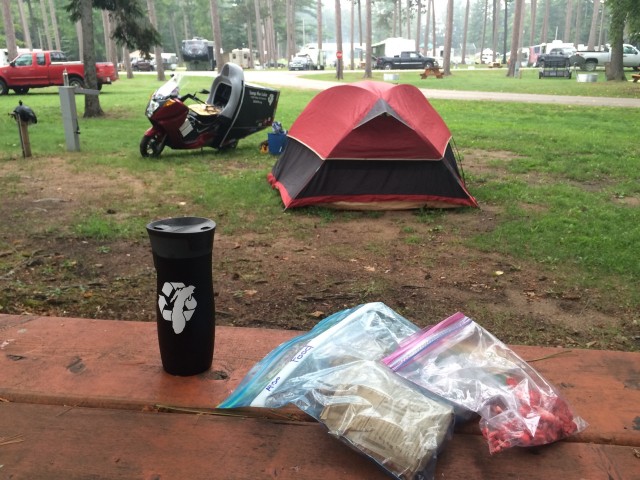 I woke up this morning to a pretty quiet RV park.
I made my instant oatmeal and also realized that I didn't actually like Starbucks' Via "Columbian" instant coffee. I've also found myself stuck a few times charging in a location nowhere near food. In town, I had seen a Super Walmart. After packing up camp, I headed there. The Walmart also had a McDonalds inside, so I got myself an Egg McMuffin and some real coffee. I also picked up a few provisions: some bread, fruit, and chocolate pudding cups. Even in the rain and the cold, I could be happy if I have chocolate pudding.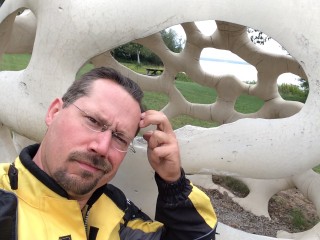 I headed north from Escanaba on Highway 2. In Gladstone, there was a neat little park right on the lake. I don't know why it is, but people always seem to have strange taste in public art. There was an unusual sculpture, which I couldn't figure out if it was art or playground equipment. After starting to climb on it, I realized it WAS in fact art. Mostly by the fact that it had sharp edges, rather than rounded one. On closer inspection, I could see the impression of seams and stitching cast in the concrete. Somehow, this sculpture had been made by SEWING a cloth shape, then pumping concrete in to it!
Gladstone also has one of the coolest old Police buildings I've seen in a long time – a stone and brick building that beams with civic pride.
Today, I would have to cross the entire Upper Peninsula of Michigan, and I wasn't actually sure how I would do it. It's about 140 miles from Escanaba to St. Ignace, and there's NO public EV charging in between. Indian Lake State Park would be a good first stop for the day, but I could find a good second charging point. There's only a few small towns on the way. Other campgrounds were all rustic. There was a KOA campground, but it would be a long detour out of the way. Oh well, I would decide when I got closer.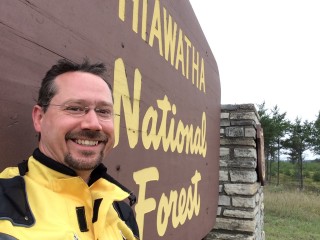 I followed Highway 2 north and then east, entering the Hiawatha National Forest. It didn't take me that long to realize that Highway 2 was the main road in the area. I had planned to generally follow backroads as close to the lake as possible. This road WAS the one closest to the lake, but also a main road. Only a single lane in each direction, traffic was full speed. There was very limited passing zones, meaning I had to ride as fast as I could just to keep from backing up traffic, but also draining my battery considerably faster than it would otherwise. Going very fast in a straight line in heavy traffic was not my plan for the trip. When I stopped to get a photo of the National Forest sign, I parked my cycle on the side of the road, as far off as I could but still uncomfortably close to traffic. There just wasn't a better place to pull off. When a semi-truck blew past, I could see the cycle wobble on the side kickstand, the rush of artificial wind twisting and pulling it. Side-winds weren't a problem at all, while riding, but I might need to be careful if some wind kicked up while my bike was unattended.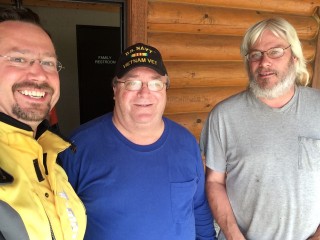 I got off at a rest area – the only turn from the main road I had seen in miles.
I checked the map and got a drink. The morning haze was burning off and the sun was finally coming out. A couple of locals were hanging out, chatting.  Of course, they were interested in my unusual motorcycle, and we got to talking. The one was a Vietnam vet in the Navy, he was especially interesting in the technology of the cycle and compared it to the old submarines and other seafaring technology. They asked where I was going. After I mentioned the Mackinac Bridge, the horror stories started freely flowing.
"Oh ya, camper trailers blow over all they time, dontcha know!"
"I saw a semi-truck flip over in a wind-storm once der."
"Their pavin' the lane, so yull have to ride on the grate!"
"They shudder down for Labor Day, so yull want to make sure you cross before then!"
That's all I needed – MORE encouragement to stay on schedule. The locals were friendly. Other than being far enough away from home that the accent was starting to sound funny, it was a pretty good time. I waved to the guys and hit the road again.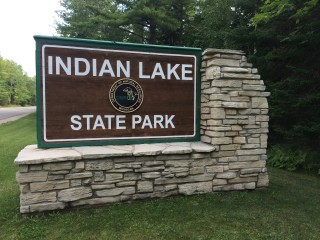 By the time I was close to Indian Lake State Park, I didn't have much battery left at all. I was glad to be on a side road, just so my voltage wouldn't be dropping so fast! In a few miles more miles, I made it to the entrance. The park has a great campground, picnic area, boat launch, and swimming. I said hi to the rangers at the entrance, and explained to the one that I would like to use the campground to charge. She said that was fine. Not too long ago they had an electric car come in to do the same thing. She gave me the name of the camp-host and asked me to check in with him, so I would know where to charge.
I pulled forward, away from the booth for a few minutes while I checked the park map and stowed my gear. Behind me, several motorcycles pulled up. I could hear the riders talking to the same ranger and bits of "Electric!? and "No way!" caught my ear.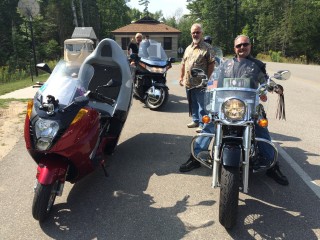 As soon as they were done, the riders pulled up by me. They HAD to check out this electric motorcycle. The one guy was all decked out in black leather and chains, NRA and American Flag stickers on his windshield. His friend had a Hawaiian shirt and rode a Goldwing. Super-nice guys, they were out on a road-trip to have a good time, same as I was. In fact we had already met… sort of.
"You must have ridden through Escanaba three times last night!", said the leader.
Me: "Um, not quite, I was going back and forth trying to find that campground on the south end of town."
Him "We were at that motel. Saw you go past a few times. Actually heard you the last time, the bike sounds so different! And I don't know of any campground on the south side. You should have kept going and stayed at the RV park on the north end of town."
Hmmm. So that south-side campground really DIDN'T exist. I knew there was a reason I couldn't find it! We chatted a few more minutes, snapped some photos, and then were on our way.
I headed down towards the campground. Not finding the camp-host, I simply went straight to an unoccupied site and plugged in using my 240V RV adapter. Next, I checked out the campground, first finding the bathroom. On the side of the building was a sign for Pizza Hut, including their phone number for delivery. FINALLY! I could charge AND get food at the same time! I pulled out my phone, made the call, and placed a delivery order for a pizza, going through the laborious process of selection of sauces, toppings, and crusts. Once I had ordered, the high-school girl on the other end of the phone said, "Wait. Hold on a minute." Pause. Mumbled sound off the phone. "Sir, we don't deliver until after 4:00."
My dreams were dashed. No hot pizza lunch! Couldn't she have stopped me at the VERY BEGINNING when I said it was for DELIVERY!?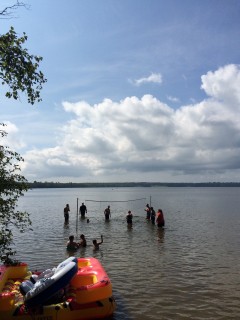 Oh well, I pulled some of the gear out of my cycle and got to the Walmart bag. I sliced open a loaf of bread and topped it with Buddig beef in a pouch. It was actually surprisingly good and inexpensive. I was depressed enough from pizza disappointment that I also downed two of the four chocolate pudding cups. (What?! They're small! I have a fast metabolism!)
It was a great day at the beach. While I usually think of Lake Michigan as extremely cold (especially this far north,) plenty of people were making the most of the last weekend of summer. Folks were boating, swimming, and playing volleyball in the lake. I also used a little bit of time to shoot some more video. I still had no idea where my next charging stop would be.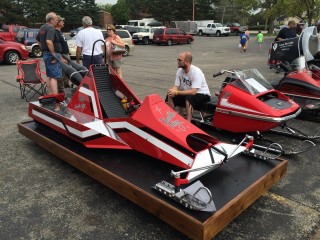 With a full battery, I headed back out. Eastbound, it wasn't far until I was running through downtown Manistique, and stumbling right into the annual Manistique Merchants Car Show. At least one of the downtown streets was closed down. Classic cars lined it, likely every muscle car in the UP. To my left was a parking lot, being used to display snowmobiles. It was still open, so I pulled in to park. Heck, I parked right on the end and instantly became an unofficial entry in the show. I had JUST CHARGED, so I didn't want to spend too much time here, but it was pretty neat looking at the snow machines. One was even a customized racing snowmobile. As I looked at the vehicles on display, other folks came over to check out my cycle. I spoke with one guy who was especially interested. When he found out that I didn't even know where I was going to charge yet, he recommended a bar that his friend ran. "Just talk to Sherry. Tell her Emery sent you! She'll let you plug right in. You can't miss it."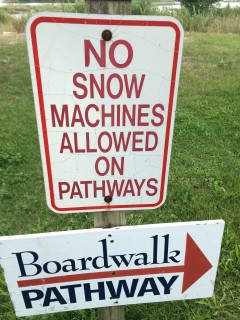 I got back on the bike and headed east out of town. There was a park there that I had to stop at quick to check out the boardwalk. Manistique has a nearly two-mile long riverwalk and boardwalk following the coast along the south side of town. I would have LOVED to have walked the whole thing, but my goal for the day was to get to the other end of the Upper Peninsula, instead of spending an hour enjoying a hike. I'd have to skip the water view. Almost as interesting was some of the signage. You know you are in the U.P. when there are more references to "Snow Machines" than to bicycles!
Continuing east on Highway 2, it was again back to fast traffic and no passing zones. I made a quick stop or two at rest areas on the way, more to get out of traffic and let my battery rest for a minute. Finally, there was something interesting on the side of the road.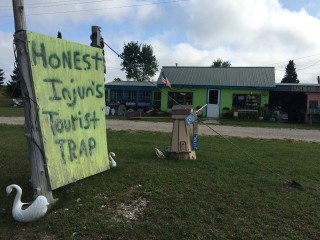 You really can't miss the sign for Honest Injun's Tourist Trap. The building itself looks to be a ramshackle series of shed's held together by brightly colored paint. It would have been almost as much at home in the Caribbean as in the U.P. This junk store has it all, from motorcycle helmets to old windows, telephone pole insulators to LPs. Inside, I asked the proprietor if there was someplace I could charge. The "Honest Injun" looked pretty caucasian to me, but he may have been able to claim a little bit of East Indian heritage. He told me of an extension cord under a coffee can outside. Sure enough, I went the long way around to find an extension cord, propped up on a wooden stake, protected from the rain by an upside down plastic Foldgers can. Two other extension cords came off this one. I plugged in, gritting my teeth, hoping not to blow a fuse for the entire establishment. This was definitely the jankiest charging I had done so far.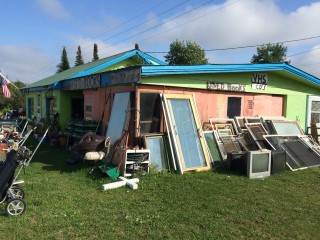 After plugging in, I explored the shop. There were plenty of treasures to be had, if one dug through the piles and the dust. By the electrical insulators (usually sold nowadays as curious paperweights,) I found one made by Pyrex. Recently, I've been on a Retro Pyrex Collectors Group on Facebook. Those folks love showing off rare and unusual patterns of 1950's mixing bowls. I had no idea Pyrex also made glass for the utility market!
In another wing of the building, there were microwave ovens, boat parts, and snowmobile carburetors. In the main room, the "Injun'" himself was very quiet – perhaps in an eastern trance? There wasn't even any music playing. He said that can't get any radio stations out here. I looked around and saw all the old LPs and record players. Hmmm. Too bad there wasn't some way he could've played back RECORDED music…
In another room, I did find some pretty cool post cards of the Upper Peninsula that looked to be from about 1960 – new old stock – "A souvenir Color Folder of HISTORIC HIAWATHA LAND". I also picked up a small blue antique bottle for a few bucks. I thought the BROMO-SELTZER bottle would make a neat decoration my bathroom at home. Nothing like late 1800's hang-over cures for use in decorating!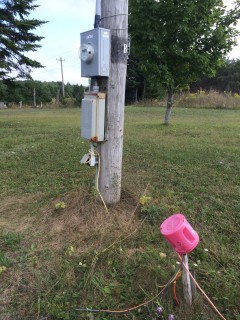 I had charged for about half an hour, but at only 1500 watts, that was maybe 7 miles of charge. Using only a single 15-amp circuit maybe fine for overnight charges, but for charging during the day on the road, it was nearly useless. I kept heading east. What was the name of that bar? Wolf Trap? Red Wolf?
I did eventually find a dive on the side of the road with the word Wolf in the title. While the neon sign claimed that the establishment was open, the dust and lack of visitors said otherwise. A sign listed that they also had campsites in the back. I rode around behind the building for find a few sites in poor condition. Small electric outlets on rusty conduit poked forth from the ground. I tested them, and they weren't even powered up, not that I would have trusted that wiring. I checked my volt-meter, wishing it was higher, then continued on the main road again.
There simply was no place to charge on this road. I could make a turn, heading out of my way to the north to get to a KOA campground with RV power. But being 15 miles out of the way meant I would lose 30 miles round-trip, along with the charging time. The only other town of any type the whole rest of the day was a small place called Naubinway. I zoomed in on my GPS map. There was an odd little peninsula sticking out into Lake Michigan. I zoomed in even more, until the words PUBLIC MARINA appeared at the very tip of the peninsula. What are the odds that they would have power there? I made my bet, rolled my imaginary dice, and rode east towards Naubinway.
By the time I made it to Naubinway, I was coasting on electron fumes. The town was a single street. Lining it was a pasty shop, a bar, a coffee shop, Italian restaurant, and a bank. Two blocks of side streets held modest single-story houses. I was hungry for dinner and disappointed to see that the pasty shop may have already closed up for the season. Outside the bar, a couple was leaving on their Goldwing. I asked if they were local and knew anything about the marina. "Nope, just passing through." Friendly though, they asked a few questions about my bike before they rode off. I looked and saw that there was an electric outlet on the outside of the bank. If I used that for charging, I may as well set up my tent right next to it and spend the night – I'd never make it to St. Ignace.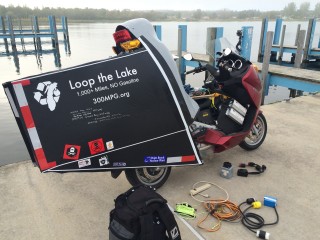 I turned down the side-road in the general direction of where the marina should have been. I found Marina Drive and followed it south. The road curved and then revealed a rather nice park area. A large group was barbecuing and drinking beer, camp chairs set up around a fire. Past them was a bathroom and changing house and finally the concrete dock-works extending out over the water. I rode right out onto the pier to see a could it be? Yes! Short white plastic posts stuck up on the edge of the piers. SHORE POWER!
I pulled up to one and flipped open the cover. Obviously not used often, thick spider webs clung inside. On the left of the compartment was a 30 amp twist-lock electrical connector. Aha! I was ready for this. I brought along several twist lock adapters with me. I pulled one out to plug in. It didn't fit! I had a 240V 30A Twist-Lock! This was a 120V 30A Twist-Lock. I reached back into the cycle to see what other adapters I had. I DID have a 120V twist-lock, but this one was 20A. It also EXACTLY didn't fit.

There was a plain 120V outlet as well, but that would take forever to charge. I was at my wits' end, standing on the end of a pier, sticking in to the northern-most point of Lake Michigan, with no Public EV Charging within a day's travel. Just about ready to completely give up, I realized that the BACK of the shore power post ALSO had a cover. Lifting it up, there was an additional two 20-amp electric outlets with standard connections. I could simply plug all three chargers into the outlets, on separate circuits, and have my full-speed 3500 watts of charging.
My spirits buoyed, I plugged the chargers in and set the stopwatch feature on my phone. At that point, I also realized that there were additional power posts, and that if I parked the bike right, I could have reached multiple outlets with my extension cords. Hunger and fatigue had robbed me of my basic creative problem-solving skills.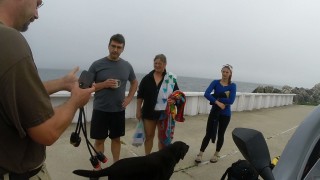 By now, a family had come over to the pier. They were interested in the cycle and asked far more than the usual questions. As we talked, I asked if I could film a bit of them for my documentary. I pulled out the GoPro and let it record while we talked. Kathy and her family were just out to spend the Saturday having some fun, soaking up the sun, going swimming, and generally enjoying the holiday weekend. The younger members were all avid swimmers, doing flips and cannonballs into the Great Lake. Their black labs had a good time too.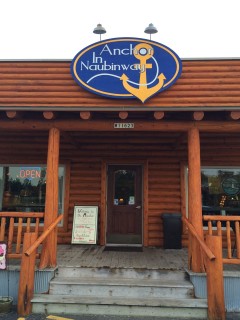 They were getting ready to pack up about the same time I was, and offered me a ride in to town. It wasn't far by car, but probably a 15-minute walk on foot. I gladly accepted the ride in the minivan, with enthusiatic labradors breathing over my shoulder. I thanked them for the ride as I was dropped off outside the two restaurants in town. FINALLY! I managed to be charging my motorcycle AND get some real food at the same time! On my right was a pizza place, and my left was a cafe sandwich shop. I love pizza, but after Pizza Hut had broken my heart at lunch, I took a left into THE ANCHOR cafe.
THE ANCHOR is part coffee shop, part cafe, part gift store, and likely serves as the unofficial town hall. The girl behind the counter was all smiles as I asked what was good here. Of course "Everything" was the answer I was glad to hear. I did see pasties listed on the menu and didn't want to miss my chance at this classic "Up-North" food. I also ordered a cup of soup and some real coffee. On the far side of the restaurant, a local musician was strumming a guitar, playing what I would consider good folk music – Sting, Bob Dylan, and Jimmy Buffett. Most of the small crowd looked to be relatives.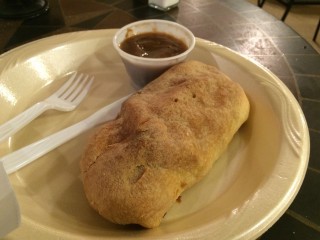 I grabbed a seat, and gulped down my potato soup, glad to have hot food and be sitting somewhere other than a tent. The coffee was good and it didn't take long until I had my pasty with a side of gravy. MMMMMM. So good. In case you've never had one, a pasty is a savory pie, filled with meat, potatoes, and onion. Everyone makes them a little different, but they are all good. I think the secret ingredient in this one was rutabaga.
After I finished eating, I sat and listened to the music. Tom Evearitt was the local musician playing that night. It was an informal affair, with him cracking jokes when somebody would go use the rest-room, which happened to be DIRECTLY next to where he was playing. At one point, somebody else who had brought his guitar began strumming along.
Only an hour or so ago, I was panicking on my gamble of finding some usable electricity. Instead of being stuck on the side of the road in the cold and the dark, I had just finished a fine hot supper, still had some coffee left, and was singing along to Wagon Wheel (Rock me mama like a south-bound train….) the lyrics of travel hitting me emotionally.
Where ever you go, there you are. I think that's the best part of travel. You never know until you get there.
I walked back from town, towards the marina, still glowing with music chords and caffeine. It was now dusk and I could feel the temperature drop and the bugs started coming out. As I got closer to the marina, I had a realization, and my chest tightened in panic. When I pulled out on to the pier to find shore power, I never turned the bike around. It was leaning TOWARD the water on just the side stand. With one good gust of wind, MY MOTORCYCLE COULD HAVE BLOWN RIGHT INTO LAKE MICHIGAN!
I tried quelling my fear – "Nope, it's not that windy out…." But I walked faster anyways. I was already imagining having to call my brother and get him and his pickup truck out, with a municipal winch pulling a dripping motorcycle out of the lake.
When I finally got back to the marina, I almost couldn't look, but sure enough, the motorcycle was right there, still on the pier, and just fine. The water was actually so still that someone was fishing standing up in a canoe. I knew my fear was completely unfounded, but I was still glad nothing happened. Looking where the power post was, it likely would have kept the bike on land even it it did tip. Or would it? I'm really not sure how strong those things are!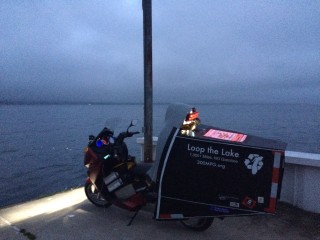 I zipped the winter liner into my riding jacket, put on my rain pants (as an extra layer for warmth and wind-protection) and again headed east, for my last leg of travel across the Upper Peninsula. It got dark fast. Then cold. This time, at least I was wearing the right clothes. Then the fog came. Then mist, obscuring my view through my helmet's visor.
I did find that if I flipped up my visor and hunched over so that I was looking right over the top of the windshield, I had a clear view and didn't get go wind-blind. All I had to do was keep following the road. At least there was starting to be less traffic, but what there was was oncoming, with high-beams blasting me.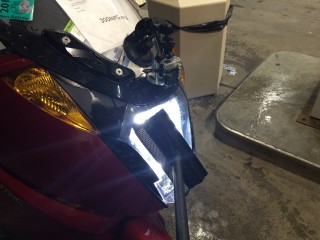 Eventually, I made it to St. Ignace. In the far distance, I could see the Mackinac Bridge, lit up at night. I pulled in to a gas station to get my bearings, use the bathroom, and figure out how to get to the Straits State Park. When I asked the clerk there, he knew right where it was. "My daddy worked his entire career there. I practically grew up in the place."
The park was just down the road, with only a turn or two to get there. I easily navigated my way there. Unlike most of the U.P., the city had streetlights and reflective signs!
At the park entrance, there were several cars ahead of me in line. That seemed pretty strange for almost ten at night. As I got closer, I saw the sign "CAMPGROUND FULL". What was I thinking!? A popular camp-ground on a Saturday night on Labor Day Weekend!?
I had come this far, and I wasn't going to stop now. I pulled around the line of cars, pointed at my park sticker as I passed the ranger station, and zipped in to the park. I had a pretty small vehicle and I'm sure there would be SOMEBODY not using their electric outlet. The campground was in full party mode. Michiganders were drinking, setting up lights, burning fires, and in an otherwise festive mood. This was NOT a park to get away from it all in. It was packed. Not a single parking space or camp-site stood empty. I continued to circle.
At one point, I found a site with a car parked at it, but that's it! No tent. No other signs of the use at all. I hopped off my cycle to look closer. There was power there too, but no people to talk to. There were people at the site next to it. I took a few steps over to see several people around campfire. I was greeted by one of them, along with a Burmese Mountain Dog. The man told me that he though the campers from that site were actually at the NEXT site over. I kept walking to the next site. There, I found three couples of retirees around a fire, sipping wine. I explained my situation (Travel, Electric Motorcycle, Camping, Need…. Outlet….. ) They were very friendly. It turns out that at many campgrounds, you may only park two cars at a site. These folks were meeting as a group of six at one camp-site, but were traveling separately. They pretty much reserved the second camp-site as just a place to park their car. "Sure you can plug in there. You can put up your tent too, if you want!"
Wow. I just went from "Sorry, the park is full" to "Hey, why don't you use our camp-site and electricity for free!"
I plugged in the bike, unloaded my gear and set up my tent. The whole time I was doing that, I was sort of also unintentionally eavesdropping on the next site over (the guys with the big dog.) We got to chatting, and they invited me over. The man's name was Jason. He was there with his wife, some friends, and it was actually an extended family tradition to come to this park every Labor Day Weekend. In total, they had about 40 people with them. They handed me a Labatt Blue Light (Imported from CANADA!) and we were up until WAY TOO LATE. When I realized what time it was, I also noticed we were being way too LOUD!
"Don't worry, we bribe the rangers. Tomorrow, we are doing a pot-luck, just like we do every year. We'll have so much left-over of good food, we take it to the rangers. They always OVERLOOK if we are a little unruly!"
By then, there was quite a few people gathered around the fire, including Jason's Dad, who regaled us with drinking stories, including how HIS father would sit and drink a 12-pack of beer out of a special wooden bench designed for just such a purpose – the one that man happened to be sitting on right then. Another family member was shocked when I didn't know of a certain brand name of liquor – some sort of flavored brandy that was a local favorite.
By then, the day had finally caught up with me. Tomorrow, I would cross the Mackinac Bridge, travel the lower peninsula of Michigan, and meet up with another electric motorcyclist.
But that's tomorrow.
I curled into my sleeping bag and let the wind and the rain rock me to sleep, like a south-bound train.