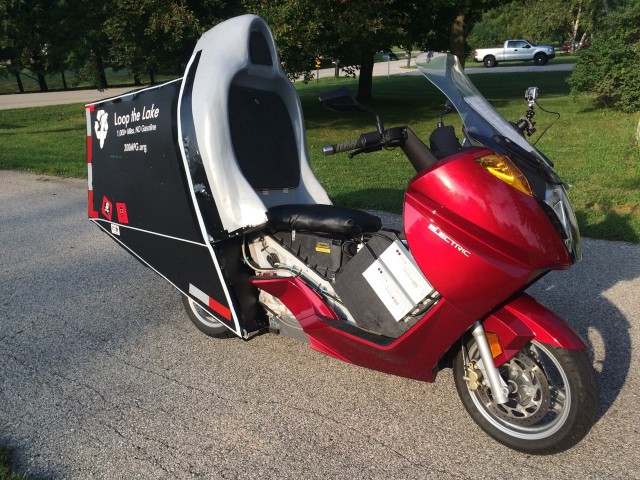 Today's the day. I took off for my Loop the Lake trip.
To start with, I planned the dates of the trip around other things I had to do in my life, including seeing the Little Girl off to her first day of school. I wanted to make sure she had a good experience, to set the tone for the entire rest of her scholastic career. Seeing her off to school for a few days was important.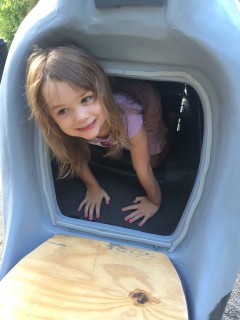 By the time I was ready for the trip, she had already had a few days of getting on the bus by herself. Of course today she had to give me a big hug and check out the motorcycle one last time before I left. Unfortunately, I couldn't allow any stowaways.
I had thought pretty hard and long about what gear I wanted to bring with. It came down to: a week's worth of clothes, sleeping bag, tent, food, tool kit, my big camera bag with video camera, GoPros, and tripod, a tarp, water bottle and coffee cup, and a few other sundry goods.
All together, that's a LOT of gear taking up plenty of space and weight. I had actually borrowed two other tents to see if I could bring one with that was smaller and lighter.
I ended up deciding to bring my plain old tent, because it had plenty of room inside (good for stashing gear if it rains) and I can change my clothes in there.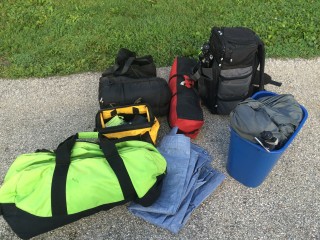 I've also used it so many times that I can set it up in the dark from memory.
After jamming all the gear inside, I took the cycle for a ride around my neighborhood. It sure felt different with everything loaded up. Back in my driveway, I hugged my wife goodbye.
Her: "So, you're really doing this, huh?"
Me: "Yeah, looks like it."
Her: "You know you're crazy, right?"
Me: "Yup."
And with that, I was off on my grand adventure. I headed east, towards Milwaukee, WI paralleling Interstate 94, just to the south of it. This took me through Waukesha, probably best known as the hometown of Les Paul and the electric guitar. Unfortunately, it also meant not one, but TWO traffic detours. I had barely started my trip and I was already running into time delays and a longer route than expected. Other than that, it was uneventful getting to Milwaukee. Nothing shook loose, and nothing fell off. If something was to go wrong, I think it would happen in the first 40 miles.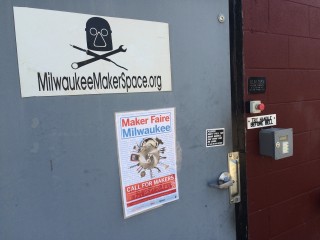 My first stop was the Milwaukee Makerspace to meet up with Tom Gralewicz. The Makerspace is a collaborative workshop where members can weld, craft, build, solder, sew, carve, and design and build any project they wish. While I am a member, I'm not actually there all that often, simply due to the distance and travel time from my house. Technically, I am a founding member. Several friends had been meeting at Tom's house to build robots and electric cars. Desiring a workspace to use when Tom wasn't around, or at odd hours of the night, we pooled our money, rented an industrial location, and the Milwaukee Makerspace was born.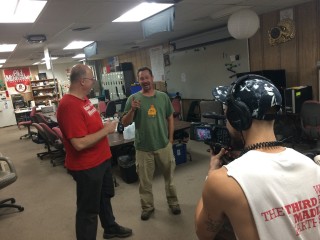 I wanted to get a video interview with Tom about what he makes, and more importantly, WHY. We sat down and talked, with a new friend, Alex, running the camera. It was refreshing to have somebody holding the camera instead of me. Unfortunately, I didn't have budget or friends in odd places to do filming for me on the rest of the trip, so it looks like this will be the only time I will have the luxury of a cameraman.
Besides the interview, we also shot a video tour of the Milwaukee Makerspace (for me to post to YouTube when I get a chance to edit it,) and then had Tom show us his car, an all electric Dodge Neon that he built a few years ago, but has kept making some improvements to.
While I was at the Makerspace, the first thing I did was plug in to charge the bike. The welding area was right by the back door, so it was easy to connect to 240V power. I used my homebuilt NEMA 14-50 RV Plug adapter to connect from a welding plug to the bike. In the two hours that I was at the Makerspace, I was fully charged.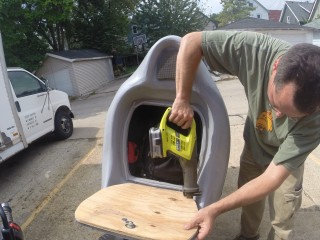 As I was ready to leave, I realized something. There hadn't yet been a single time that I had charged the bike in a non-secured location. So far, I had simply left the back-rest/hatch cover OPEN to pull the power cable through to charge. I wouldn't be able to lock it AND charge at the same time! Since I was at the Makerspace, I had plenty of tools available. What I didn't have was time. I already made it to the Makerspace a little behind schedule, and spent more time there than I planned. I had an appointment to meet somebody at my next stop, and needed to get there fast. So, instead of "properly" making some sort of access port for the power cord, I simply butchered a notch into the plywood with a cordless recipro-saw. It was quick and ugly, but let me get on the road. And I didn't even saw through the seat as I did it.
I waved goodbye to the crew at the space and headed out, northbound, towards West Bend, WI.
Looking at the clock and my GPS, I realized it would take FOREVER to get to the next location taking the backroads. So, I decided to hop on the interstate. In Milwaukee, the main interstate exchange is all elevated – a series of connecting bridges that extends over the city, with a good view of Lake Michigan.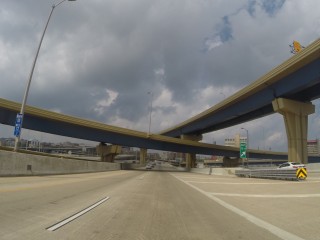 What was I doing!? I had barely even TESTED the motorcycle in this configuration, let alone take it out at freeway speeds in heavy traffic, and OVER the city up in the wind! The bike performed admirably, with no issues of cross-winds, although I am NOT comfortable being on two wheels, sandwiched between semi trucks 120 feet above the ground. I headed north on I-43.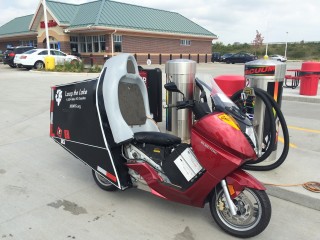 I exited the interstate at Saukville, thoroughly convinced that the interstate is OFFICIALLY the least fun place to ride a motorcycle. Bad views, heavy traffic, and breathing diesel fumes all add to the poor experience. The only upside is that it WAS quick, and I was somewhat back on schedule. Just off the freeway, I stopped at a Kwik-Trip gas station. I wanted to check the map. Also, it was FAR past lunchtime. Kwik-Trip actually has pretty good hot sandwiches and great coffee. By chance, they also had an ELECTRIC VEHICLE CHARGING STATION. Now, it wasn't anything fancy, just a 20-amp duplex outlet with a sign.  Although electricity is nearly everywhere, the challenge for electric vehicle charging is usually ACCESS and PERMISSION.
Often times there just isn't electricity within reach of a parking space, or if so, it has to be crossed with an extension cord – becoming a trip hazard – not something you want in our litigious society. Likewise, asking permission for electricity can be a hassle. At a friend's house, it's easy, but at a business I would need to find a manager, ask, find out that he would have to consult with the owner, ask, and waste a lot of time only to eventually get an answer of no. Even if the answer was yes, I could have had MILES of charging already done in the time it takes to get permission.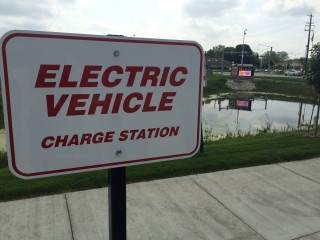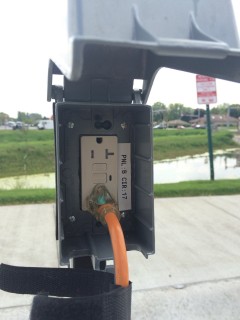 A plain electric outlet and a sign in the parking lot solves ALL that. Just as I got to the gas station, I immediately plugged in. In fact, since it was a 20-amp outlet, I plugged in both of my Mean Well 1,000 watt chargers (through an extension cord) into the outlet. This gave me 2,000 watts of charging instead of the 1,500 I would have gotten from my stock charger on a 15 amp outlet. I also set the stopwatch on my smart-phone. In my test trips, one thing that I had found was I tended to spend a little more time at a stop than I thought. As long as I plugged in immediately, instead of being distracted by somebody saying "Hi, that's an unusual bike you have there. Is it really electric? How many miles can you go…." – As long as I plugged in right away, I always got a little more juice than I thought – enough to be worth plugging in any chance I got.
I headed inside and got a hot sandwich and a cold drink, which I then consumed at a picnic table. I also checked on Plugshare, a web page and mobile app which shows crowd-sourced locations of public EV charging. I didn't see this outlet listed. The gas station looked brand-new. Chances are NOBODY had EVER charged at this outlet yet! I snapped a few photos with my phone and posted the information on this charging station to Plugshare. Now, when somebody else is out and about in an electric vehicle, they will know about it. While it isn't a high-power location, it might be nice for an emergency charge for somebody. For my motorcycle, 2,000 watts means 20 miles of additional range per hour of charging. I was there for 20 minutes, so I added 6 or 7 miles of range. That's not too many, but it was free range that I gained from a time and location I would have stopped at anyways!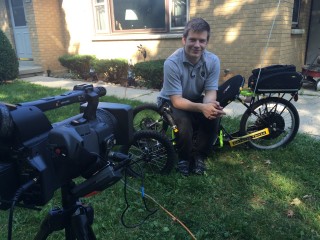 Back on the road, I headed west to meet up with Dustin Herte of Odyssey Trikes.
Dustin is in a small residential neighborhood, just off the main road. I easily spotted the house by seeing a recumbent trike in the front yard. As I pulled up, he came out to greet me, and already had an extension cord run out from the garage. I plugged into it and then also ran an extension cord over to another outlet on the side of the house.
Dustin and a business partner have been working for a while now on custom trikes that can be pedaled or run on an electric motor. The trikes are built from a combination of stock bike parts, steel framework, 3D printed plastic parts, and custom lithium batteries. Dustin demonstrated one of the trikes, burning out of the driveway, zipping down the street, and even showing off with stunts like riding on only two of the three wheels. I got to test ride it as well.
"I HIGHLY recommend a helmet", Dustin suggested as I hopped on. Sure thing, I had my motorcycle helmet handy. Good thing too – this cycle can go FAST! With just a twist of the electronic throttle, I was instantly zooming down the street! The speed seems all that much faster with my butt only a few inches off the ground. The "tank-steering" of a recumbent was different than I was used to as well – it was VERY responsive. Top speed is 50 MPH!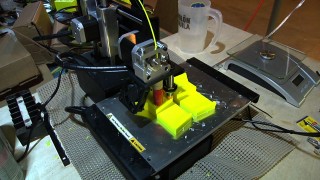 I was also invited into the basement, which has been converted into a micro-manufacturing lab. Several work-benches held 3D-Printers, a small CNC milling machine, and a custom-built lithium cell spot-welder, created from an old microwave oven transformer. In the far corner was a 4'x8′ 3D printer, still being set up. It was explained that soon, an entire trike frame could be 3D printed at once with carbon-fiber elements added in right as the frame prints. Having seen an entire 3D-printed car at the World Maker Faire in New York City, I wasn't surprised to see basement builders quickly following the example. In fact, when I stepped into the basement, many machines were running unattended and fully automatic, creating aluminum and plastic parts for the trikes. The 3D printers were running from tablet computers, connected to the internet. Dustin could design a new part on his lunch-break at work, send it to the tablet, start it printing, and have a custom part finished by the time he got home.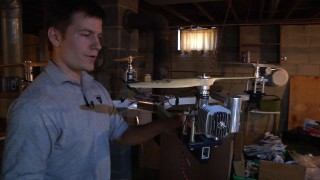 Another interesting project hung from the ceiling –  a drone. Or more specifically, a quadcopter. But it wasn't just any quadcopter. This one had a four-foot span. Not only that, but it wasn't battery electric, it was GASOLINE powered! Each propeller was powered by a 50cc two-stroke engine! The whole machine was powered by the equivalent of four scooters! Dustin explained to me how he also disassembled two of the engines and figured out how to make them run the opposite direction, a necessity for quadcopters. The lifting capacity on the machine should be in the neighborhood of 60 pounds. That's more than my daughter weighs. I joked about simply adding backpack straps to build a real-world steampunk personal flying machine!
It was startlingly impressive how a person or two can create high-end, custom electric vehicles, from a concrete block basement. This wasn't Silicon Valley, this wasn't millions of dollars in start-up funding, this was two guys in no-place-special Wisconsin.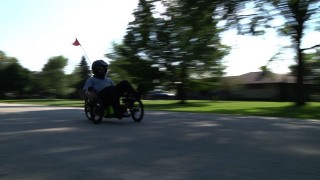 Dustin and I fooled around on the cycles a little more, and then I headed out to knock out the rest of the miles I had planned for the day. My schedule had called me me to make it to a camp ground near Two Rivers, WI.
I headed north-east on the back roads towards Sheboygan and Manitowoc. It was over 75 miles to my end point for the day, so I would have to charge at least once more. Fortunately, the Sheboygan area had several public EV charging stations.
I was now zipping through a number of small towns, and also getting hungry for dinner. Ideally, I would want to stop for dinner somewhere that I could CHARGE while I eat. However, my stomach was grumbling, and there was no pubic charging in sight. But I did find a taco truck while going through the town of Cascade. Mmmmmm. Tacos.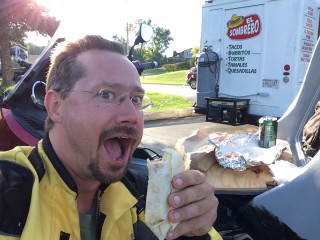 I pulled into the parking lot, the sun hanging low in the sky, parked, and ordered my dinner. In my experience, eating from a food truck is always a good thing. The food is FRESH and HOT, going straight from the grill to my mouth in as short of a time as possible. While my dinner was being cooked, I chatted with some other folks in line. This was actually the first time I had gotten to talk to strangers about the bike on this trip. Both the MakerSpace and visiting Dustin's Odyssey Trikes were in pretty private areas. This time, I was in a parking lot right next to a bunch of the public who came out to grab dinner. Of course the typical questions were How Fast, How Far, How Long, followed by "You must be an engineer!"
My only response to that was mentioning how much tape and zip-ties were holding the entire project together, and then getting a laugh from that. With my steak burrito ready, I folded down the seat hatch into a make-shift picnic table and sunk my teeth into my first dinner of my trip. MMMMM. So good! I still had many miles to go, but it had already been an amazing day. Nothing broke, all my charging went great, unfortunately, I couldn't grab a charge while eating dinner, in the middle of a vacant parking lot.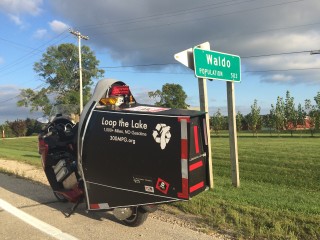 My belly full, I once again hit the road, stopping only briefly in the town of Waldo, snapping a picture and saying to myself, "Found him!".
For the next charging stop, I decided that the American Club in Kohler, WI would be my best bet. Kohler is a company town. The Kohler company is probably best known for high-end bathroom fixtures. It's been around a long time. In fact, the Wisconsin term for a public drinking fountain, a "bubbler" goes all the way back to an early design from Kohler! The whole town is classic brick buildings from a bygone era. The American Club itself is pretty fancy. While once a dormitory for immigrant workers, it's now a high-class hotel and resort. I've actually worked there before, but always through the "servants' entrance". In a motorcycle jacket and sweaty t-shirt, I wasn't even sure I would make it past the valet parking!
In the parking lot, I saw a man just getting out of his shiny new Chevrolet VOLT. I asked if he knew where the EV charging station was, and he didn't even realize they had one. Seemed like he was just as happy to drive his car on gasoline as electricity.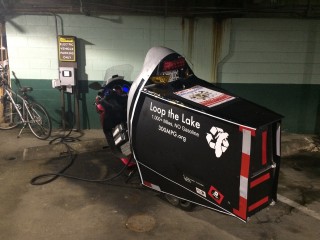 I pulled into the underground parking hidden below the manicured front lawn and flower beds. I had to circle a bit, finally locating the charging station near the far end, by the bike racks. The floor was marked by a surprising amount of oil stains. I think the EV charging spaces are relatively new, being used by maintenance vehicles before that. I pulled out my J1772 adapter and plugged in all three of my chargers to it. I was glad to see that I had made the notch in the plywood cover large enough to accommodate the thicker charging station cable. That way, I could run the cord INSIDE the motorcycle and LOCK UP the adapter. No punk teenage ner-do-well  would be able to pull a prank on me by unplugging the bike. I grabbed a book and headed back up to ground level.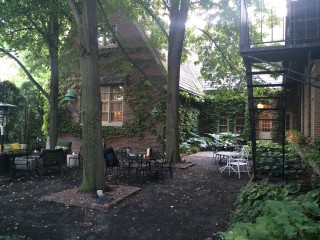 I was now nearly dusk. I was neither properly attired nor well-funded enough for a dinner or other amusement at this establishment. I walked around an noticed a tiny foot-path through a hedge-row. It let to a grotto formed by the  carefully arranged plantings and and alcove of the brick building. Cleverly designed, this area was just off the front of the building, yet extremely secluded. Looking at the menus on the tables, it was an area used for a Cigar and Brandy restaurant, with the prices of drinks topping what I had budgeted per day for lodging. No one was there, so I sat down, and started on the first chapter of ZEN AND THE ART OF MOTORCYCLE MAINTENANCE.
I also checked the map. I STILL had more miles to go today. It seemed like every little thing just put me further behind schedule. While I hadn't intended to, it looked like I would need to do a fair amount of riding in the dark. I cut my charging short to be able to put a few more miles on the road with the very last of the daylight. That also meant that I might have to charge YET AGAIN today to make it to Two Rivers.
I headed east to Sheboygan, and then north, hugging the coast of Lake Michigan. Now dark, I couldn't see the lake at all. There was simply a black expanse where there were no trees, buildings, or street-lights. It was as the though world simply ended. To my left was civilization and the man-made world, and to my right was eternal darkness and the steady pulse of pounding surf, accented only by the whir of my electric motor and gears.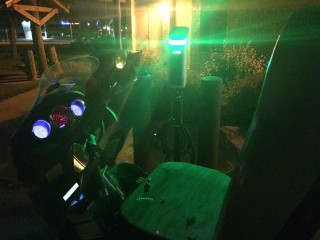 Near Manitowoc, just off the interstate, I was able to locate the charging station at the tourism welcome center. I was a bit of a trick. I wish that on Plugshare somebody simply said "It's behind the KFC!" That would have saved me some circling around on big, heavily trafficked roads in the dark. This station was a "ChargePro", a brand I hadn't seen before, but didn't require any registration, payment, or membership. I plugged in and a bright green LED light on top began to glow.
Only 8:30 at night, it felt much later. The seasons were beginning to turn and I could feel nightfall coming earlier every day. I had seen a Kwik-Trip a block away and walked over there for some food and coffee. I also checked out the visitor center. It was closed, but the entryway area was unlocked and filled with fliers of tourist attractions, maps, and lists of things to do. I picked up a Wisconsin map. A flier for the Point Beach Nuclear Power Plant also caught my eye. In the photos, school children played with educational toys while learning the joys of nuclear power.
I now had enough juice to finally make it to the campground, and headed east towards downtown Manitowoc.
Once there, I zipped through the downtown. During World War Two, this had been an important inland sea port. The shipyards cranked out 28 submarines for the U.S. Navy. There's a maritime museum, right on the water, that has one of the same class of submarines on display and available for tour. I had originally planned to be there in daylight and take a tour of the museum, soaking up Great Lakes history while recharging. Instead, I rode over the bridge and past the USS COBIA, leaving it in history and darkness.
As I left town, the fog rolled in, chilling me to the bone. I was shocked how much the temperature could change from daylight to darkness. Combine that with the "Cooler by the Lake" effect, and the damp fog, and I was COLD! I've never toured on a motorcycle before (let alone an ELECTRIC motorcycle!) so I hadn't had any experience with this. I did plan ahead and brought rain gear and cold weather-gear, but that doesn't help late at night, just trying to make it to my day's destination, with no appropriate place to stop and change clothes.
The campground I was headed to was in the Point Beach State Forest. State Forests cover large areas and have public roads running right through them. Unlike a State Park, it's really more of an area than a destination. The campground was there somewhere, but it was hard to find. Outside of town there were no streetlights, and my headlight only extended into trees on the side and opaque fog ahead.
Finally, I found the sign for the campground and turned left, the road morphing from a public street to a paved campground path. Just ahead, the fog pealed away to reveal a large RV, with a husband and wife watching a television, set up outside near the campfire ring, while chatting quietly with a Forest Ranger. I pulled up behind the ranger, not realizing how I would startle her, a quiet electric vehicle not announcing itself the way a gasoline one would.
I asked about camping there and registering in the morning. The couple were the "camp-hosts" and said that would be fine, I could camp nearly anywhere I wanted. I did tell them I would need electricity for recharging my electric motorcycle. They told me that both RV sites directly across from them were open, had electricity, and I could use either. I literally backed the cycle up 15 feet, set up camp, and went to bed.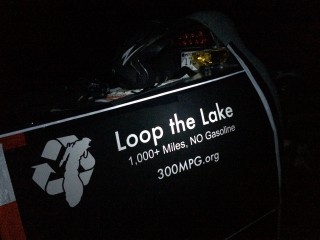 I was glad I had chosen to bring the big tent. Even without being able to tell one color-coded tab apart from another on the tent in the dark, I put it together from memory. There was plenty of room inside. I put all my gear in the tent, in case of rain. I tied a clothes-line from a tree to an eye-bolt on the top of the motorcycle. I heard a story about Terry Hershner's record-setting electric motorcycle once blowing over in a wind-storm. My motorcycle only has a side-stand, so when it's parked, it's already on an angle. Who knows what might happen if a thunderstorm came up in the middle of the night? Maybe my clothesline would keep it from tipping over.
Was it only this morning that I said goodbye to my family? It already seemed an era ago. I went straight from never really having tested the cycle to going on the interstate. I met with two DIY'ers who are building electric vehicles and inspiring others to to build, design, and make. I was starting to figure out what I would need to do for recharging. Heck, I even found Waldo. And this was only day one. I'd have at least another week of this. We'll see what tomorrow will bring.
I settled into my sleeping bag and let the world go black…