"300MPG.org's Electric Vectrix Wins Craig Vetter Fuel Economy Competition!" is the headline I would love to be able to tell you.
Unfortunately, it only exists in my imagination.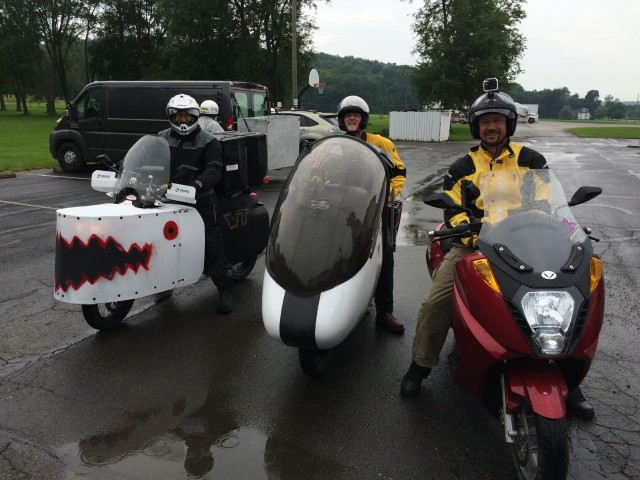 Nope. Truth be told, I was a complete amateur who simply showed up, NEVER having been at this type of event before on a vehicle unmodified other that a larger than original battery. Not only that, I've really done very little range testing on my bike. I've only put on about 500 miles on it so far.
So, when we took off this weekend in the Craig Vetter Fuel Economy Challenge we had no idea how far I would get or not, and as it turns out, it was more the not…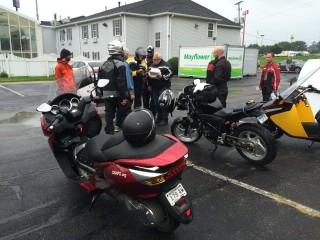 Sunday, July 12th, a number of competitors showed up at the Splash Harbor Comfort Inn in Bellville, Ohio. Most were unusual-looking motorcycles to say the least – all nose-cones and fishtails. The route was roughly 70 miles each way. There ended up only being three electrics there, which included me on my Vectrix, Kraig Schultz on his home-built electric recumbent motorcycle with an airplane cockpit bubble, powered by Chevy Volt cells, and Richard Goff on a Zero with a fierce WWII style coroplast nose.
Due to some relatively small battery pack sizes, Kraig and I decided we would take a slightly different route, and Richard went along with too. There was a "chase vehicle" available, with a trailer, in case of any break-downs, which we decided we did NOT need to follow us. Kraig would be leaving directly from the Motorcycle Hall of Fame ( which was the destination/break of the race, followed by a return to the start.) If I decided I was running low on juice, I could always plug in somewhere. My Vectrix may not have a battery as big as a Zero, it at least it's proven to be reliable!
I was planning on leaving my cycle at the Motorcycle Hall of Fame, (assuming I even made it there in the first place) and then just come and get it with my truck when I was leaving after the event.
After a photo opportunity (and strapping a GoPro to my helmet) we all took off, with the electric group peeling off right away. The roads in the area were very nice. Good country roads, pleasant for zipping around on. The only exception was a single stretch of road, which was more potholes than pavement for half a mile! The weather wasn't ideal, it was raining slightly when we left. Of course, I was the most amateur of anyone there. Many guys had full rain gear or leathers. At least I finally got myself a real motorcycle jacket! Fortunately, it never rained too hard, although the weather definitely affected our fuel economy. Later on, the weather cleared up, and it was pretty nice.
We took breaks at relatively regular intervals. I was checking the amp-hour counter on my Cycle Analyst. While cruising, I was pulling about 30 amps at 45 miles per hour. My cells are rated at 60 AH. Theoretically, I could ride at 45 miles per hour for two hours and go 90 miles. Of course, that's only theory. Actually out riding tells you reality pretty fast.
We noticed a car following us for a while. It turned out to be Burton in his Honda Element. He owns a Zero electric motorcycle, which he is currently modifying for aerodynamics, but wasn't able to have it there for the event. Instead, he became our unofficial chase vehicle and did a little filming with his GoPro anytime we stopped.
The road we had chosen was about 60 miles long. I know that I don't actually get a full 60AH out of my battery pack (partly due to how the software of the charger is set. Unfortunately, I don't have any manual control over how full I can charge the battery!) So, I was guessing that I could actually get about 40AH out of the pack. At the half-way point, I had used up almost exactly 20AH. Hmmm. This was going to be close….
We stopped at a park. It was a nice town park right on the corner of our route. Kraig leapt off his cycle to go check out what was available for electricity at the park. It turned out that not only were there plenty of 20 amp 120V outlets, but there was also a dozen 14-50 RV power connections! When I was looking at the route on a map, I wanted to find a charging station somewhere around the middle of our ride, but there simply weren't any. Here, completely unmarked on any map was a perfect place to stop on a motorcycle road trip and get a full charge while eating lunch!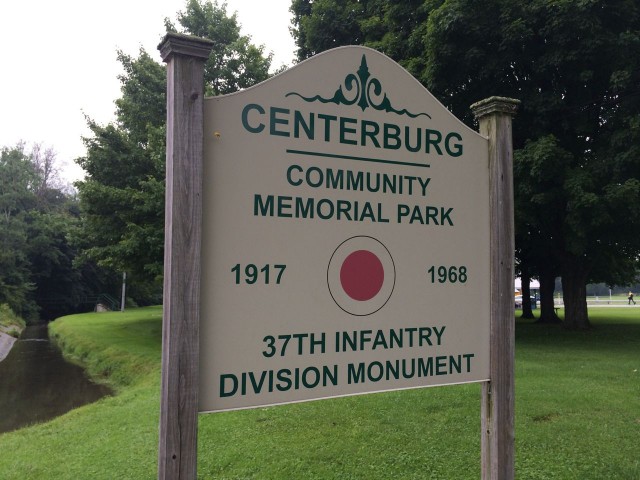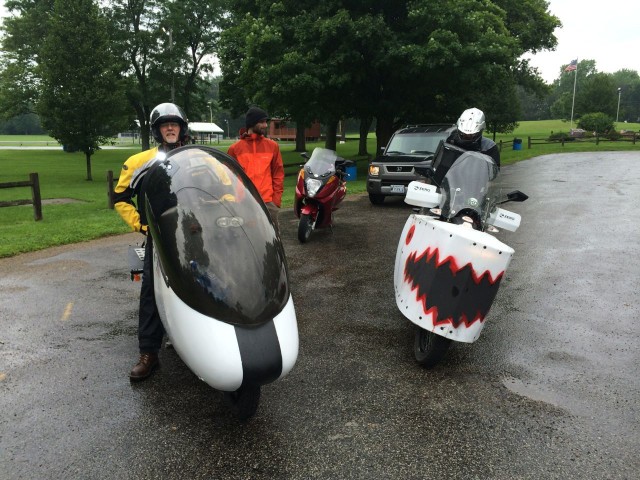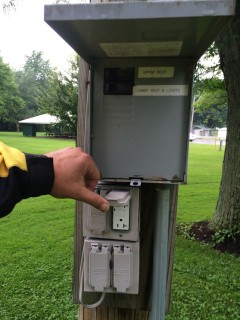 I took a few photos of the electric outlets and park sign and added it to Plug-Share, a user-generated map app which shows locations of public electric power for charging – anything from a volunteers front porch electric outlet to Nissan Leaf Dealerships to campgrounds with RV power.
After that, we hit the road some more, but by our next stop, I had used three quarters of my estimated available power, yet were only 2/3rds of the way there. Uh-oh. Not all that far ahead, I decided it was time for me to stop. My battery was getting down to 128V under load, and that was as low as I wanted to go. Below that, battery voltage starts plummeting…
We pulled over in front of an old farm-house. The next thing was just for me to find a place to plug in. The "NO TRESPASSING" sign at the derelict barn looked discouraging. Burton made jokes about how far I should stand away to be out of shotgun range. Looking a couple blocks east, there was a waving American flag in front of a large pole-barn looking place – likely a municipal building of some sort. Kraig zipped over there on his NASA-inspired cycle, and returned a few minutes later.
"It's a Harley dealership! They have an electric outlet in front, a bunch of rocking chairs, and are happy to let you charge!"
Richard Goff, with the largest battery of the three electrics, decided to continue on to get to the Motorcycle Hall of Fame, while Kraig, Burton, and I went to the Harley dealership, and I plugged in. We were only 7 miles from our destination! I was discouraged that I wasn't able to complete the ride on a single charge, but the fall-back plan WAS simply to plug in somewhere, all I needed was an outlet. Unfortunately, I only have a SLOW charger. One of the big reasons why I came out to the event in the first place was to meet up with two other electric motorcyclers (who were NOT able to make it) and talk about fast-charging with them.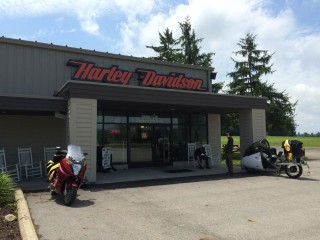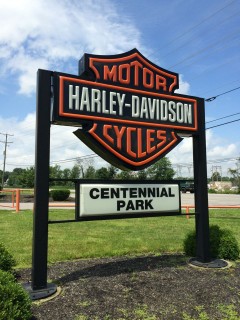 Our best back-0f-the-hand math said I would need an hour of charging for 10 miles of range. Once we were all settled and charging, Kraig decided to keep riding to the museum while Burton and I sat in the rocking chairs and discussed fast-charging and aerodynamics.
At 59 minutes, I was putting my jacket back on and buckling my helmet when I got a call from Kraig, "They're all done at the museum. The truck and trailer will come pick you up."
Oh no. Not the trailer of shame! The "Ha Ha, you couldn't complete the course" trailer! Oh well, I was going to need a ride back to the race track anyways (where my truck was.) Once the truck got there, we loaded up the Vectrix, and I hopped into the tiny jump-seat in the back of the pickup truck. Moments after we were on the road, one of the tie-down straps gave way. We stopped and saw that the entire one side my my grab bar had snapped off! *sigh* I re-lashed down the cycle, this time popping the trunk and actually finding a steel frame member to hook to.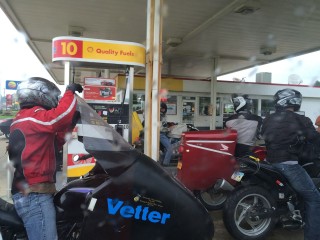 It was still an hour's ride back to the hotel where the race started! Eventually, we caught up with all the other riders. It's strange seeing a flock of finned and faired motorcycles out on the open road. By then, we were most of the way back to the hotel. All the cycles pulled in to the gas station next door and started filling up, saving receipts for the fuel economy calculations.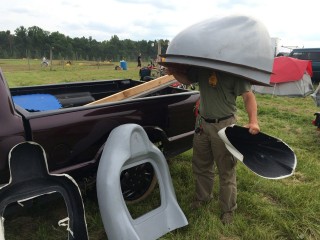 After that, it was just saying good-byes, then back to the racetrack, where I needed to load up my Vectrix, along with the fairing I had purchased from Craig Vetter.
Kraig Schultz reported that he went 64.14 miles, using 5,920 watt-hours from the wall, for 92 watt-hours/mile or  $0.011/Mile. That's 1.1 cents per mile!
I wasn't able to get a full charge until I returned home, but I used 6.13kWh (including the charging at the Harley dealership) to go 55.8 miles. That works out to 109 watt-hours per mile, or 1.4 cents per mile or 80 cents for my whole trip. You can also look at it as 309 miles per gallon equivalent.
Well, I gotta say, I'm disappointed that I couldn't complete the race, but just being part of it was an awful lot of fun! Had I known about that park ahead of time, I could have easily left a little early, charged while there, and made it to the Museum, then done the same on the way back! Alternatively, some improved aerodynamics and slightly better charged batteries could have gotten me there non-stop! Oh well, guess that's what NEXT YEAR is for!
Stay charged up!
-Ben