So, I MAY have just started tearing apart the Vectrix again… To get bent. Make a recumbent that is…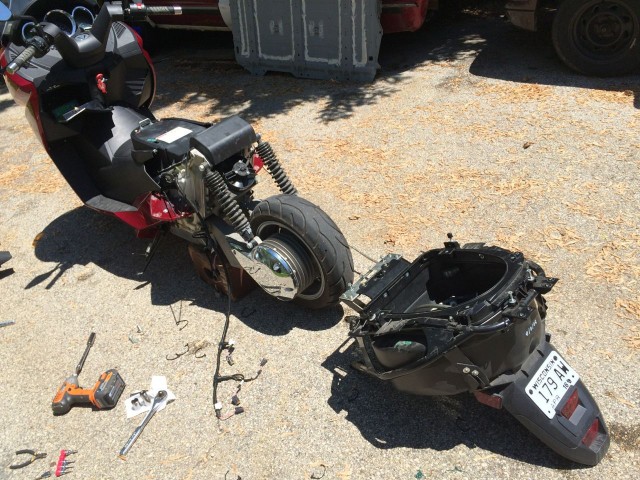 After my first taste of long-distance riding, I want MORE! So far, the furthest I've gone on one charge is 91 miles. But that's so close to 100, that it's just BEGGING to be broken! However, that was at "around town" speeds, and I'm fresh out of additional Nissan LEAF batteries. So, the next most logical change is AERODYNAMICS!
Aerodynamics is really about the BACK end of things, so I got started on the back of the cycle, first by removing the rear body panels.
To get the trunk off, I had to remove the plug from the charging cord, pull it through, and then wire it back on again. The wire harness for the tail light and turn signals is all zip-tied to the steel framework of the trunk. A side-cutters made quick work of getting the wire harness off. Without the trunk, there's no place for the seat to bolt on. That's fine, I'll go without for now, but removing the seat also lowers ME by at least four inches! Leaning backwards, instead of sitting up, also gets my shoulders lower, more out of the wind.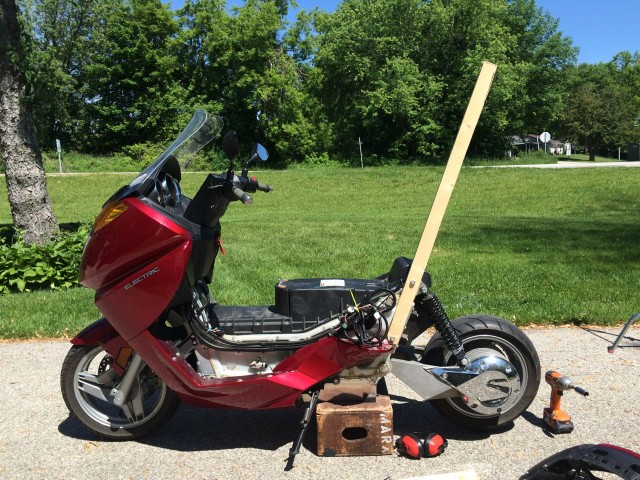 Once I got the trunk off, I used the two bolts that held it on to instead hold on a 1×2″ board.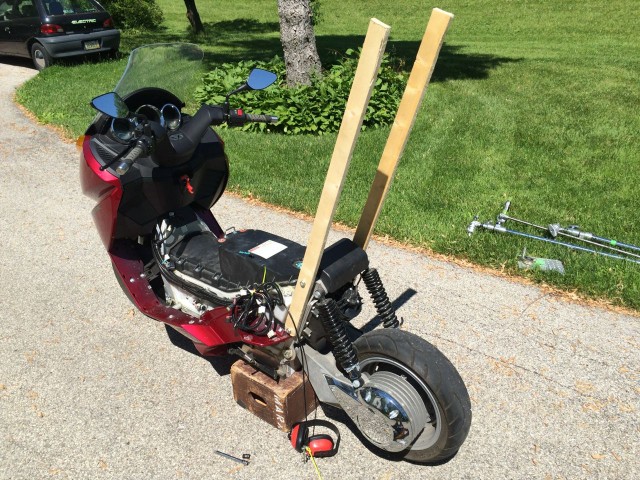 With one on either side, I could then add a cross piece and build a ladder-back chair.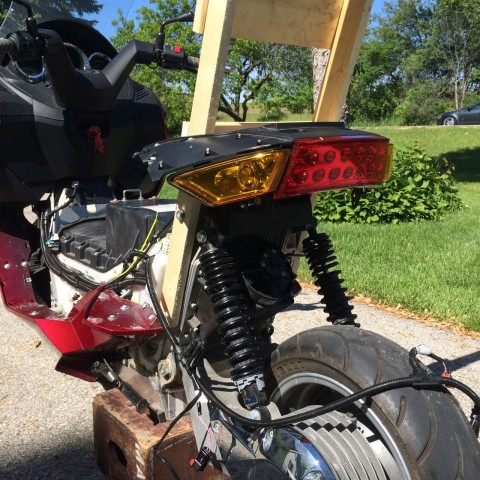 If I wanted to do a real, full-blown stream-liner, one concern that I have is swapping out lighting. The headlamp is a standard 12v bulb, but the rest is dedicated 4V LED lighting. I wouldn't easily be able to replace the tail and turn signals with more typical 12V LED lights. (The DC/DC output on the bike is pretty minimal, and it switches 4v power for the brake light and turn signals.)
One thing that I thought might be possible is to keep the stock tail and turn signals, but have them mounted at about my shoulder height.
For right now, I remounted them on a piece of wood, lower. That way, the plastic piece that I don't want to cut off (at least for now) doesn't poke me, and the wire harness easily reaches without modification.
As far as I can tell, this seems street legal for testing around my neighborhood. I screwed the license plate to the back of the upper cross-member.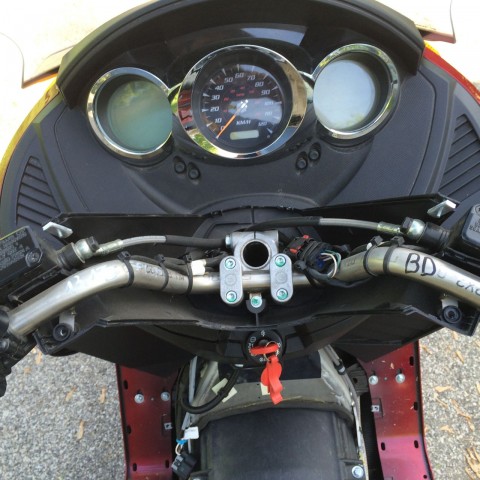 Sitting in a recumbent position, the backrest is actually really comfortable. The handlebars are a little too far away though.
After monkeying around a bit, I WAS able to figure out how to get all the trim off the handlebars and see what's actually under there. It looks like pretty normal handlebar stuff. I think I should be able to loosen the four middle screws and tilt the handles towards me. I'm not sure if that will be enough or not. If not, replacing it with a different shape/length handlebar shouldn't be too tough.
The wood framing is taller than it needs to be right now. However, it's also a nice point to begin experimentally attaching tail material.
On the Craig Vetter streamliners, he bases the angle of the tail on being a right angle from this "backrest" bulkhead. I'm not sure if that will be too steep or not, but it's something to start from.
Anyone have a bunch of political signs for aero-experimenting?
I also took it out for a ride at night. I just installed an LED headlamp. It was $34 from Amazon.com and features a 30 watt CREE lamp. While really bright, the low beam was either angled too low (misadjusted?) or just in the wrong place inside the reflector. The high-beam is great. It really lights up reflective street signs (and animal eyes) at a distance. I also LOVE the color. The cooler blue matches the existing front LED marker light.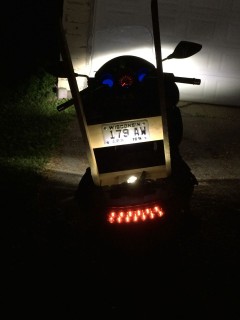 'Til next time, stay charged up!
-Ben