I recently got back from traveling to Ohio to participate in the Craig Vetter Fuel Economy Challenge. (For full details, visit THIS blog entry…)
One of the lessons learned on the trip is I NEED BETTER/FASTER CHARGING.
I wasn't able to complete the ride on my Vectrix electric motorcycle, partly due to the batteries not being charged to their fullest capacity and partly to lack of FAST charging. Either or both may have let me complete the fuel economy challenge. Another factor was rain! One of the other electric riders was using external chargers which were NOT waterproof. Pulling those out, setting them all up, and doing it someplace dry was challenging and time consuming. (It also makes electric motorcycles look like a bit of a science project, instead of a cool and fun plug-n-play ride!)
So, it's time I did something about upgrading the charging on my Vectrix.
To start with, the Vectrix already has a built-in charger. It's 1500 watts, and can run on either 120V or 240V, although it still charges at 1500 watts either way. That means there's no real advantage to charging on 240V AND the charger can't be turned down! It really needs its own circuit. I can't charge on a 15 amp circuit that has anything else on it. At the Mid-Ohio Vintage Days motorcycle event, it was very difficult to find an open circuit to charge at that wasn't being shared with some other power use.
After the experiences of the Vetter Challenge, and chatting with some friends a bit, I decided the best way to go is to use Mean Well power supplies. Specifically, I purchased six HLG-320H-48A power supplies. Each is weather-proof and outputs 48V. By connecting three in series, I can get the voltage that I need to charge my cycle. That creates a 960 watt charger. While that's NOT a huge amount of power, (remember that my existing charger is 1500 watts) it gives me quite a bit of flexibility in charging.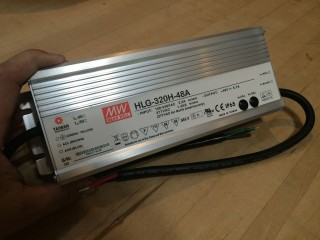 Here's why:
Waterproof.– just plug in and go – no goofing off in the rain pulling chargers out of Pelican Cases. The lack of fans on the power supplies also means that they are very quiet.
120/240V operation.  The power supplies will run on any AC voltage from 90 – 305V, including RV outlets and J1772 connections.
Current Draw Flexibility. By having 3 chargers instead of one (my stock charger, and two chargers built from strings of three power supplies,) I can simply plug in as many (or few) chargers as is appropriate for the electricity available. If only a 15 amp 120V circuit is available, I can just run a 960 watt charger. If I need to draw even less current, the Mean Well power supplies have a current potentiometer, which can be dialed-down as needed. By plugging in all the chargers, I could use up to 3400 watts – more than double what my stock charger provides.
Higher Voltage Charging. One thing that I found out on the Craig Vetter Challenge was that I was NOT getting the full capacity of my battery pack simply because of the voltage my stock charger is set to. It's set up to "charge to 80%." The idea there is that it is easier on the batteries, and will prevent over-charging. It also means I can't ride as far on my battery! By setting one of the two strings of power supplies to a higher voltage, I could use that one to get a "fuller" charge when I need it.
So far, using these power supplies to charge sounds pretty good! So what's the down-side?
They aren't actually chargers. The main thing about chargers is that they automatically shut themselves off. Power supplies are designed to continuously supply a steady power to run electrical devices. (I believe the main use for these power supplies is things like LED Street-Lights.) So, I will need to find a way to SHUT THE POWER SUPPLIES OFF. A super-simple way to do it, if I'm just standing around waiting for a fast charge, is to simply monitor the charge, then unplug the power supplies when the battery is most of the way full. The power supplies would only be used as a "bulk" charger and then the stock charger would finish off the charge.
Alternatively, a timer could be used to cut the power to the supplies after a certain amount of time. However, the best way to do it would be to use a battery monitoring system of some type to disable the power supplies once a certain maximum voltage has been reached on any cell. I already have a few "Cell-Logs", which monitor voltage on multiple cells AND have an alarm out feature. When the high-voltage alarm goes off, it will trigger an output, which could be set up, for example, to disconnect a relay to turn off AC power to the Mean Well power supplies. This is the system I am leaning towards right now.
The other thing that I didn't think about until plugging in the power supplies to test them is that IT'S HARD TO EVEN TELL WHEN THEY ARE ON! Without fans, there isn't any fan noise. There aren't even any small lights indicating power. In short, NOTHING to show that they are on at all, other than my volt-meter showing me the combined 150V output! One easy solution may be to simply to use an ammeter or Kill-a-Watt to see the power use.
Next, I'll have to actually wire up the power supplies. I need to connect the AC input power in parallel and wire up a standard wall outlet plug to it. On the DC output side, I need to connect the three in series and connect the ends to the battery pack of the Vectrix. The means opening up the bike and deciding on where the cables run. I still want it to be waterproof but might also want to easily remove the power supplies. Sounds like an Anderson disconnect might be the right way to go.
If you have any good tips and tricks on making solid weather-proof electrical connections, please let me know! Otherwise, I'm off to start crimping, soldering, and whatever else I need to do to build a charger!
Stay charged up!
-Ben