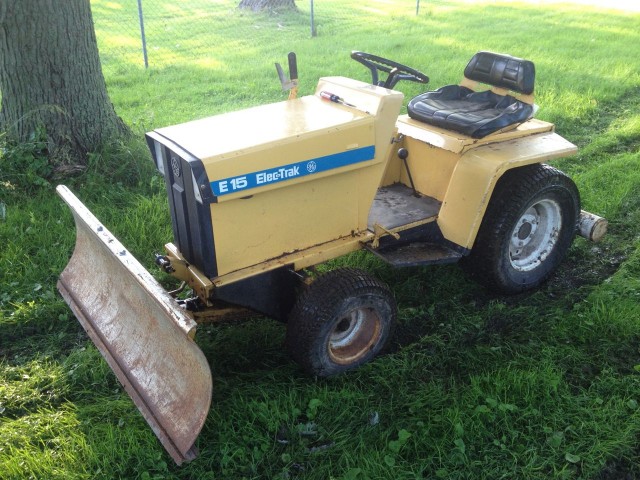 While I was away this past weekend at the MREA Energy Fair, what was REALLY exciting was getting a phone call from a friend who WASN'T there. Instead, he was at a motorcycle swap-meet where he saw an original Elec-Trak E-15 electric lawn tractor for sale!
He right away thought of me and gave a call. While my friend only had twenty bucks on him, it was enough to secure the sale of the tractor to me instead of somebody else. (But mostly, it was the fact that I have an interest in this sort of thing, and would actually make use of and appreciate it!)
So, last night, I made a two-hour drive with my truck and trailer and my wad of cash (only $250!) to go get the tractor. Overall, it's in great condition! It was pretty easy to lash it down to my trailer and drag it home. *Batteries not included, but I have just a few spares in my garage. Also missing was an instrument cover plate, but I should be able to make one of those easy enough.
This evening, I unloaded the tractor and got to tinkering with it. I looked through what I had for batteries, and found three matching gel-cells. The tractor would originally have six 6V batteries, but three 12v will do for now.
Once I figured out how the power disconnect worked, and had the batteries rigged up, I was able to get power to the volt-meter, a very good sign!
One other thing the mower lacked was a KEY! No problem, I removed the screws that held in the instrument panel, and placed a jumper across the back of the keyed switch. With that, I heard the "click" of success. Dare I put it in gear? YES!!!!
The tractor purred to life. Nothing like a 40-year-old machine running like a champ, just by adding batteries! Woooooo! I was now cruising around my yard on a 800lb tractor with a snow plow! Yipes! Not quite the correct implement for summer.
I spent the next half hour figuring out how to remove the plow, and then attach the mower deck. I got  right up to the point of turning on the blades when – "click" – NOTHING HAPPENED! Hmm, for whatever reason, the blades don't power up. Well, that's for me to troubleshoot another time as the waves of mosquitos (our state bird) started coming out for the evening, thirsting for blood.
But as it is, I'm pretty excited! All the gears and speeds on the tractor work! It has a plow (great for winter snow removal here!) and the big mover deck. A little trouble-shooting and a good once over on all the motors and it should be like new!
Look for more on the new mower when I get a chance to work on it a bit more!
-Ben