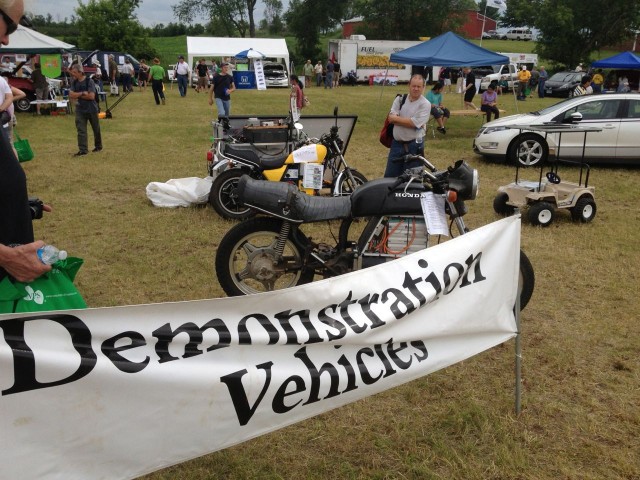 Whew, what a weekend!
I got very busy very quick with work and hadn't had a weekend off in three weeks, THEN went straight to the Energy Fair!
I'm just catching back up right now, and finally had a chance to download my photos and reflect on this past weekend's largest energy fair in the United States.
I recently had vehicle trouble, which lead me to have to borrow a friend's truck. Because it had a permanent cap installed, it meant I had to use a trailer for the electric motorcycle, and because of that, could NOT tow the Electro-Metro to the Fair. Instead, I had some spare room on the trailer, and I brought along the alternative, my Solar-Powereed Power Wheels.
Since I was working on a an ecological documentary film the night before, I was up until midnight, and then woke up at 4:00 AM to hit the road and get up to the Fair first thing in the morning.
My timing was perfect. EXACTLY as I got out of the truck to unload, the first thunderstorm let loose its deluge! Not exactly fun setting up in the middle of a storm… By 10:00 AM, things had cleared up enough that at least the general crowd started showing up, although it was light attendance for the whole weekend, due to the weather.
I set up my cycle next to Ryland's brand new EV Cycle, so we could both talk to the crowds about electric motorcycles, no matter who was or wasn't there at the time. I also walked over to the HELIOS booth, to borrow a 48V 400 watt solar panel. I had met one of the guys from Helios this spring, and found out that they are a photovoltaic manufacturer in Milwaukee, Wisconsin. That's right! Actually manufacturing solar in America!
A few weeks before the fair, I simply called and asked if I could borrow a panel while at the event. They agreed. Ahead of time, I wired up a custom plug to run from a solar disconnect to a charge controller, my EV Cycle, and my UPS. The solar panel is 4 foot by 6 foot, so we two-manned it over to my bike, temporarily bolted it to my cart, and plugged it in. I now had a Solar Upgraded version of my Poor-Man's Smart Grid! Not only could I run over 2000 watts of AC power in the middle of a field, but I could also keep my cycle topped off all weekend, and charge my cell phone. I even had a 100 watt light-bulb running as a placeholder to show how I could run my whole house off this setup.
I gave presentations on BUILD YOUR OWN ELECTRIC CAR, BUILD YOUR OWN ELECTRIC MOTORCYCLE, and DIY HYBRIDS. Many people came over afterwards to tell me how much they enjoyed my presentations. It felt great that they were so well received!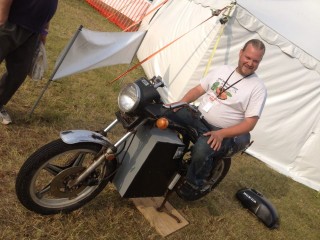 At the end of Friday, with the Fair officially closed, Ryland and I had a chance to quickly test out each others electric motorcycles. We each hopped on our own and shot down the main road just outside the fair. Once at the end of it, we swapped rides and headed back. It's always fun to try out new electric motorcycles, whether they are DIY or commercially built! Ryland's cycle is geared higher than mine, so the acceleration isn't as quick, but it builds to a higher top speed. The electric motor goes straight to a drive-shaft, so there's NO CHAIN NOISE! His bike is crazy quiet!
The cycle design is pretty slick overall. The lithium batteries, charger, DC/DC converter, and other components are all mounted in a box that bolts in place of the original engine. It looks like it would take well under an hour to swap out the system to a brand new frame! Ryland already has a new (shiny and street-legal) frame to swap the components to, now that it's all been tested out!
Kids on the Solar PowerWheels Jeep.
I took the Solar PoweredWheels over to the kids area and left it there. How much damage could they possibly do? I stopped back a few hours later to check. The battery was run down (it was cloudy, so no solar power) the tail lights were on (continuously draining the battery,) and the tail-light switch was BROKEN in the ON position! I was able to turn the switch to off with my pocket knife and pushed the Jeep back to the Clean Car Show part of the fair, where I could keep a better eye on it. Many children (and several adults) rode in it the rest of the weekend. One joker even parked it in the shade. No, no! It's a SOLAR-POWERED powerwheels!
All said, the PowerWheels was at 12.5V at the end of the show, NEVER getting plugged into wall power since LAST summer!
Highlights of the rest of the weekend included; catching up with old friends over a beer, spotting a Mitsubishi i-MIEV at the car solar charger, (Ryland got to test-drive it!), attending a workshop on veggie oil conversions, a long discussion on the use of solar-powered electric motorcycles in the developing world, seeing a couple of cool trailers at the campgrounds, and of course, dodging thunderstorms. My EZ-UP was literally torn from the ground by  a 60mph wind gust, and my shade umbrella was destroyed as well.
I also got a call Sunday morning from Leslie (who you might remember from the Diesel Motorcycle project) saying he was at a motorcycle swap-meet where a guy had an Electrak E-15 electric riding lawn mower for sale! My old electric mower is in poor condition and is in desperate need of a rebuild anyways. The E-15 has a larger, front-mounted mower deck than the E-10, AND it has the snow plow blade as well! Unfortunately, my friend didn't have enough money  to buy the mower outright, but he did throw down a deposit for me, so now I'm heading out for an hour and a half drive tonight to go pick up the mower! If anyone wants a used E-10, let me know!
The most UNEXPECTED thing of the weekend was just exactly how well the borrowed solar panel worked with the Poor-Man's Smart Grid setup! I really did have a complete system for renewable-energy-based transportation with matching home backup or off-grid power. I even realized that my charge controller can be set as a diversion setup, where when the motorcycle batteries are charged, it simply diverts the power to another source. By adding a simple 400 watt grid-tie inverter (I had one there, but it was only a 12V version, not 48) the system would charge the cycle then automatically route power to the inverter and deduct 400 watts from home use, or even (assuming I'm using little power) run the meter backwards! Perhaps for next year I can really put in the work ahead of time to make a nice "Vehicle to Grid" hands-on demonstration, including some good graphics and posters.
The Energy Fair is always the highlight of the summer! It's so great to see all the positive things being done in clean transportation, renewable energy, and sustainable living. Thanks so much to the MREA, the Hardcore Volunteers, Exhibitors, Presenters, and everyone else who makes awesome happen!
I'll see you next year at the 2014 Fair!
-Ben