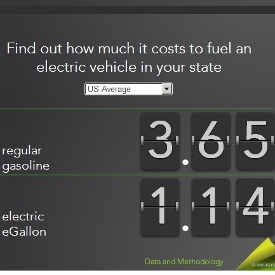 I've been busy working out of town the last few days, but when I got back, I had an e-mail waiting for me essentially asking "Hey, what do you think of this new eGallon?"
Wait! One more new thing to confuse the public over electric cars!?!?
I followed the link sent to me to the U.S. Government's Energy page about the eGallon and had a read through, including the links to details on how they come up with the numbers.
After reading through it, here's my thoughts:
The eGallon is a fine tool to simply show how much less expensive it is to drive electric instead of gas. Beyond that, it may not be particularly accurate or even apply to you. For example, the eGallon is based on LOTS of AVERAGES (average fuel economy, average cost of gas, average cost of electricity, average efficiency of some EVs….. etc, etc.)
In my area, gasoline is HIGHER than the national average and at my house electricity is LOWER than the state average. So, for me personally, my eGallon is going to be lower than somebody else's. In addition, the eGallon doesn't take into account TIME-OF-DAY billing, which is available in most places around the country. During off-peak hours (at night) when most people charge their electric vehicles, electric cost is HALF as expensive as it would be otherwise! Imagine if you could buy gasoline at night for $2.00 per gallon instead of $4.00! Time of day billing is one of many advantages of fueling a vehicle with electricity instead of fossil fuels.
In addition, if you are big into Solar PhotoVoltaics, you can literally MAKE your own electric vehicle fuel for FREE (minus capitol expenses of course!) Just try making gasoline on the roof of your house!
I encourage you to take a look at the government info on the eGallon, and let me know what you think!
I'm my mind, the eGallon is a fine tool for those not too familiar with EVs to realize how much less expensive EVs are to operate. However, with a little more background knowledge, the truth is that EVs are EVEN BETTER THAN THAT!
-Ben