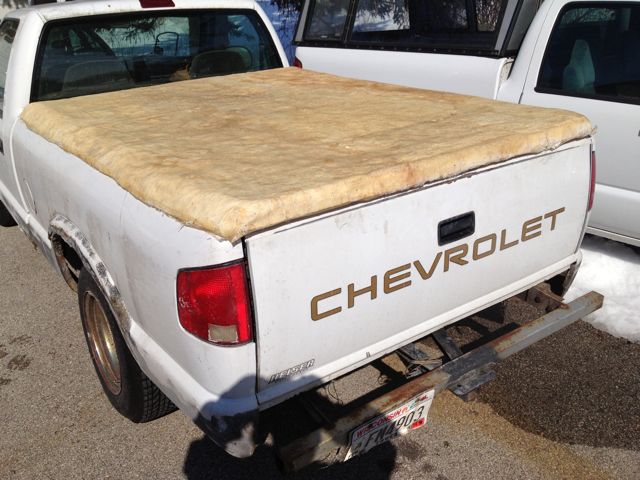 Sometimes the lessons you learn are what NOT to do.
In working on my DIY Fiberglass Over F0am pickup truck tonneau cover, I learned that I'm not particularly good at fiberglass, nor do I like working with it.
This winter, I was doing some work recycling some existing white polystyrene foam into a flat cover for the rear of my pickup truck. Unfortunately, I didn't have a heated workspace. The best I could do was working on the project a bit at my Dad's place, where I borrowed his workshop a bit for the actual fiberglass layup.
The fiberglass was smelly and messy, and when I was done, it didn't actually look that good.
But is it functional? Heck Ya!
This past week, I was doing plenty of travel, in all weather from a sunny winter day to a blizzard. At some times, I was carrying plenty of gear in the back of the truck that could NOT be exposed to the weather, and other times, I needed the bed completely open, such as for transporting my electric motorcycle.
The tonneau cover worked great. It's light enough for me to pick up and move all by myself, and requires NO TOOLS to attach or remove from my truck. (The magnetic system works great!)
As of yet, I still haven't finished the edges of the cover, nor have I used filler on it (it's very lumpy!) or painted it. Chances are, I never will. It was a great experiment, and I'm sure I'll keep using it, but for what it's worth, I don't think I'm going to bother trying to smooth it out. It would be a LOT of work and PLENTY of Bondo to really smooth it out, and at that point, it would be fairly heavy too.
The whole point of the cover was really for me to get some experience working with fiberglass and foam and to learn and experiment.
The next big plan is to design a teardrop shell for the back of the truck that will be a cap going from even with the top of the cab, and sloping towards the top of the tailgate. At this point, I'm leaning towards working with wood, but I'm NOT planning on making it from fiberglass!