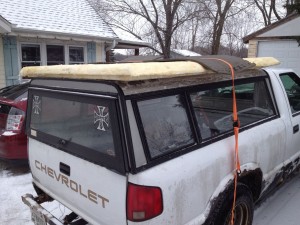 A few weeks back, I took the foam flat cover over to my parent's house, as my Dad has a workshop on the back of the garage with some insulation and  heat to it.
It's nearly impossible for fiberglass epoxy to set in my garage at sub-zero temperatures, so I asked if I could work on my project over there. I started it, but got busy with a few other things, and felt that my tonneau cover was starting to outstay its welcome, so yesterday I was able to finish the basic fiberglassing. At that point, at least I could handle it, move it around, and have it be fairly weather resistant.
Today, I trimmed off the extra fiberglass, cleaned up my mess and brought the cover home.
So, what have I learned so far? Mostly that fiberglass is really messy and smelly, and that I'm not very good at fiberglassing! The flat cover has been a great experiment so far, but it's far from done. The whole thing is rather lumpy. It really needs a lot of sanding, Bondo, and painting. I was really happy with how the magnetic catches turned out. The magnets really stuck right down into the foam very well, and the Gorilla Glue and fiberglass embedded and sealed them up very nice.
Once I got the cover home. I set it on the bed of the project truck. It fits fine and sticks right down with the magnets. Now, if only it wasn't so ugly and got painted white!
Oh well, I'll keep chipping away at the project, but at least I have something to keep snow out of the bed of the truck!