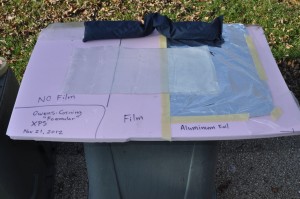 What do I know about fiberglass? Well, next to nothing.
I even called a few people I know that I figured must have done some fiberglass work before. And they hadn't. I'd love to learn a bit about fiberglass. It's a durable material, and I've seen so many cool things done with it, yet I am completely clueless!
My motivation to learn more is my SUPERTRUCK project. One of the ironies of a pickup truck is that it has very little cargo space. While there's the entire bed, you really don't want that filled with groceries or valuable equipment in the middle of a thunderstorm, or unlocked somewhere you're working. That's why so many people have caps or tonneau covers. Ideally, I want an aerodynamic cap for the truck. I do NOT want to invest a lot of time and materials in building one, only to screw it up.
So, I'd like to make a basic fiberglass-over-foam FLAT cover for the bed of my truck as a learning project. But before I even do that, I need to learn the basics of fiberglass.
I don't know about you, but for me, sometimes the best way to learn is just to go ahead and do something. So, I picked up some materials at the big box home-improvement store: fiberglass cloth, resin, a disposable brush, rubber gloves, and a measuring cup.
Today, I did an experiment, grabbing several materials in an attempt to whip up a batch of fiberglass, lay it up, and see what happens. I had some scrap extruded polystyrene (pink foam) and some thick styrofoam. I cut both to a sample size. I had heard that pink foam reacts poorly to fiberglass resin, but the material I was using has a clear plastic film on it. Would that protect it? I also heard that a "blocking" material, such as aluminum foil could work, so I put some of that on the pink foam as well.
Not knowing how much resin I would need, I mixed together 8 fluid ounces, as it happened to make the math easier for the resin-to-hardener ratio. I then brushed out resin directly on the pink foam, on the foam with the clear film, and on the aluminum foil over the foam. I also brushed the resin on the block of white styrofoam.
Next, I laid down fiberglass cloth. I used two wooden popsicle sticks to press the cloth flat against the foam and sort of squeegee it down. After that, I brushed on some more resin over the top.
I did see a reaction with the unprotected pink foam. The resin ate into it similar to the way that spray paint does. The other part that surprised me was the white styrofoam. It didn't seem to react too much at first, but in the long-run, it was eaten away considerably more than the pink foam. I wish I would have had some blue foam or yellow foam to run tests on as well.
I still had plenty of resin left, and not much time to use it, so I quickly looked around for any other materials I could lay fiberglass on. Well, there's a 2×4… I grabbed it and cut a narrow strip of fiberglass cloth, and then applied the resin, cloth, and more resin to it just like I did on the foam.
The directions on the resin can called for a two-hour cure time, and then sanding. Once the two hours were up, I sanded all my surfaces once with 100 grit paper and again with 150 grit paper. Because my pickup truck is white, I used the same color Rustoleum spray paint on the fiberglass.
I noticed that the texture of the surface is really exaggerated once paint is on it. Dimples were clearly evident where there wasn't enough resin in the weave of the fiberglass cloth. It seemed like the more the resin ate into the foam, the less resin there was in the cloth, and the worse the finish was. The white foam looked like it was bad canvas painted white, whereas the block of wood looked almost perfect! The pink foam with the film was much better than the foam without, but not as good as where I used the aluminum foil.
All in all, not a bad little learning experience. Big things I noticed right away….
Fiberglass is NOT eco-friendly. All sorts of health and safety warnings on the can. The smell is aweful, and you do NOT want to breath the sanding dust!
It's crazy sticky. Getting that 50 pack of rubber gloves was a really good idea…
Photography and Fiberglassing do NOT go together. I only managed to not completely cover my camera with fiberglass by removing a glove, taking a photo, and putting a new glove on. Next time I do photo-blogging about fiberglass, I'm going to set the camera to full-auto and mount it on a tripod on a wide shot. Then I should be able to take a photo by pressing the shutter button with my pinky and some plastic wrap over it.
I've also heard that fiberglassing is all about surface preparation. Because my foam was stored outside, there was some degradation from sunlight. I used the clean side, and sanded the white foam a bit to clean it up before I started. After fiberglassing, I just did a quick and simple sanding job. When the white paint was on the 2×4 block of wood, I was amazed at how I could still clearly see the individual scratches of the sanding on the fiberglass right through the paint. I guess that's also why I hear about people doing a Bondo skim-coat over fiberglass before painting.
Do you have any fiberglass tips, or good ideas on working with foam? Remember, my long-term plan to to build an aerodynamic cap for the pickup truck, if you've got ideas for me, let me know!
Thanks,
-Ben