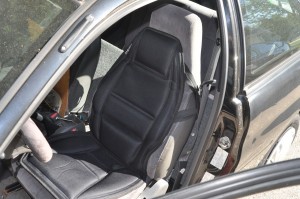 Lately, the days have been getting cooler, and the nights have been getting longer.
While I haven't used the Electro-Metro much this summer (I've mostly been on the EV Kawasaki motorcycle) I'm thinking that times are coming up soon where I'll want a roof over my head and more than two wheels on the ground. That's also why I'm revisiting HEAT IN AN ELECTRIC VEHICLE.
If you are familiar with my projects, you might remember how I've been dealing with winter heating so far. Basically, a small 12V defroster, combined with a considerably more powerful AC floor heater running from wall power and a timer. It's always worked fine, but with some things I've seen recently, maybe it's time for an upgrade…
HOW THE BIG BOYS DO IT:
Last winter, I talked with my new friend Matt, who was the first Nissan Leaf owner in the state of Wisconsin. We are one of the last places to get electric cars when they come out, and part of the reason is the manufacturer's concerns about winter battery range and heating. So, the first question I asked was "How's the heat!?" Right away, he explained that it was great. Running the cabin heater DOES reduce the car's range (as does trying to drive through heavy snow!) However, he usually does NOT use the cabin heater. Instead, the car has both a heated steering wheel and seat! (For more details, visit Nissans site.) Those directly heat the driver, and since it's electric, the heat is instant – no waiting for an engine to warm up.
Not only can an EV have good heat, but it can be even better than a stock gas car, putting the heat right where you need it, right away!
AFTERMARKET PLUG-IN HYBRID:
This spring, it was time to replace my wife's old worn-out car. We had some savings stored up, and in the end we purchased a 2004 Prius with a Hymotion plug-in kit already installed. We got the car in March, and since we had an early spring, heat hasn't been an issue at all yet. When we were looking at buying the car, I asked all of my Prius-owning friends what they DID NOT like about the Prius. (Most Prius owners will RAVE about how they love it. It's harder to get folks to talk about what they don't like in it.)
When I really dug into it, the only concern that I found mentioned more than once is "The heat isn't all that great in the winter." My wife's previous car had GREAT heat in the winter. While we wanted to make a jump up in fuel economy, I didn't want her being COLD all winter.  We looked around, and when we found the car we ended up buying, I was pleased that it not only had the plug-in kit, but also a HEATED DRIVER SEAT.
The seat is AFTERMARKET. It didn't come with the original car. The previous owner (who had the Hymotion kit installed) had the seat professionally removed and seat-heating built in, and then returned to the car. It has a low/off/high rocker switch right on the side of the seat, and automatically powers off with the car. I have no idea how much it cost to have an aftermarket heat seater installed. I'm just glad that the previous owner did it, so we only paid used prices instead of new!
I have also noticed with the Prius that when you run for any extended amount of time on just the battery (as you do with the Hymotion kit) that engine temperature can drop quite a bit. Two weeks ago, we were on a road trip, and got stuck in Chicago traffic. The Hymotion kit gave us well over 100mpg in city traffic, but by the end of it the engine came on automatically – not to charge the battery, but just to keep the engine up to operating temperature. And that was in September! It makes me wonder how quick engine temps will drop in a Wisconsin winter.
But even if they do, we still have a delightful heated driver's seat! (It's only the driver seat. The passenger seat was NOT modified to match.)
The $10 Electric Car Heating Solution:
So that's great for the  $35,000 brand-new EV, or custom-modified Hybrid, but what's a guy with no budget and a DIY Electric Geo Metro going to do? First place to head to? The THRIFT STORE!
You never know what they are going to have at the thrift store, but some things are a certainty. They will always have old golf clubs, used blenders, and lots of plaid pants. But I've been keeping an eye out for one item in particular – a heated massaging seat cover.
You know what these things are, I'm sure you've seen them. It's sort of a cover that you put over a chair, and you plug it into the wall. A small hand-control with a switch lets you turn it on and adjust the speed. The chair cover massages your back, and some of these have a heating feature as well. Some time ago, I saw one of these at the thrift store. The first thing that I noticed is that it had a power supply, not JUST a power cord. Sure enough, on closer inspection of the "wall-wart", it listed the output as 12VDC. The device doesn't run on AC power at all – rather, it converts 120V AC down to 12V DC. That means it couldn't be any easier to run in a car!
So, last time I was at the thrift store, I had my eye out for one of these things, as I usually did. But I didn't find one on sale, I found FIVE. Whoo Hoo! Buyers choice! I selected through the pile as there were variations on a theme here. One of them was 20V, so I eliminated that from my pile. One was priced more than the others, for whatever reason. I also looked at the amperage rating of the power supplies and at the UL listing on the tag. I ended up buying one that was rated at 1.6 amps and cost me $5.00. The power adapter unplugs, leaving a nice round female power connector, ready to be modified to run from the cigarette-lighter, or hardwired straight from the car.
But my shopping day wasn't over yet. I still hadn't gone through the "Man Department", one small corner of the store combining hunting gear, automotive, tools, and sporting goods. And there I saw my treat for the day – a HEATED STEERING WHEEL COVER. I couldn't believe my luck. I had seen these before at a big box sale. Even on sale, they were $20. But at the thrift store, still in new packaging, it was only $5.oo!

Not a bad visit to the store. Only ten dollars and I had an electric car heating system to rival the Nissan Leaf!
At home, I tested out the back-massaging seat cover on our sofa. BBBBBRRRRRRRRRRBBBBBRRRRRRRVVVVVV! Wow, surprisingly powerful for something only rated at 20 watts! The next day, I put the seat cover and steering wheel cover in the car. At this point, I still need to do a little custom wiring. The cigarette lighter port in my Metro never worked right, and got removed anyways during the conversion. I need to wire up a dedicated car plug for the seat cover, and the steering wheel cover did NOT include the cigarette plug. Not a big deal, but I will have to dig through my box of spare cords and cables and make something.
So, there you have it. $10 for a custom EV Heating Solution.
And I don't know of any Nissan Leafs that give you a back massage as you drive down the road!
Take Care and Stay Warm,
-Ben