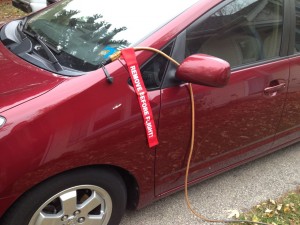 One of my favorite pastimes is wandering through "The Man Aisle" at the thrift store. Never know what you'll find there. Case in point – a Pitot Tube Protector. I didn't even know what you call this thing until I stumbled on one new it its original packaging.
A while back, I bought a video camera bag. That particular manufacturer includes a key ring with every bag, which is a red ribbon that says "REMOVE BEFORE FILMING". I knew it had to be some sort of inside joke, but had no idea what it meant. Doing some web searches, I found photos from the Space Shuttle, that had some similar red tags stating "REMOVE BEFORE FLIGHT". So, the keychain must have been a NASA reference? Still seems a bit odd to me.
But when I found this same tag at the thrift store, it made perfect sense for me – this time as a reminder to unplug the block heater on the Hymotion Prius!
The weather recently turned cold, and it's time to start using a block heater on a regular basis for both creature comfort AND fuel economy. The only problem is that it's pretty easy to forget to UNPLUG the block heater before driving off. Not only is it embarassing, the power cord and electric outlet don't like it either.
My buddy, Tim, helped me install the block heater recently when it was up in the air getting an oil change (sythetic of course!) It's easy to install a block-heater on a Gen. 2 Prius, but it helps to have long-skinny arms and a good sense of touch! (And a buddy who has done it before!)
So, really the only down-side of a block heater is UNPLUGGING it before taking off. Tim and I ran the power cable to come out near the driver's corner of the windshield. Not only is it easier to see there, but you don't have to bend over to plug and unplug the heater. Even then, it's still easy to forget about.
So, when I saw "REMOVE BEFORE FLIGHT", I knew the perfect use for it – as a reminder to unplug the block heater!
On the packaging, it said "Pitot Tube Protector". I had no idea what one of those was, but a quick web search revealed that a pitot tube is a device used for measuring airspeed. On a small airplane, you would use this to protect the pitot, keeping out bugs, the weather, and other things you wouldn't want it there, but you have to remember to remove it before take-off.
With an awl and a zip-tie, I permanently added the Pitot Tube Protector to the business end of my favorite 12-ga extension cord.
Now, all I have to do is "REMOVE BEFORE FLIGHT"!
How about you? Any cold-weather car tips? When do you start using your block-heater? How do you remember to unplug yours?
Stay warm.
-Ben
PS: It's easy to remember to unplug the charging cord from the Prius. The Hymotion system is tied into the stock Prius software in such a way that you CAN'T turn the car on while the charging circuit is plugged in. If you get in the car and it won't start, chances are you left it plugged in!