HEAT!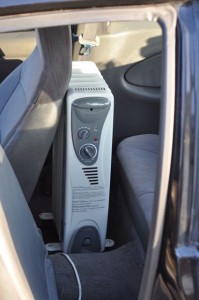 Winter Heat:
Sure, gasoline engines aren't efficient, but all that waste heat sure is nice in the winter. Since this car no longer has the original engine, it doesn't have the original heat either. The blower motor is still there and works fine for defogging the windshield.
Some EV converters remove the original heater core and replace it with a ceramic heating element that runs on their pack voltage. That sounded like a lot of work, and I was already sick of tearing apart the dashboard.
I already had a household (120V AC) electric oil-filled radiator. I just put that behind the passenger seat, and run an extension cord out the window to a timer.
The heat comes on automatically in the morning and heats up the inside of the entire car before I get in it.
The mass of the oil in the radiator stays hot for about 10 minutes or so after I leave. Most of my trips aren't any longer than that anyways.
I like that with this heat system in that:
1) I didn't have to buy a darn thing
2) The entire interior of the car is already warm – seats, steering wheel, everything!
3) This also helps keep the batteries warm.
4) All the electric power comes from the wall, instead of the batteries
The only down side is that if I am parked all day somewhere that I can't plug in, I don't have that same heat for the ride home. On the other hand, most of my trips are pretty short, so it's not the end of the world.
This heat system consumes about 5 cents worth of electricity per use.
Later, I built myself a heated coat. The idea is that I can stay warm in the winter working in my detached and unheated garage or while driving a vehicle. The HEATED COAT works great, and I even set it up to run from a small lithium tool battery!
I also picked up a heated steering wheel cover. They are $20 brand-new at the store, and I found a second one later for only $5 brand-new at the thrift store! It plugs into the 12V cigarette-lighter plug and is cozy and warm.