This past Friday, I had the great privilege of joining other Instructables authors in Chicago at the CRAFTSMAN EXPERIENCE.
The event was part social mixer, part television show, with Instructables authors being interviewed and talking about and showing off their innovative projects.
I brought my electric motorcycle down to show off at the event. After 4 hours of traffic (should have been 2.5 hrs total travel, but that's Chicago traffic for ya!) I finally made it to downtown Chicago where the Craftsman Experience is located. The only way in was up a flight of stairs…. with a MOTORCYCLE. Fortunately, they had a portable wood ramp to help, but that still left the very first (and biggest) step. Time to test my DIY skills! I nudged the cycle close to the step, and twisted the throttle. Yep, the cycle took itself right up and over, no problem! And without slipping a clutch or using a drop of gasoline!
I wasn't event at the location for very long before the show started, and I was the FIRST Guest! I didn't even get to see the whole show, as I still needed to duck back out to my pickup truck, and then also get some food (I hadn't eaten in 9 hours…). Of course when they called me back on stage later, I had just taken my first big bite of a taco….
They did have food and drink provided – a taco bar and a dessert bar. Of course my mind just started thinking how I could create something EVEN BETTER from what they had there, and I realized that all the ingredients were there for a DIY Choco-Taco!
After the show, I got to hang out with the other Instructables authors, including these two, Antibromide and Technoplastique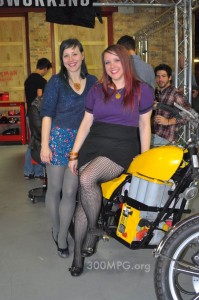 Overall, it was really a fun event!
The organizers put the whole show together into a YouTube video, which you can watch right here.
Or, if you just want to quickly look at my segment of the show, you can see that right here: