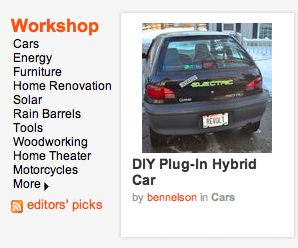 I just put the information on my do-it-yourself hybrid on INSTRUCTABLES.com
The project was almost instantly featured – it shows up on the homepage and is also otherwise highlighted on the site.
I also entered it into the contest they have going on sponsored by Craftsman Tools. The grand prize is $5000 worth of tool gift certificates! The contest is open to public voting on your favorite project, but ONLY for the next couple days! If you like my hybrid project, please vote for it in the contest.
You can see the Hybrid Car instruction at:
http://www.instructables.com/id/DIY-Plug-In-Hybrid-Car/