We just bought a BRAND NEW Electric Car!

What did we get? It's a 2023 Chevrolet Bolt EV!
This electric car has a 66kWh battery and is rated for 259 miles of range.
The one we purchased is the 2LT trim level, which includes leather seats, fancier rims, and a birds-eye-view camera system. It also has quite a few driver safety and assistance features, such as blind-spot alerts and lane-keep.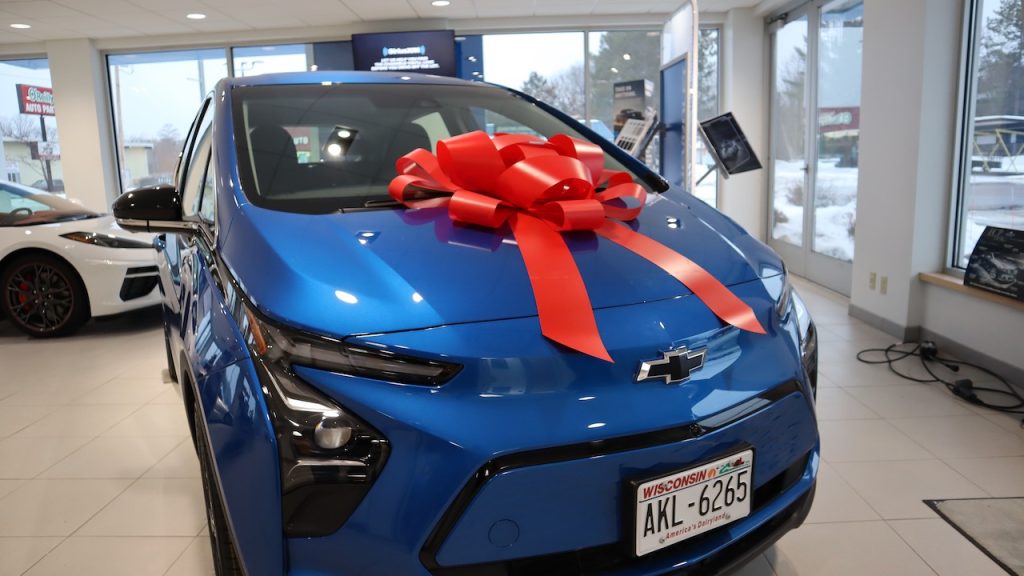 I bought the car at a dealership over 200 miles away. A friend drove me there (in his Tesla Model 3,) I purchased the car and drove it home, making just one stop at a DC Fast Charger. In good weather, I should have been able to make the trip without stopping at all. The temperature was just above freezing. We had slush on the ground at the start of the trip and rain as well.
This is about a $30,000 car.
MSRP on this exact one was $30,485, including destination charge and options.
I was able to get a $2,000 discount through Uber and I fully expect to be able to take the full $7,500 Federal Tax Credit. This brings the cost of the car down to $20,985 – plus tax, title, and license.

Although there are sometimes State or Utility rebates available, I unfortunately do NOT have any of those in my area. We were also NOT able to get the Costco discount or any of several $500 GM "Appreciation" discounts.
It's too early to tell you all the little things that I love (or don't) about the car, as I really did just get it.
A couple of things I did notice right away…

Wireless Apple CarPlay is super-cool! It automatically turns the large center display of the car into a giant version of my smart phone. So, my maps, music, calendar, and more are right there – easy to see and use.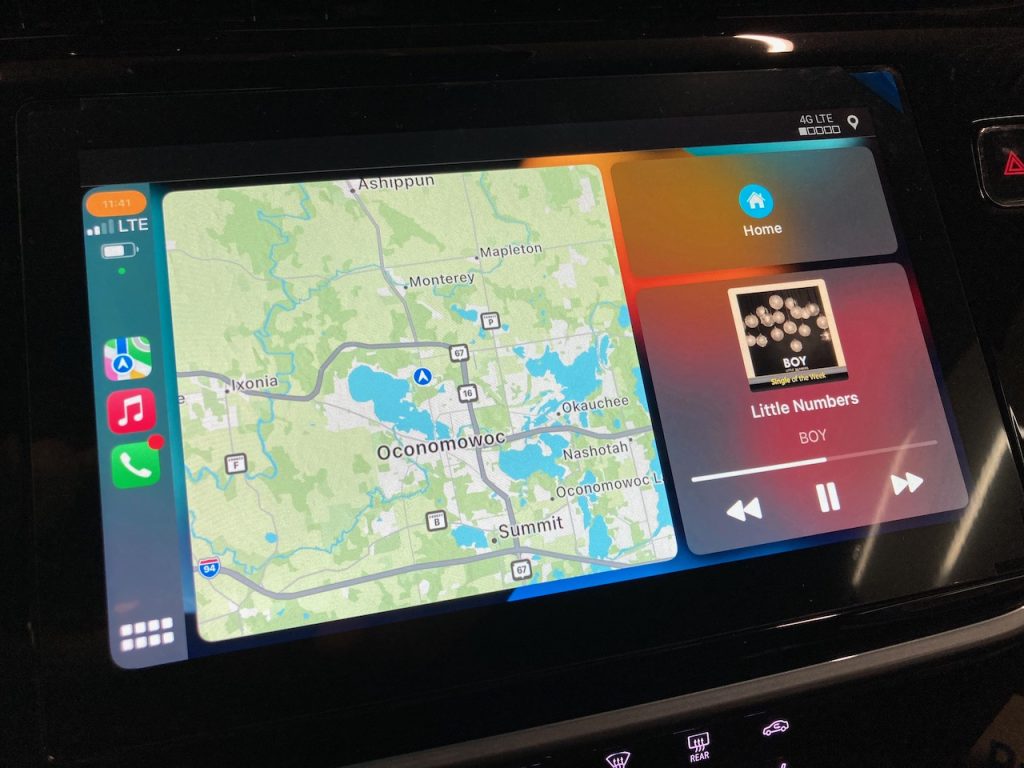 Also, I LOVE One-Pedal-Driving!
At the push of a button, you can completely control the car with just the accelerator. Letting off applies firm regenerative braking which can bring the vehicle to a complete stop and hold it there (and of course it turns on the brake lights!)

I like the overall look of the car. The "slit" daytime running lights double as a semi-animated turn signal. The newer front-end feels modern and the blue color really pops.

When it really comes down to it, more than anything, it's a great big battery on wheels! 66kWh of battery means my wife will never have to worry about the state of charge – just hop in the car and drive.

The fast Level 2 Charge Rate – up to 11.5kW, or 48A@240V, means that even on a completely empty battery, I can charge to 100% full, all while on an overnight "Off-Peak" electric rate. That means the car is CHEAP to fuel!

That same big battery would also be extremely useful in event of a power emergency. That much juice could power my house for days in a blackout! (Look for a future video of me setting up the car to do this!)

Well, that's it for now. But you can look forward to more videos about this vehicle, my likes and dislikes, and what can be done with it OTHER than simply driving the vehicle!

Until then, stay charged-up!
-Ben Nelson