I recently got the chance to try out the SHOCKFLO 16A dual-voltage electric car charging unit. It's very inexpensive,($160 as of this writing,) but is it any good? Let's take a look!
The very first thing that I noticed is that it feels solid. The body of the unit has a nice textured finish. The J1772 end feels good in my hand, and the 20 foot cord has the feel of flexible rubber, rather than stiff vinyl. (People in cold-weather states know why this is important!)

The SHOCKFLO arrived in its own zipper bag and includes a NEMA 6-20 to 5-15 adapter. This lets you plug in to a 240V outlet OR a 120V outlet. Even if you don't have a 6-20 (240V) outlet, you could also use an adapter to go to a 14-50 or other higher power 240V outlet.

I tested the SHOCKFLO ON three different cars. My two cars max out at about 13A of charging, so I also had a friend stop by with his late model Nissan Leaf, with a higher powered charger.

The EVSE is "Plug and Play" – there are no buttons on the unit, nor any settings that need to be changed. Just plug it in to the wall and the other end in to the car. It's as simple as that.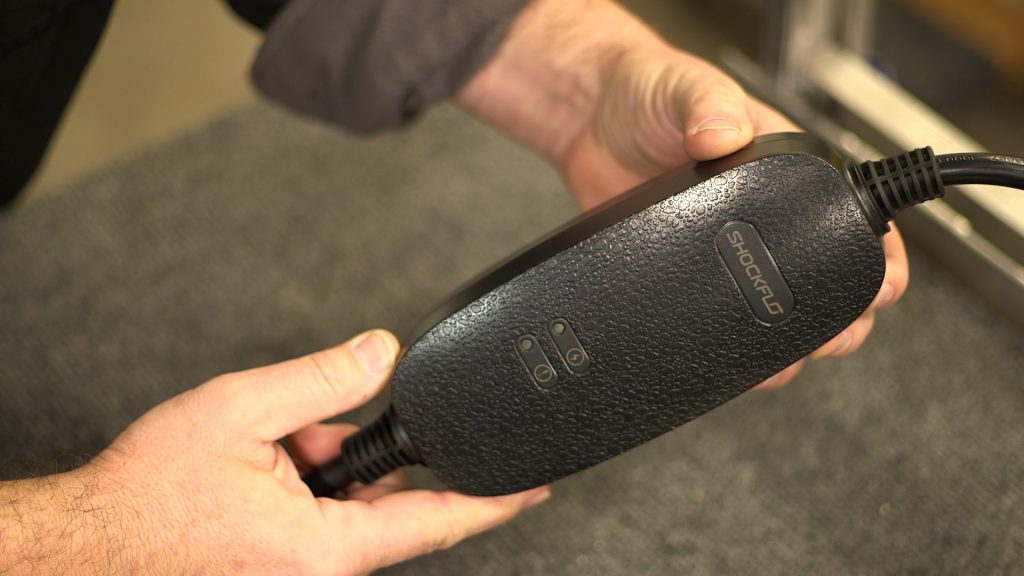 The SHOCKFLO is very compact, easily half the size of my original Chevy Volt EVSE, which was 120V only!

On the body are two LEDs – one green and one red. The green LED gives an indication of power and ready to charge, charging the car, and charge complete. If there are any errors or unusual conditions, the red LED lets you know what it is. The basic information for the LEDs is right on the back of the body of the EVSE, and the additional error and protection codes are in the included instruction manual.
Listed among the features of the product is an IP65 rating. That essentially means it's weatherproof. I opened it up to take a look inside. There's a silicone gasket between the two halves of the case, and the strain-relief for both cords also acts as a seal against the weather. It's no problem using this outdoors on a regular basis without worrying about rain.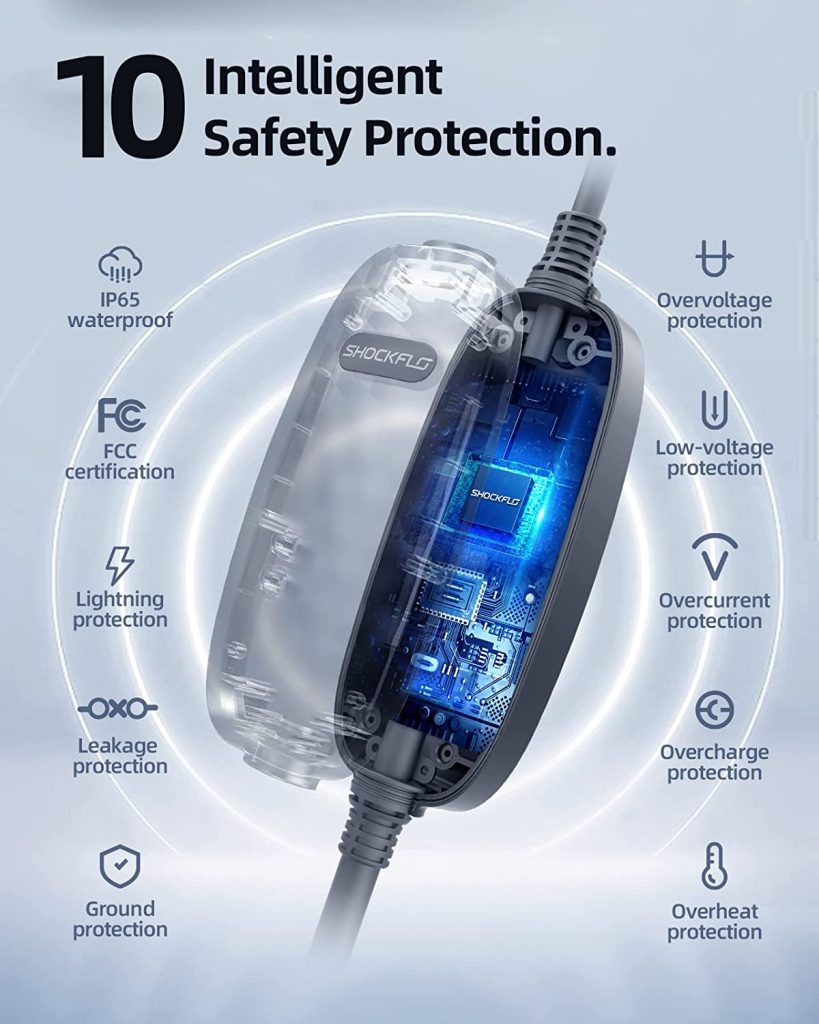 The spec sheet also lists a large number of safety protection features, ranging from lightning protection to overheat protection. While I didn't have an easy way to test against lightning, I did see that it would be pretty straight-forward to test for overheating and an improper ground. For the ground, I simply plugged in through a cube tap with a broken ground pin. Right away, the red LED lit up indicating a grounding issue. This is an "alert" – it still provides power, but it lets you know there's an issue. A car like my 2012 Mitsubishi iMiEV can still charge, ignoring the ground, while my friend's Nissan Leaf did not. (Keep in mind that grounding varies by car. It's actually a GOOD thing that the EVSE alerts you to it, but will still provide power.)
I also tested the overheat protection. I already had the EVSE open to examine the waterproofing. So, while it was open, I simply pointed my heat gun at the electronics. It didn't take long to start flashing the red LED and kill the power output. Looks like overheat protection works the way it's supposed to.
With the cover off the SHOCKFLO I had a good view of the electronics inside. Overall, it looked very good. Soldering was clean, terminals were tight, and it had good build quality.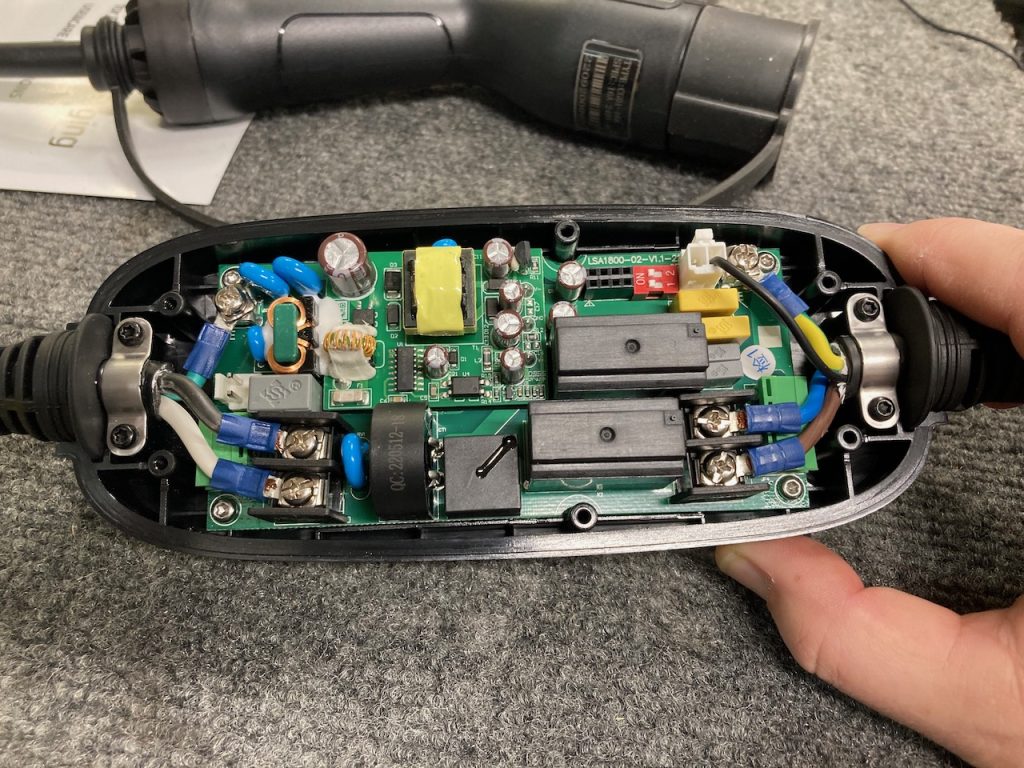 The EVSE provides up to a maximum of 16 amps of current to the vehicle.
That's perfect for me, as our vehicles can only draw about 13A maximum anyways. Full power on 240V is 3,600 watts. Many cars now have higher power chargers, and can accept 32 or even 40A. We charged the newer Nissan Leaf and saw that it did indeed max out at 16A.

Now here's the interesting part. The SHOCKFLO still went all the way to 16A while on 120V. There's no reduction of current. So, you still get maximum power whatever your voltage. The other thing this means is that you want to make sure to plug in to a 20A circuit while on 120V if your car can draw at least 16A. The other option is that many cars allow you to adjust your current draw while charging on 120V. Simply drop the current a bit, and then you can also charge on any 15A/120 circuit. While that's not the fastest way to charge, it DOES let you charge from any of literally MILLIONS of electric outlets.
The EVSE does not have any web connectivity or a related app. Personally, I love that. Some more expensive EVSEs have these, but since similar features are built into most cars now, I don't really see the point. As far as I'm concerned the more straight-forward, the better.

Things I like about the SHOCKFLO:
Great Price!
Compact
Feels Solid
Simple/Easy-to-Use
Weatherproof
Tested Protections worked well
Includes case and cord adapter

Things it is NOT:
It's not a higher power EVSE. If you want REALLY fast charging, and your car can handle it, buy a more expensive, high power EVSE and pay your electrician to wire up a NEMA 14-50 outlet or wire up a permanent connection to a high-power circuit.

The unit IS FCC certified. The actual CORD to the wall is UL listed, and the cord to the car is TUV listed. (That's the German/European agency, similar to UL.) Inside the SHOCKFLO, all the components looked clean and high-quality, but as far as I can tell, the entire unit all together is NOT UL listed. Personally, this doesn't bother me at all, but it does matter to some people.
Overall, this is a GREAT little unit, especially at the price you pay. Excellent value. It's perfect to keep in your car, use for travel, or keep at work or some other location you regularly spend time at.

Available through Amazon: https://amzn.to/3hLKlq1