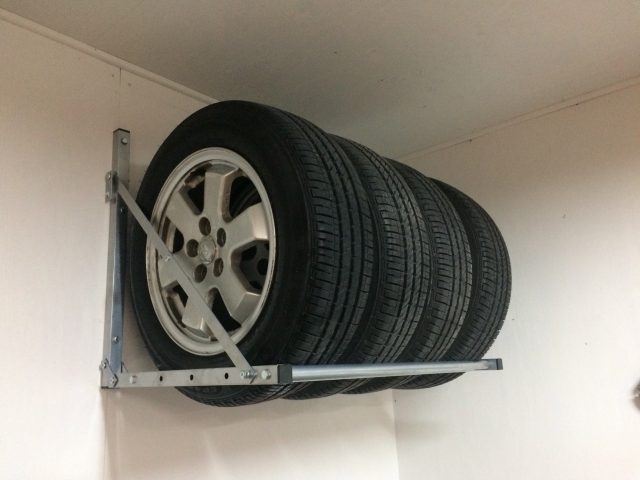 Recently, some friends were posting on social media about best practices for storing tires, and mentioning various racks to hold them. While I would normally try something like this as a DIY project, the price was right, so I simply ordered a the rack. (Besides, one more project may have meant I wouldn't have a rack for my tires until spring!)
About a week ago, I ordered a the HyLoft folding storage Tire Loft in silver.
It's this unit: https://amzn.to/2Q52Zdn
It showed up a couple days ago, and I installed it this afternoon.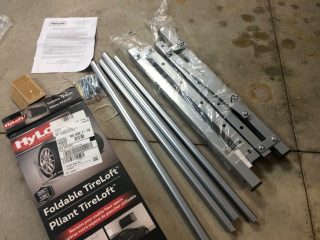 When opening the box, I right away noticed that the cross-members felt solid. I was a little concerned about the thickness and strength of those components, but they really did feel nice. The side uprights felt lighter, as they were just steel square tube, but those components (which also allow for folding the unit) were otherwise fully assembled.
Assembly of the total product was pretty straight-forward. Directions were simple and easy to follow. Mounting was pretty quick. It just required some typical tools – tape measure, pencil, level, drill, and socket wrench.
I marked on the wall where I wanted to mount the one end of the tire rack. It's important that the rack is bolted directly into the wall studs. My garage is plywood over wood studs, so it's easy to know where those studs are. (The edge of the plywood and the wood screws are dead giveaways!) I decided how far down from the ceiling I would want the rack to be so that I could still easily lift the tires onto it. I also decided I wanted the rack more or less in the corner of the garage, as that's hard to use space otherwise. (Note that it would be difficult to install ALL the way into a corner, based on how it's assembled!)
I marked the location and drilled a hole with a 3/16″ drill bit. Next, I drilled a matching hole 32″ away (two stud spacing width.) I then ran one of the included lag bolts through the folding upright into the wall. I did the same on the other upright.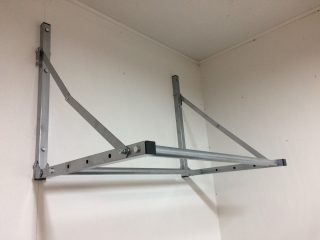 After that, I installed both the cross-pieces. They are tubular, with the one sliding inside the other. This allows for the variable spacing, although unless you have either solid walls or a very weird space is likely to be either 32 or 48 inches. I chose 32 inches as all four tires would fit that space and I thought the unit would be more sturdy closer together.
Each pair of tubes spans between the two uprights and is held in place by a bolt from either end. There are also four different available holes in the uprights to mount the cross-tubes to hold different diameter tires.
Once I decided which holes to use, theaded it all together, and checked it with a tire, I drilled and installed the rest of the lag bolts holding the unit to the wall. While doing this, I used a level in the vertical orientation to make sure the entire unit would be plumb. With all the hardware in place and tightened up, the entire unite felt good and solid.
I loaded up all four tires. They fit well, and were now out of the way, no longer wasting space on my floor. The unit DOES fold and takes up little space while folded. Since I'm using this to store a second set of tires (to swap between summer tires and winter snow tires,) I don't see this unit ever being empty.
Overall build quality feels solid, although the cross pieces more so than the uprights. Once it was all together, though, nothing felt sub-par.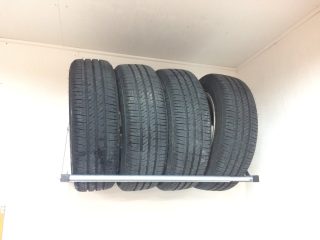 Could I have built something similar? Yes, absolutely. I originally thought I could perhaps build something with angle-iron and my welder. Although it probably wouldn't have looked as good. Alternatively, I could have built something from 2×4 wood and heavy screws. Either one would have taken a certain amount of time and work. When I saw this rack available online for a reasonable price, I thought I'd just order it and try it out.
It was quick to put up, easy to install and feels solid, without being over-priced.
The snow tires are on the Prius, and the summer tires are out of the way, so I'm pretty happy.
What's your solution for storage extra tires? Hows' it working for you? Let us know!