You might not believe it, but possibly one of the best things I've ever done to improve the heat in my car is to add an ELECTRIC BLANKET!
I've had my Mitsubishi iMiEV electric car for a few years now. Overall, I love it. But one thing I do find lacking is the heat in it. Not long after buying the car, I was at a local home improvement store and saw a 12V electric heated blanket. The $15 was money well spent!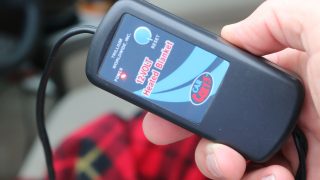 An electric blanket heats up almost instantly! (Unlike gasoline engines, which can take quite some time to get to temperature.)
The blanket also puts the heat where you want it, ON YOU, rather than trying to heat up the entire passenger compartment.
An electric blanket is pretty efficient too. Mine is 40 watts – less energy than a single old-fashioned light bulb!
The electric blanket is also portable. The long cord means it easily reaches the back seat. In our family, we have two cars. Ironically, BOTH cars have a heated seat FOR THE DRIVER ONLY! The electric blanket is a great way to warm up the passenger or anyone in the back. While many newer cars often have heated seats, the back seats aren't always included!
Likewise, the electric blanket can be moved easily from one car to another. While I originally got the blanket for the Mitsubishi iMiEV, I found that it worked great in the Prius. Now, I'm pretty spoiled and love the pure luxury of instant heat.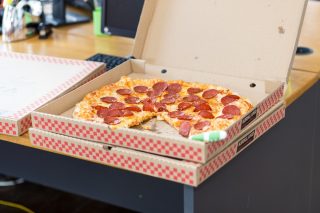 Automotive electric blankets aren't just useful in the winter. A great year-round use is for take-out food! If I get some Chinese Take-Out or a nice piping-hot Pizza to go, I can just throw the electric blanket over the top and know it will still be hot by the time I get home!
Heated Electric Jackets are also great, but often expensive. Being in Wisconsin, I'm partial to the Milwaukee Tool Jacket! (https://amzn.to/2U3FYFW) Unfortunately, it's rather pricey! So, I built my own instead!

You can read how to build your own heated jacket on Instructables.
https://www.instructables.com/id/Heated-Coat/
Other ways to help improve your car's temperature in the winter: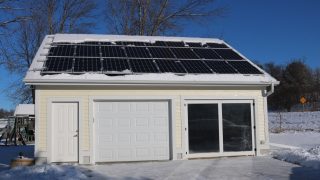 If you have a garage, use it!
Garages are often used as workshops and storage. Unfortunately, it's easy to fill it up to the point that you can't fit a car in! Keeping your car in the garage keeps it warmer. At a bare minimum, it's out of the wind. Garages attached to houses are always a bit warmer, and HEATED garages are pure luxury. Check out the Solar Garage for how we've designed a building to heat and power a car!
Pre-Heat with your electric car!
If you own an Electric Car, try out  the "pre-heat" mode! Almost every plug-in car has a feature allowing you to automatically heat the car while it's connected to wall power. You leave with not only a full battery, but also nice and warm!
Block heaters and grill blocks are also great winter heating hacks!
A block heater warms up your engine ahead of time, improving fuel economy and reducing time until you can run the heat! Our Toyota Prius has an OEM 400 watt heater. Grill blocks keep the wind out of the radiator, preventing the cold wind from robbing what little heat there is.
A friend and I took a little time to build grill-blocks for both our Toyotas, and install the block heater in mine.
https://300mpg.org/2012/11/24/grill-blocks-block-heaters-and-the-ev-switch/
Once a block heater is in place, it's pretty neat to check out how it works with a Thermal Camera (https://amzn.to/2P8MEzb)
https://300mpg.org/2015/01/09/garages-block-heaters-and-thermal-cameras/
There are plenty of neat little tricks to stay toasty warm in your car this winter, but the electric blanket is my favorite. It's affordable, works well, and is versatile.
Until next time, stay warm and charged-up!
-Ben Nelson