Well, it looks like I'm converting a 1970's electric lawn tractor into a Rat Rod wheelie-popping monster tractor.
Or at least that's how I'd like to think of it…
I've been mowing my lawn for years with a General Electric Elec-Trak lawn and garden tractor. Not too long ago, I got a deal on a couple more tractors from a barn close-out. My master plan is to fix and sell those tractors. I also got some great accessories like a snow thrower and rototiller.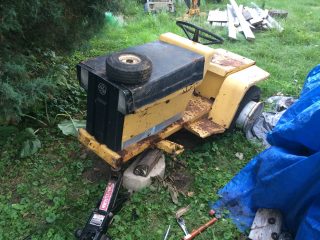 I also got a COMPLETE PIECE OF JUNK frame. It looked like it must have been stripped for parts to fix up other tractors. One tire was flat. The front wheels were completely gone. The entire back end was rust. This tractor was NOT worth restoring. However, it might get made into something better….
Not too far from me, there's a town which hosts "The World's Greatest Junk Parade". It's exactly what it sounds like. People in a small town embrace the redneck philosophy of bolting and welding together all sorts of crazy contraptions and parading them down main street.
So, I started wondering if I could fix up this tractor, not to original specs, but to any kind of running condition, mostly using parts I already have – the left-overs and rejects from other projects. My Electric Geo Metro was retired a few years ago, and I still have the motor from that. It's way too big to fit under the tractor where the original motor would have been mounted. Perhaps I can fit it under the seat?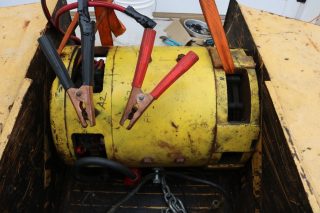 Well, after some work with a grinder and cut-off disc, I was able to fit the motor into the tractor. Next, I tested it just by hooking it with jumper cables to an old 12V battery. The motor spun up. It was even rotating the right direction!
Some of the parts I've used so far on this project are:
Several 15 tooth sprockets for 3/4″ shaft – https://amzn.to/2x3jevj
32 Tooth sprocket for 3/4″ shaft – https://amzn.to/2oUBKlO
#40 Chain and link – https://amzn.to/2O40h2F
3/4″ Keyed Shaft – https://amzn.to/2N5EKKR
Hydraulic Cable Crimper – https://amzn.to/2oWZLZG
Frankly, I'm not sure I can get the tractor ready in time. I still need to design a jackshaft, build a battery pack, and figure out motor speed control. The very last thing will be to build a wheelie bar…. because you know… Safety first.
Until next time, stay charged up!
-Ben