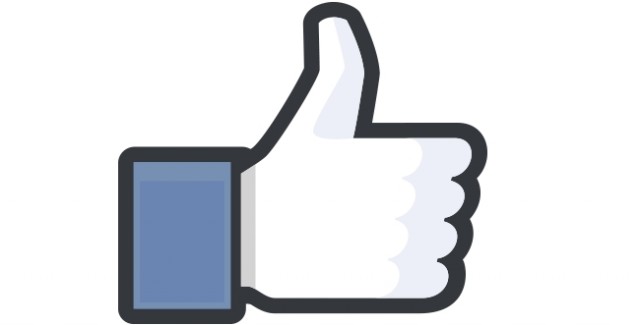 After two weeks of owning the electric Mitsubishi iMiEV, I can give you my general sense of the car, including all the little things that I have found that I LIKE and DISLIKE about the car.
The car itself: To be clear, overall, I really like the car. Even in my list of dislikes, none of them are deal breakers – more like minor inconveniences.
The other thing to keep in mind about cars is what your frame of reference is. It's hard NOT to compare a car to other vehicles a person has owned and driven. In my case, my first electric car was a home-built Geo Metro. Our family car is a 2004 Prius. My other gas vehicle is a 1998 Chevy S10 pickup truck with 2.2l engine and  5-speed manual transmission.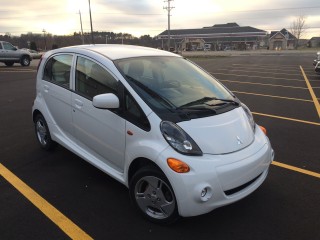 This car is a 2012 Mitsubishi iMiEV SE with Premium Package
With that in mind, lets take a look at the likes of the iMiEV. There's a few things I DON'T like about the car, but we'll save those for the next blog entry.
LIKES
SIMPLICITY The car is simple. I like that. Everything is very straight-forward. Nothing on the car is confusing. Pretty much anyone could hop in the car and drive it with no instructions at all. The main instrumentation in the car is just a big analog sweep ammeter, showing how much power you are using.
The HVAC controls are simple. 3 big knobs let you control the temperature, fan speed, and where the air goes. Not long ago, I had a discussion with a friend, who owns a 2012 Nissan LEAF. He went on a 20-minute rant on how much the HVAC on that car frustrated me. On our Prius, it frustrates me a bit that the HVAC controls are all through the touch-screen. I wish that that was just a nice big temperature knob. The iMiEV grants that wish.
The first time I ever got to see a Chevy Volt, I was shocked at how many buttons are on the center console. Do they really need that many? I'm glad the iMiEV doesn't.
PRICE
I paid $6,995 for the car. Just based on a simple economic return on investment, the difference in cost between gasoline and electricity means the car pays for itself in about 5 years. Add solar, and it gets cheaper even faster. I'm tracking energy usage on the car, so I should be able to actually calculate the exact date it pays for itself. And that's NOT even tracking reduced cost from oil changes, air filters, brake jobs, etc.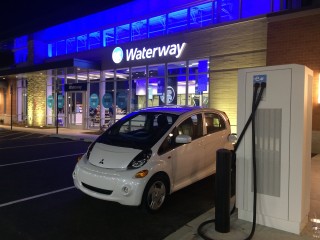 Quick-Charge
My car features a CHAdeMO quick charge port. I can recharge to 80% battery capacity in less than 30 minutes at an appropriate charger. Unfortunately, there's pretty much only one usable quick charger in my area. Fortunately, it's just off the freeway between my house and the city of Milwaukee (the closest big city that I would want to try to travel to on a regular basis.) It also happens to be FREE! I've only used quick-charging so far on my original trip, purchasing the car from out of state, and driving it home. However, with quick-charging, I should be able to make trips from my house to Milwaukee and back in the winter. A friend who only lives a mile away and owns a LEAF (without quick-charge) NEVER attempts this trip in the winter.
PRE-HEAT
The car has the ability to run the heater BEFORE driving as long as it's plugged in to the wall. By using this feature, I can hop into a WARM car in the winter. Likewise, the same can be done in the summer with air-conditioning. (It's cold here in the northern hemisphere, so I've had no reason to test pre-air-conditioning yet.)
Heated-Seat
The seat heater not only keeps my butt warm in the winter, it's also more efficient than the cabin heater and comes on quicker.
Radio
I'm totally digging the upgraded radio on this car. It has a nice touchscreen display and a whole batch of inputs. Besides FM and AM radio, there's a CD player hidden behind the panel, along with a hard-drive. Music can be ripped automatically from the CD player directly into the hard-drive. There's also an iPod input. I also tested using BlueTooth to connect my phone to the radio. Besides playing music on my phone, I can also stream music to my phone over cellular then play it through the radio using the BlueTooth. And it sounds good! (In the Prius, NOTHING sounds good over the BlueTooth.) It's also possible to play DVDs, although while driving, only the sound plays – no picture to distract the driver.
BlueTooth
The car has hands-free controls for telephone. I was easily able to set it up to make a phone call to my wife by just pressing one button on the steering wheel and saying her name. Also, the entertainment center has a sexy synthesized voice.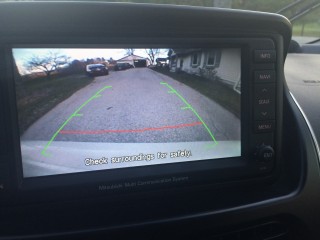 Backup Camera
I could certainly live without a backup camera, but it's a handy feature. I also found that the best position for the car to be parked is backed into the garage. I have very limited space in my garage, so the camera is nice in that case. The screen on the radio becomes a video screen for the camera when the car is in reverse. This also opens up some possibilities for hacking the screen, such as to add another camera.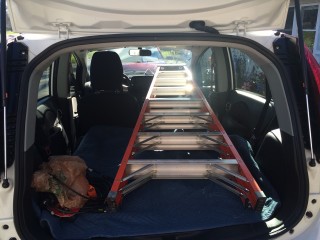 Back Seats Fold Flat
For me, I knew that this car would MOSTLY be used as a one person commuter car. However, there are many times that I would need to carry a fair amount of cargo with me. I found it really appealing that the back seat folds flat. Although not a large car, it's a very useful amount of cargo space with those seats down. Just yesterday, I threw an 8-foot-long step ladder in the car. In a generation 1 Nissan LEAF, the seats don't fold the same and there's a "Charger Hump" in the way. The hatch also opens nice and wide, and it is easy to lift.
Leather Trim
The steering wheel and shifter knob both have stitching on them. I like the texture of it. The shifter knob has the feel of an American baseball. It's not a big thing, but it does make the car feel just a tiny bit luxurious.
Shifter
I like that the shifter doesn't have a button that needs to be pressed to release it. I also like being able to freely shift between the various modes while driving. (Shift from drive straight into Eco for increased regen braking for example. I do this on the Prius too.)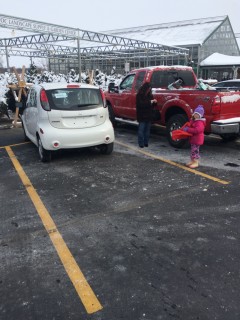 It's Short
The car is short. This is good in several ways. It has a great turning radius, and it's really easy to park. Last weekend, there was a very busy local event. I was worried about finding any parking at all. There was a small parallel parking space that other cars wouldn't fit in. I pulled in nose first and parked easily. The car is shorter than a VW Golf and a full two feet shorter than our Prius. When parked in our garage, I can still walk around the end of the car. I couldn't do that with the Prius, making it very awkward to get to the rest of the garage. The first time my wife drove it, she pulled in so far that would could have parked two iMiEVs in the same space.
The Look and Shape
This car is a little different. That's a good thing. It's easy to find in a parking lot. It's just enough taller than most cars that I can pick it out in a crowd. Most people have no idea what it is when then first look at it, let alone realizing that it's electric instead of gas. The car is a cross between an old Toyota mini-van and a jellybean. Perhaps it looks a bit like Baymax from BIG HERO 6? Something lovable about that.
It's NOT an Automatic!
I find it funny that the car dealers always list the transmission as an automatic, it's not. It's single-speed gear reduction. There's a BIG difference between the two. In almost all electric cars, not only do you not shift, but the car does not shift for you either – there IS NO SHIFTING! That means that acceleration is SMOOOOOTH. CVTs and Planetary gearing offer something similar. I was already used to the complete lack of shifting in the Prius, although even there, I could feel when the engine would turn on and off. For anyone who has never driven an electric car, I think it's one of the neatest features that is so commonly overlooked
Quiet
The car itself is very quiet. But that's electric cars for you in general.
Cute Turn Signal Sound
My wife pointed out the fact that the sound of the turn signal is actually adorable.
Steering Wheel Controls
On the steering wheel are a few buttons to control the radio and telephone. Very handy while driving. Our Prius has this too, but it somehow seems simpler and better laid out on the iMiEV.
Lights
I really like the headlights on the car. They are a projector style, which really seems to shine down the road well. The high-beams are great. This car also has for lights. They worked pretty well during snowfall. The car also has daytime running lights and an automatic ON/OFF feature. The tail-lights are mounted high and are very visible. I like the look of the turn signals and marker lights as well.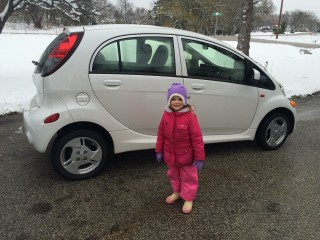 The Little Girl likes it
On local trips, the car is big enough to be used as our family vehicle. It is a bigger step to get into if you are a 5-year-old. Because the battery pack is in the underbelly of the car, it's "thicker" on the bottom than our Prius. The Prius is also lowered from stock by about an inch. Because of this, it was always really easy for the Little Girl to get into the Prius. Although it's a slightly larger step up in the iMiEV, the Little Girl quickly adapted, and didn't have any trouble getting in and out by herself.
Conclusion
The Mitsubishi iMiEV is a likable car. It's the perfect commuter or second car. So far, it's been working great for us.
Is it PERFECT? No. The next blog entry will cover what I DON'T like about the car.
Until next time, stay charged up!
-Ben
PS: Good headroom.
Good sight-lines.
DOESN'T use gas!
Higher driver position than many cars – gives better view of the road.