For a long while now, I've been wanting to purchase a commercially-built electric car. After crunching some numbers, I realized that for a CHEAP electric car, my monthly payment would actually be LESS than what I am spending per month on gasoline right now.
I found a good price on a Mitsubishi iMIEV – the shortest range and least expensive commercially available electric car. It's an economy car in every sense of the word. This one was in south-west Chicago, Illinois. I live about 40 miles west of Milwaukee, Wisconsin.
So, I thought "Why not have an adventure – buy an electric car and DRIVE it home!"
Seemed like a good idea at the time….
I had arranged for my brother-in-law, Fred, to drive me to Chicago Fine Motors. We left at about 11 AM, and it was about a two hour drive, taking the most direct route, and driving very fast. I was also a little concerned that the weather report had changed to the first real snow-storm of the season coming in, starting at about 9 PM.
Once at the car dealership, we were able to look at the car, and then take it for a short drive. Chicago Fine Motors was a pretty low key place. No sales pressure, and the guys were nice. I bought the car in a very simple and quick transaction. Unfortunately, the car had been outside, and only had half a charge. (Before driving to Chicago, I did confirm that the car had the Level 1 charging cable and the remote.)
By now, it was after 2 PM. I thought it would be best to get the car to a public Level 2 charger, and get a little juice in it while eating lunch. We headed up the road a few blocks to a local Chevy dealership. Right in front, they had a J1772 charger, with a Volt parked on one side of it (not plugged in or charging) and an SUV on the other. I went in to the service department to ask about charging. They were friendly, but gave me the "not my department" and directed me inside to speak to a particular sales person. I talked to him, only to receive a quick NO.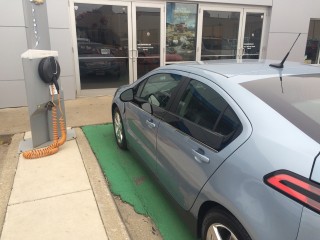 Basically, he only wanted me to charge if it was a Volt which I bought at his dealership. It's not just that it was a no, it's that they were TERRIBLY, TERRIBLY RUDE about it. No welcome to the dealership. No goodwill in anyway. Just pure negativity. Sorry, but how do you sell ANY cars with that attitude? A good sales person may have offered a reply such as: "Of course you can plug in, and what car can I show you while you are here?"
I may have been a customer who came to write a check on the spot for a brand-new car. Guess the dealer will never know. Instead, I left with a bad taste in my mouth.
I used the Plugshare app to find a public street EV charger. It was only 2 blocks up and 1 block over. I told Fred, and we left the dealership. He waved away directions, and said he'd just follow me. Due to the road, we could only make a right-hand turn (when we needed to turn left) which lead into an odd intersection and too much traffic going too fast. This also meant that I instantly lost my brother-in-law, following behind.
"ALL you had to do was keep me in your mirror!"
Frankly, I probably drove a little too fast. I was not feeling well and was frustrated by the dealership. I wasn't concentrating on my driving. The moment I lost Fred, I knew it was going to be a hassle for use to get together again. It took 20 minutes simply to turn around and go the couple blocks to the charger – the one that Fred didn't know exactly where it was. Worse than that, when I asked earlier about using his smart phone to run an app on the car, Fred said he didn't have his phone with. I circled back to the dealership. (Just like in THE PRINCESS BRIDE, when a job goes bad, go back to the beginning…)
After waiting there a bit, with no sign of Fred, I headed to the charger.
Got that card handy?
Of course, I also didn't have my ChargePoint card on me. The ChargePoint station has a phone number on it. By calling from a cell phone, as long as you already have an account, it's still pretty straight-forward to get the charger turned on. It takes a few minutes though. My cold-weather gear and video camera were still in the back of the other car. It was now starting to get COLD. That storm front was coming in sooner than I had hoped.
My phone rang. On the other end was the scratchy static voice of Fred, clearly frustrated ("Where the hell are you!!?!??") It turned out that he did have his phone with, but the battery was nearly dead and there was a bad connection. Over the next half hour, we would speak on the phone for a total of about a minute and a half, in garbled ten-second increments. Finally, we got talk time and a decent connection and I was able to give directions to where I was. It turned out that Fred was able to charge his phone a bit at the Chevy Dealership. So they won't let you plug in your car, but plugging in your phone is fine.
Finally, I saw Fred driving down the street, and hollered to him. He drove past, swung around to come back, shook his fist at me a few times for losing him, and then let me hop in.
Gastronomic Adventures…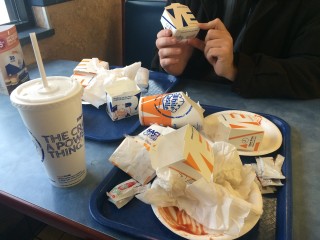 We rode down the street to find someplace to eat. Fred had never been to a White Castle before, so he pulled in on a whim. We went inside. The lady in line in front of us had forgotten her purse, so after ordering, the whole line stopped while she went to her car to rummage through it, eventually locate it, come back inside and pay. After we ordered, it was nearly 15 minutes before our order was ready, and even then, the order was WRONG! Oh well. At least there was the right number of burgers on the tray, so we ate them all.
I have no idea why anyone would eat at a White Castle unless there were mind-altering drugs involved.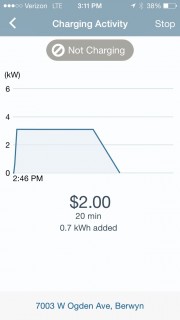 I also remembered that the Chargepoint app on my smartphone would let me remotely monitor my charge. I checked it, only to see that the car stopped charging after only 20 minutes? WHAT!? It was only at half a charge, it couldn't possibly be fully charged yet? I have no idea why it stopped charging!
Fred dropped me back off at the parked iMIEV. This time, I got my cold weather gear and video camera. I put on the extra sweat-shirt and had the gloves and hat handy. I gave Fred my USB cable, so he could charge his phone on the way home. It was now  after 3:30 in the afternoon, Chicago rush hour had already started, and I still only had enough power to go 30 miles! Where the streets lined up right, I could see the Sears Tower in the distance.
Before I left on the trip, I mapped out where there were fast-charge stations. After that, I did a "best guess" on how far I would be able to ACTUALLY travel per charge, and tried to plan so that if one charger was NOT available, I could still make it to another one. My plan was to get to the CHAdeMO at WATERWAY GAS & WASH. Heading straight north, through town, it ended up taking me  two hours to make it 22 miles. That's Chicago traffic for you!
I was also kicking myself for forgetting to bring a CD or two with me. I don't know all the Chicago radio stations, and the only ones in the presets were for Hip-Hop and Country! Because traffic was at such a stand-still most of the time, it did give me a chance to play with the radio. Clicking through the "Modes", I found one called Music Server. Looks like the radio has a hard drive built in, not only that, but a whole bunch of music from the previous owner was already loaded in there. I got to listen to plenty of folk and acoustic guitar, including the OH BROTHER,WHERE ART THOU soundtrack, and even DON QUIXOTE as a book on tape!
"Free carwash with your free charge, sir?"
Waterway Gas and Wash looks brand new. Apparently, they had opened only a month or so earlier. An attendant waved me into the lot, and even pointed me unbidden right over to the EV Charger. I backed in, as the CHAdeMO port on the car is on the back left. The young man had never charged an electric car before, and quickly checked with another employee there about how it works. I was barely even out of the car when he already had me plugged in and charging. Talk about service!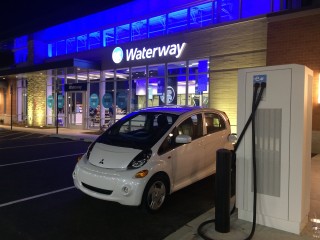 I chatted with the two guys for a few minutes about electric cars. They were both excited to have me there, and even gave me a coupon for a free automatic car wash. I headed inside to use the Men's room. They have a nice waiting area, and a convenience store of snacks and drinks. I got a coffee. The best part was an all glass wall that connected the room to the car wash. You could watch the cars going through just like looking at fish in an aquarium!
I took a look at their outdoor detailing area. It was nice. Multiple bays where you can get your car hand-waxed and carpet shampooed. I talked with the manager a bit. Nice guy. Everyone there was nice. By then, the car was charged, a total of 27 minutes from when I backed in to the space to 75% full battery. (Note that this ABB charger features both CHAdeMO and CCS charging!) I unplugged, then pulled around the building into the automatic car wash. The car was dirty when it was sitting at the sales lot (and white shows EVERYTHING,) but shiny clean after going through this wash. Two young men hand-towel-dried the car once I was through the wash.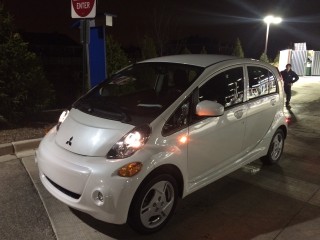 Wow! If only every electric car charge was this good! I spent $2 on a coffee. For that, I got a free fast charge, a free car wash, hand-towel drying, and service with a smile. Too bad I don't live in the area. I would definitely be back! (If you live in the area, please check them out.  http://www.waterway.com/location/northbrook/ )
Back on the road, I headed north again. I took the side roads for a while, and then got on Hwy 94/41 North, sticking to 41 when they split. Not only does this road have less traffic and slower speeds, but it also takes me past a whole bunch of very interesting car dealerships, including Tesla. By now, it had also started to snow, just flurries at first, but worse was yet to come.
I drove past the entrance to Great America, past the Gurnee Mills Mall, and west to Ziegler Nissan. It was the last quick-charger in the state of Illinois! I pulled into the dealership and towards the Service side. Next to the overhead door was the charger. I backed-in and went to charge. It was a Chargepoint branded station. Again, if I had my card with me, I would have just swiped it and then been instantly charging. Instead, I was out in the cold again for a few minutes longer than I would have preferred, making the phone call to ChargePoint, and then having them manually turning the charger on for me. After that I headed inside, where it was much warmer and not snowing!
So THAT's what a nice dealership is like!
The sales people at Ziegler were friendly. A woman asked me if I had any questions about the LEAF, which I was staring at, lustfully. It was a brand-new, loaded 2015 SL with surround cameras, premium sound-system, and those really sharp-looking rims. Very nice. It also cost five and a half times what I just paid for the Mitsubishi….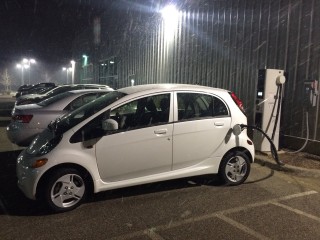 I told them that I was just charging my electric car, and wanted to browse while doing that. They also had a waiting area by the service department, with comfortable chairs, a television, and coffee. I asked if they had a Level 2 Charger available as well, and one of the employee escorted me to show where it was, on the other side of the Service Department door.
In all, the experience at Ziegler Nissan was the exact OPPOSITE of that at the earlier Chevy dealership!
By now, the snow was coming down fast, heavy, thick, and wet. It wasn't too long until closing time anyways, and not busy at all, so the dealership closed up early. Fortunately, the chargers were all still available. I moved the car from the CHAdeMO over the the Level 2 Charger. The car has a "pre-heat" feature, where you can heat the car from WALL POWER when plugged in. This way, you can hop in a nice warm car, and NONE of the electricity to heat it came from the battery pack, thus giving you maximum range. Well, I also found out that you CAN'T use the feature when quick-charging. So, I used the Level 2 charger for a few minutes, just to get the cabin really warmed up and get the windshield clear. I also hadn't though to bring a snow brush with me, so I would be wiping snow off the car for the rest of the evening with just my jacketed arm.
Northbound, longest stretch between chargers…
On the road again, I went north on Hwy 45. That's a NON-Interstate road that parallels I-94. More importantly, it's a little further west, and CLOSER to the next quick-charge station. The temperature was dropping. My butt was pretty nice and warm, using the heated driver-seat feature, but my toes were cold. I was only wearing typical shoes and socks, not wool socks and winter boots. The melted snow had already managed to soak its way in to my feet. I turned the heater on. On the car's "miles to go on this charge" display, it plummeted from 50 to 30-something! Not good news. It was 43 miles to my next charging station! I turned the heat back off.
I continued driving, using the heat only as needed to keep the windshield defrosted. As I drove, my miles-to-go kept dropping. I checked Plugshare on my smart-phone for the distance to the next station. It was getting closer, but not quite as fast as my range was dropping. It didn't look like I would make it. Was there someplace else to charge?
She's not gonna make it!
The next closest public charging listed was at a Kwik Trip. That's a chain of gas stations and convenience stores in my area. They have good hot food and coffee, and have become big supporters of CNG fueling. Most of the new stations also have a 20 amp 120V outlet with a little sign stating "EV CHARGING". You can't get a whole lot of power from those. It sure isn't CHAdeMO. Heck, it isn't even close to J1772, AND you have to remember to bring your own cord! Well, beggars can't be choosers. At least there would be food and beverage there, as it was well past dinner time. That White Castle did NOTHING for me…  If nothing else, I could take a little break and run the heat in the car from the wall power. Even just that might be enough to help me get to the CHAdeMO charger.
I missed the turn for the Kwik Trip. It was on sort of a strange side road intersection. Zooming in on my GPS map, I also saw that there was a Chevrolet dealership just ahead. Hmmm. It wasn't listed on PlugShare. What was the chance they had an outdoor L2 Charger available? I pulled in to the dealership. They were closing up for the night, just finishing putting away as many cars as they could to get them out of the snow. Right in front was an empty parking space and a Voltec charger! I parked, and with nobody to ask permission from, assumed it was fine, and plugged in. I then walked across the street to a Culvers restaurant, where it was warm and they have bacon-cheeseburgers.
In the time that it takes me to eat dinner, a level two charger will provide enough charge to go about ten miles. Perfect. I had about 5 miles to go. I could even run the heat now! I walked back across the street to the car, ran the heat from the wall power for a few minutes, and then left the lot.
Coming in to the main intersection, all traffic was stopped. Three cars were in the middle, no lights on, with no movement. As soon as I heard the sirens, I realized that the cars had been in a collision. It was surreal. There was no noise, no car horns or alarms. None of the headlights on the cars were even on. When did this happen? I literally walked across that very street only a few minutes ago. Sometimes snow plays tricks on the ears. I've never heard a time so quiet as a winter night with cotton balls of snow coming down.
An ambulance had already pulled up. Next, a squad-car came flying down the road, stopping right in the middle of everything, blue and red lights blindingly bright. Right where I was was quickly become an "incident scene". By some luck, the left turn lane was still open, and the left green arrow lit. I was able to head out of the cross-road just as more squads pulled up and began barricading the intersection.
Only a couple miles to go… I can make it…
And I did. I arrived at GMR Marketing after 9:30 at night with less than 2 miles left on my range-o-meter. I easily found their public charger and parked. Unfortunately, the last person to use the charger hadn't hung the cord back up right. With the power plug on the outside hook (instead of under the protective cover,) snow had landed on the plug and then packed in solid. I brushed the snow out as best I could, and then started blowing into the end to get the snow out from the tiny communications pins in the plug. Of course, I was looking ridiculous, blowing into this plug when somebody had come outside and started walking towards me. He was a company employee named Wally. (Heck, maybe he was the boss! I have no idea why somebody would otherwise stay that late at work on a Friday night!)
Wally offered to go back inside and get a can of compressed air. That way, we could get the plug cleared. While he was inside, I realized how DARK it was at the charger. In fact, there was nothing on the display screen. It was completely off. That's when I looked over to the disconnect on the wall. It was in the OFF position, and locked there… Lock-Out/Tag-Out. It was completely non-functional.
I will admit that I was disappointed.
I had just driven over state lines, on my longest stretch between quick-chargers, making it there by a lucky chance emergency charge, only to find I couldn't use this charger! Yipes!
I did still have a backup plan. There actually was another quick-charger. In fact, of any on the trip, these were the two that were the closest together. The next charger was located at ABB. That's the company that MAKES a lot of these quick-chargers. They have one in their parking lot for both employees and the public.
But it was 3.7 miles away.
Wally said that he lived that direction anyways, and would be happy to follow me, just in case. I agreed, turned off ALL my accessories and  anything else that would use power, and started driving to the next station, as smooth and slow as I could. It was just a few miles away, but on a main road with hills. I gently pressed the accelerator, losing speed while going up one hill, I resisted the urge to turn on the four-way flashers. After I crested the hill, I was rewarded by getting up past 45 miles per hour, going down the other side, while using no energy.
At my only turn, the traffic light was red. I lightly eased into the regen braking, timing it so that I got to the light just as the green left-turn arrow appeared. It was all down-hill from there. Literally. Cleveland Avenue is HIGHER than the industrial park that ABB is in. All I had to do was take take two rights, coasting down the hill, and then a left in to the parking lot. I knew right where the CHAdeMO was. It was one of my exploratory side-trips preceding the "Loop the Lake" tour.
"So what's this Turtle Mode?"
Just before I pulled in to the lot, a turtle icon appeared on the dashboard. I had managed to discover limp mode, but the charger was right there, lit up in all it's glory, clearly ON and WORKING!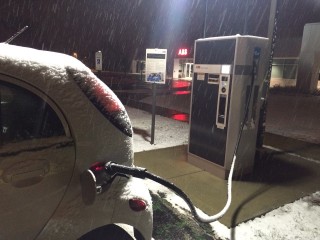 I thanked Wally for following me, and he drove off into the icy night. As I was headed inside to check with security, the guard was already coming out to greet me. He invited inside to the warm lobby. Since I hadn't used this charger before, I had to sign a disclaimer, and then sign in for use of the charger. The guard gave me an RF ID Card and just asked that I bring it back in when I was done.
The charger worked great, pounding 40,000 watts into the battery. I checked my GPS. I was only 22 miles from home. But those were interstate miles, in the cold and dark. By now, the snow had also turned wet, clinging to all surfaceds and freezing in place. The entire front of the car dripped with ice. So much for the car wash at Waterway!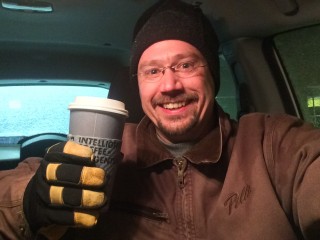 I unplugged even before the CHAdeMO was finished. I had gotten a fair amount of juice. I returned the RF card inside to the guard, where the other guard was explaining to the first the merits of the Wendy's Spicy Chicken sandwich. "It's spicy, but not TOO spicy!")There was still one more stop I wanted to make before getting home. Marshall Auto Body was right on my way anyhow. Marshall has been a great supporter of electric vehicles. The owner and his son both have Teslas, the shop itself is one of the few certified to do body work on Teslas, and the roof is covered with 30,000 watts of solar panels. They've sponsored the National Plug-In Day event, where I got to test drive a Tesla Model S. (I even put the pedal to the metal on that test drive. Oh dear God, I do NOT need to accelerate that fast!)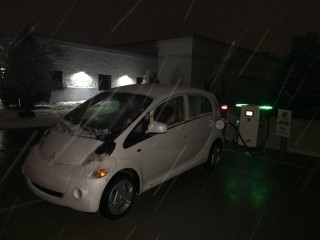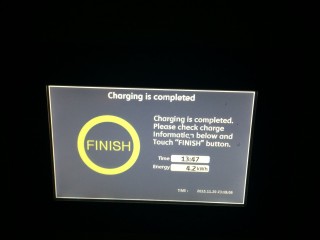 They also have four different free-to-use chargers in their parking lot; J1772, Tesla, CHAdeMO, and CSS.
I blasted the heat on the way to Marshall Autobody. Pretty nice to go from "she aint' gonna make it!" to heat running full tilt. Once there, I plugged in the CHAdeMO. It was 13 minutes from plug-in to back on the road. It was now after 11PM.
Turning on to the interstate, I shifted from Economy to Drive, the car easily reaching a quick freeway speed. The rest of the ride home was completely uneventful. I pulled in to my driveway, opened the garage door, and pulled the car inside.
The total trip was 140 miles. Now here's the kicker – I DID EVERYTHING WRONG!
I literally did everything that I SHOULDN'T, everything anyone with common sense would tell you NOT to do! I only had half a charge when I left the dealership where I bought the car. This car has the SMALLEST battery pack and SHORTEST range of ANY commercially available electric car. I was turned away from my first location to charge. I forgot my ChargePoint card. I was driving through heavy traffic – rush hour in Chicago! I was driving at night, in the cold, through a snowstorm. I wasn't able to use the pre-heat feature when quick-charging. At one of my main quick-charge stops, the charger didn't work at all! It's the EXACT OPPOSITE of a Tesla, an economy car in every sense of the word!
All that, and the trip STILL went fine!
There are the nay-sayers. There are folks who think that electric cars are no good and they just won't work for nearly anyone. Well, tell ya what. The car worked just fine for me, even in a crazy, cross-country road-trip, dashing through the snow.
I'll keep you updated on my further adventures with this car.
In the mean-time, stay charged up!
-Ben
PS: The next day, the Little Girl got to see the car. She loves it.