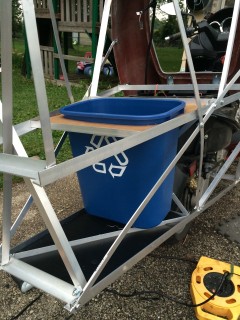 It's only four days to go before leaving on the Loop the Lake tour, and I still have WAY too much to do!
After two very full days of some unexpected work I had to do, I got a chance to continue working on the cycle.
To start with, I picked up a lock from the hardware store. This is just a simple style like what might be on a desk drawer – a simple tumbler that turns a metal finger. Part of the design of the cycle is that the opening in the back-rest/bulkhead acts as a door to the storage compartment. I'd like to keep my gear somewhat secure while I'm away from the bike. Having a LOCKABLE compartment is pretty nice.
I installed the lock in my test piece of 1/2″ plywood, and sure enough, learned that I always need to do something wrong the first time, so I can do it RIGHT when I do it for real. In this case, I found out that the retaining ring that gets pounded into the wood has an orientation to it. It has to be aligned so that the lock points straight up when locked.
I also had a concern about keeping my smart phone charged on the trip. I've been running it in GPS mode, which is important because I keep traveling down roads I've never been down before. However, running the GPS all day is really hard on the battery. Unfortunately, the 12V power plug on the cycle has never worked. I looked at it and still couldn't find out what the problem is. Even then, it was only ever designed for 500 milliamps.
The Cycle Analyst has a spare output on it for power. This is whatever the pack voltage is, limited by a fuse to 500 mA. However, half an amp at 150V is still 75 watts! That's a LOT of power for a phone! The output is a barrel connector. I purchased a matching female connector and then wired it to the female end of an old two-prong extension cord. That way, I end up getting 150vDC out of an AC-style power connection. The first thing a modern cell phone charger does is converts AC power to DC power. If it happens to be getting DC power at an appropriate voltage in the first place, it's just skipping a step and doesn't care!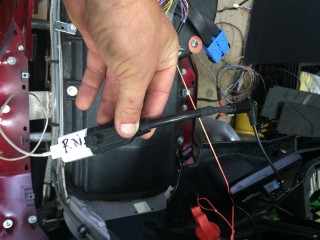 Once I had the pig-tail adapter all soldered and heat-shrinked, I tested it with my multimeter for continuity and then plugged in and tested for voltage. Everything looked good. I plugged in my iPhone charger, the power cord, and lastly, (cross my fingers) the iPhone itself. Bloop! The phone chimed in with a confident "Now Charging" chirp. Works great! In fact, I should be able to use an iPad charger (rated for 2 amps) and USB splitter to charge the iPhone and a GoPro or two at the same time.
I also mounted up the speedometer sensor for the Cycle Analyst, although I haven't had a chance to road test it yet. That should send speed and distance information to the cycle computer, and let me track range and watt-hours-per-mile efficiency.
After working on the lock and electric systems, I continued building my aluminum aero/cargo tail. I still had some additional pieces of cross-bracing to add. Next, I worked on cutting a piece of light plywood for the recycling bin to fit into. That gives me some "drop-down" storage to work with. I've seen trash cans used as panniers on bicycles and as vertical storage on teardrop camping trailers. Plastic bins are also simple, durable, and weather-proof. This bin is big enough for my tent, tools, and some of the other gear I will be traveling with.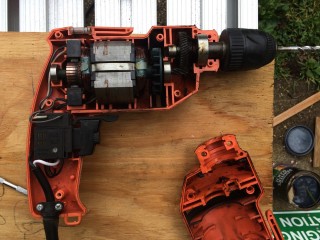 In further discouragement, yet ONE MORE power drill died on me. This was the "It's old but works fine" drill that I got from my Dad. Fortunately, this one was easy to take apart. The brushes are almost shot and the armature was very black and dirty. I cleaned the brushes, pulled them out a little further with a pick, ran some extra-fine grain sand-paper over the armature, and put it all back together. After that, it worked again.
I also got the tail light properly installed. The wire harness just exactly reaches, and I had room to mount the license plate just behind it. Essentially, I moved the entire back end of the cycle up to behind the headrest. Standing back a distance, it all seems very visible, and may even be an improvement over the stock cycle.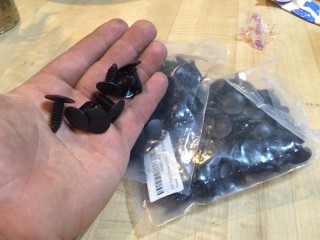 To attach the corrugated plastic cover to the frame, I was planning on using plastic automotive interior body panel fasteners. These are little "Christmas Trees" with a big head. Just push them through a hole, and they stay. At my local auto parts store, a box of 5 was three and a half dollars! What!? Pretty pricy for some little bits of plastic. I immediately ran home to see what they would cost in bulk, mail ordered. From a certain online retailer, it was $4.99, including 2-day shipping for a box of 100. Needless to say, I placed an order. That was two days ago. In my mailbox today – perfect timing – were my fasteners.
These fasteners are designed for a 1/4-inch hole. Perfect, as I was using 1/4-20 screws for assembling the aluminum. I could now install these fasteners without even having to switch out drill bits! I used them on a few test pieces and then to install the wood around the recycling bin and also some coroplast for the very bottom of the bike.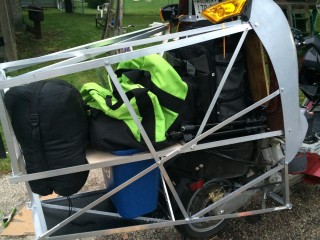 I'm just about ready to start covering the framework, but had a few more little things to do first. For one, will everything actually fit? I loaded up my sleeping bag, tent, duffle bag, camera bag, and tripod into the back of the bike. It looked good, everything fit! There's a piece or two of angle that I need to replace with flat stock to make the coroplast fit well. Other than that, I think I'm ready to skin the frame.
I also got to talk on the phone with my friend, Ryland, who is planning on meeting me for a section of the trip up to Green Bay, WI. We are working on the details, as he's from further west in the state, and the charger on his cycle isn't as fast as the THREE I have installed on mine, so we are figuring out the best way to ride together for a section of the trip. If anyone is available on Friday, September 4th to give a friend a ride from Green Bay to Two Rivers, WI, please let us know!
One more day down, and not too many more to go.
'Til next time, stay charged-up!
-Ben