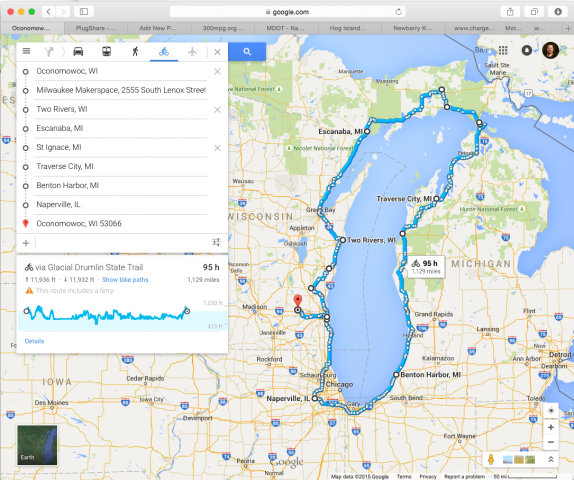 It's official, I have a route.
After a number of range tests, I've decided that 150 miles per day is what is going to work for this trip. The longest I've traveled on the Vectrix so far on a single continuous charge is 75 miles. Traveling at faster speeds, about 60 miles is what might be expected for my range. With this in consideration, I turned to an internet map, and a couple of EV planning tools, including PlugShare and RVParky. (While RVParky is a campground map, it's a great ALTERNATIVE way to locate electricity!)
The general plan is to be able to charge the cycle at LEAST once per day. More likely than that is one and a half or two times. PlugShare is a map app which shows where EV charging stations are, including ones that businesses and even private home-owners volunteer to share. Looking on PlugShare, there's great stretches of this route where charging points are 30 to 50 miles apart. That's almost perfect. I can go from one to the next, charge while eating lunch or exploring the area, and then continue on my trip.
However, once you get away from the cities, particularly rural Wisconsin and the Michigan Upper Peninsula, EV charge stations get to be few and far between. Too far. Fortunately, there's also camp-grounds and RV Parks! A little mapping of the far north end of Lake Michigan shows me that even up there I'll be able to charge and continue my ride, although at some points I'm sure I will wish I would have just a little more juice!
The other day, I went 150 miles on the Vectrix. What I realized at that point is that I don't WANT to do any more miles than that in a day. If I tried, I would only have to ride much FASTER (which means using higher speed limit, busier, straighter roads) AND I would also need to spend MORE time charging. Add that up and it would also mean very LONG days and take all the fun out of it. No, sir, 150 miles in a day will be plenty. That also means I'll be able to travel over 1,110 miles in one week. (Actually 8 days, when you count that I would leave first thing in the morning, and return last thing at night…)
I can handle a one-week road trip. Should anything happen (flat tire, etc.) that sets me back, needing to extent the trip by a day or two won't be the end of the world.
I live about 35 miles WEST of Milwaukee, Wisconsin. The plan is to travel to Milwaukee, point north, and then keep making right hand turns for the next 1,000 miles or so. OK, it's a little more complicated than that. The route will zig-zag just a little as there are some specific people I want to meet up with on the way. A big part of the route is determined simply by where there are EV charging stations or campgrounds with electricity so I can always keep the cycle charged up.
The plan for now is to leave on the morning of Thursday, September 3rd, and return on the evening of Thursday, September the 10th.
Day 1 – Sept. 3 – From Oconomowoc, WI to Two Rivers, WI
Day 2 – Sept. 4 – Two Rivers, WI to Escanaba, MI (Possibly joined by another EV motorcycle on this leg of the trip)
Day 3 – Sept. 5 – Escanaba, MI to St. Ignace, MI
Day 4 – Sept 6 – Cross the Mackinaw Bridge to lower Michigan, to Traverse City, MI
Day 5 – Sept 7 – Traverse City, MI to Muskegon, MI
Day 6 – Sept 8 – Meet up with other electric motorcycle riders in the area and ride to Holland, MI. Continue riding to Either New Buffalo or Benton Harbor.
Day 7 – Sept 9 – Travel from last stop, through Indiana, into Illinois and to western Chicago suburbs.
Day 8 – Sept 10 – Western Chicago, Il to Milwaukee, WI and back home to Oconomowoc, WI.
Of course, all this is subject to change the moment I get a flat tire, find a non-working EVSE, or melt some wiring!
Also, there is NO WAY I have enough cargo space to bring with a tent, sleeping bag, clothes, and video camera. All that gear gets bulky fast and I'll need to protect it from the weather and keep it from getting carried off while the cycle is parked unattended and charging. Earlier this summer, I got a chance to participate in a Craig Vetter Fuel Economy Challenge. Although I couldn't even finish the first half of the race, I learned plenty and got a great look at what some other people were doing, modifying their cycles.
I also purchased several fiberglass components from Craig himself. Unfortunately, I don't have the time to build a full-blown streamliner before the trip. However, since I need the cargo space anyways an AERODYNAMIC tail may make sense. It could improve the fuel economy AND give me a space to store my gear out of the rain! It would also be a great place for Sponsorship graphics. (No, really, feel free to sponsor me… Click here.)
To add an Aer0-storage tail, I'll have to remove the back end of the Vectrix, including the trunk, lights, and rear fenders. I would then build a storage tray (from aluminum?) support it with aluminum angle, and then inclose the whole thing with either coroplast or "milk-paper". I had half of an old political sign handy, so I started mocking up roughly what this would look like.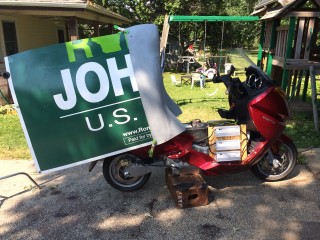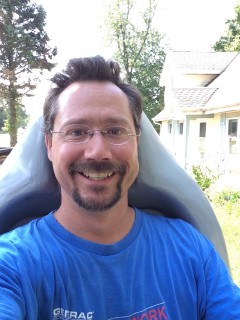 The fiberglass "back-rest" form-fits around the rider, and then other material (coroplast, etc.) will draw the air back to a point behind the cycle. The hole in the middle of the back-rest can be filled in with plywood to make a lockable door to the storage compartment.
What will it take to ACTUALLY build this on the bike? I don't know, I've never done it, but Craig Vetter has a very nice LONG thread all about it.
Remember, you can keep up to date on the project, right here at 300MPG.org. Look for a few YouTube videos when I work on the aero-storage tail in this coming week. (Heck, why not subscribe while you are there!)
In other news, I need to remember to pack my rain jacket and order myself some rain pants. I got caught in the rain the other day by a rogue micro-thunderstorm. It poured just long enough to really soak me for the day. It's no fun riding soggy! Lesson learned – bring rain gear and spare dry clothes!
If you have a favorite restaurant, know of other hidden gems or roadside oddities along this route, please let me know about them!
'Til next time, stay charged up!
-Ben
PS: The map is close, but no dead-on to the route I will follow. Google maps only lets you manipulate a map with so many steps to it. But it's pretty close to the route I'm taking.
PPS: If you have an electric motorcycle, Tesla, DIY crazy vehicle and to ride with me on this trip, please let me know! I'm also accepting invitations for couches to crash on….