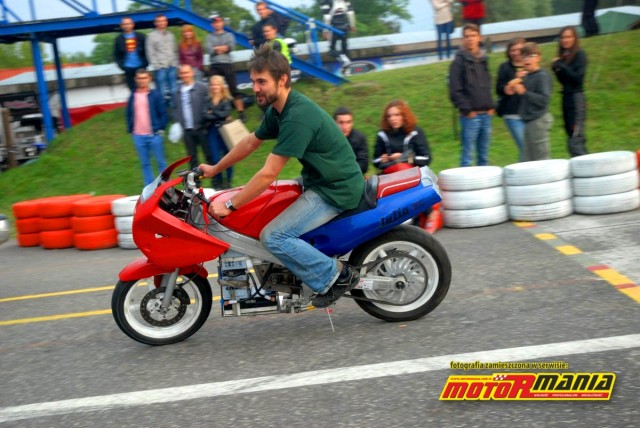 Photo via Motomania.com
So, how many Polish guys does it take to make an Electric Motorcycle? Just one, with motivation and the help of a few of his friends. Sorry, no punch-line there, just a really cool project.
I got a message from Krzysztof "Chris" Kupiec about how he built an electric motorcycle after seeing a YouTube video of me giving a presentation on mine. Chris and his buddies are all big motorcycle fans and decided to build one themselves!
Motormania, one of the biggest media outlets in Poland about motorcycling, did an article on Chris and his project. If you can read Polish, you can go right to the original article HERE. If you, like me, are a little rusty on your assorted European languages, perhaps you want to try running it through Google Translate. The auto-translation isn't perfect, but does have some colorful wording, such as "The dark eyes of a dreamer, but luminous sparks of madness" and "The internal combustion engine is a horse immortal". With translation like that, who needs poetry?
If you want to learn more about how you can build your own electric motorcycle, why not check out some of our videos on YouTube? http://www.youtube.com/playlist?list=PLA309BE54E721B480