Yesterday, I had a chance to test-ride a Brammo Empulse. This commercially available electric motorcycle is high-performance, boasting up to 100-mile range per charge and over 100 MPH top speed.
This past Saturday was the National Plug-In Day, promoting all types of electric and plug-in hybrid vehicles. This cycle was in my area as part of these events. I happen to know the guy who was doing the organizing, and he offered to let me take the bike out for a spin. So, here's what I thought of it.
Just to start with, the cycle has some great styling. It's sort of an urban street-fighter look and distinct from any other brands or styles. This one was the "R" version, which has a few bits of carbon-fiber and other small touches that make it just a little different than the standard flavor. Also apparent was the clutch lever. While most electric motorcycles ride like an automatic, this bike has a 6-speed transmission. Also noted was an easy-access J1772 charge port on top of the "tank", and passenger pegs. It was nice to see that on this cycle, you can take a passenger. Previous electric motorcycles have always been for only a single rider. Often-times, homebuilders will replace their dual-spot saddle for a single-seater.
Starting up the cycle is pretty straight forward; straddle it, lift the kickstand, Turn the key to on, the kill switch to run, and press the engine start button. The analog tachometer animates as a distinct "ear-con" sound effect plays, letting you know that it's powered up.
Because the cycle features a 6-speed transmission, it's much more like riding a typical cycle. You do need to use the clutch and shift through the gears with the left foot as usual. However, an electric motor doesn't  idle, so there's no reason not to just put the transmission in 1st (or 2nd) and leave the clutch out. When you are ready to go, you just twist the throttle and take off like a rocket.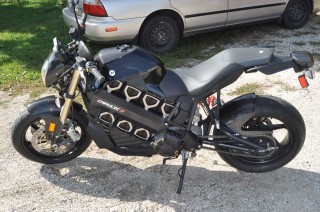 Most of my experience riding cycles IS on clutchless electrics. I think the last time I was riding something with a gas engine and a transmission was in my Motorcycle Safety class at the local technical college. So, I took it pretty easy at first to get used to the differences between an auto and a six-speed, and even how the manual transmission is just a tad different than when it's connected to an electric motor. It didn't take long to get the hang of, and then I started having some fun with it.
My first ride out was in speed zones varying from 25-45 mph, up and down small hills and curves around lakes. This was a good area to have some low-speed fun on some nice roads on a sunny fall day. While traffic was light, I had NO issues with trying to keep up with other vehicles, passing them, or anything else I needed to do with the bike.
The cycle has a very distinct sound of the electric motor. It is NOT dead quiet, but it sure  is a lot less noisy than ANY gas cycle. The mechanical transmission adds its own rhythmic percussion as well. Again, while not really all that noisy, is does have more tone than a direct chain drive bike like my Electric Kawasaki or Brammo's own Enertia. (If you want a dead quiet bike, check out the belt-driven ZEROs.)
After tooling around the lakes, I returned and then shot a video of my initial impressions of the motorcycle. Next, I took it back out onto some nice, straight, and nearly abandoned country highways.
In terms of performance, the Empulse has it. Since I now had the knack for manually shifting the electric motor, it was pretty easy to launch from a stop and get to a high speed REALLY fast. The cycle will easily do 80 MPH in 4th gear (and still have two more gears available!) I did NOT have any urge to try to test top speed, at least not without being on the salt flats, or a test track. (You will also notice that the cycle does NOT have a windshield.)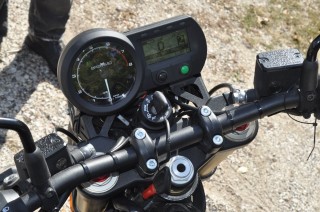 I found that it was pretty easy to go much faster than I thought I was. I had a small video camera mounted to the handlebars, which partially blocked my view of the speedometer. Anytime I would peer around the camera, my speed was always 15 – 20 MPH faster than it felt. I think part of this is the nice smooth suspension, and the other part is that and electric motorcycle simple doesn't SOUND like it's working so hard. I've spoken to some electric car drivers (and even Prius drivers) who say they tend to drive faster in their electric than their gas cars.
(Although I had a camera shooting forward during my high-speed testing, it ran out of recording space shortly after I started, so SORRY, no GoPro footage!)
One thing I didn't really get to try was high-speed curves. I was either on slow, curvy roads, or fast straight roads. I had limited available time and battery (started off with only 30% charge) so I didn't get quite as extensive as I would have liked.
Overall, I really liked the Brammo Empulse. It's a REAL, honest-to-goodness motorcycle, which just happens to have no exhaust pipes or engine.
In a Nut-shell:
9 KWh Lithium Battery Pack
6-speed transmission
40Kw Liquid-Cooled Permanent Magnet AC Motor
Built-in J1772 Level-2 Charging
Great Styling
Great Acceleration through wide range of speeds
Considerably quieter than any gas cycle.
In other ways of looking at this cycle, it really depends on what you are used to. Coming at this from a clutch-less electric motorcycle background, the clutch is one more thing to complicate it. However, if you are used to riding standard cycles, it's what you will expect and be very comfortable with it. The transmission does add a certain amount of sound and a solid "ka-lunk" as you shift. Again, that's one of those things that depends on your background.
In terms of any weird quirks, I only found a few. For whatever reason, I wasn't good at finding neutral on the transmission. It just didn't seem to be where I was looking for it. fortunately, with the electric motor, the clutch can be left out and you aren't going anywhere if you aren't twisting the throttle. I also had trouble starting the bike the second time I took it out. Turns out that I hit the "engine start" button, but hadn't held it in long enough to actually start. I'm sure both neutral and the engine start wouldn't be an issue for anyone who actually had a copy of the manual handy, or had at least ridden the cycle more than twice!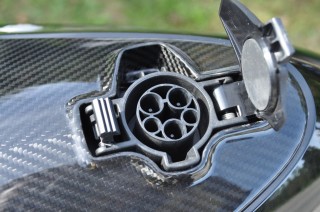 I did NOT get a chance to charge the cycle. Level 2 chargers are few and far between in my area. When I was given the chance to ride the cycle, it was only at 30% battery, and I was told I could ride as far as I wanted, but "when it's done, it's done." I did notice that high-speed riding runs down the battery CONSIDERABLY faster. According to Brammo's spec sheet, the cycle gets DOUBLE the range in the city as it does on the freeway. I ran the battery down to 10%, and a polite "Battery Low – Recharge Soon" began flashing on the display.
So, overall, lots of fun, good styling, suspension, acceleration – what's not to like?
If Brammo was looking to attract traditional gasoline motorcycle riders to electric riding, then I think they've done it right. The Empulse is pretty much anything a person could want in an electric motorcycle.
For more information on this cycle, please visit the manufacturer's web page, and if you can, definatly take one out for a test-ride!