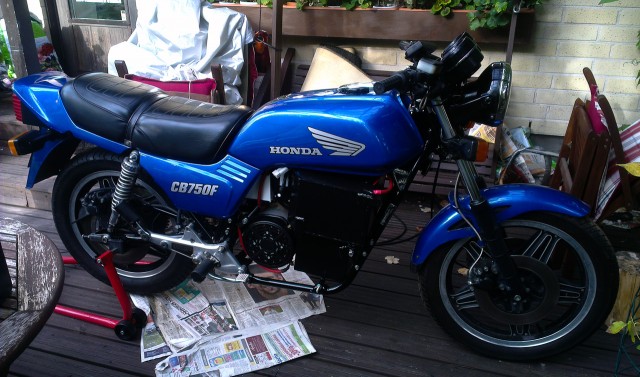 This morning, I got a YouTube comment from another electric motorcycle builder. In it, he said that my electric motorcycle instructional videos were his main inspiration for him to build one.
It always feels great to get those types of comments! To date, I know of at least a dozen cycles DIRECTLY attributed to my project. I even ran into one completely by chance at a swap meet this spring. That was odd to see a cycle that looked SO much like mine – only the paint job was different! The owner introduced himself. Of course he knew me – from all of my videos!
But back to the eHonda CB750…
Here's a video of the first test ride, up and down the builder's street.
He also has a really nicely done project blog, with good photography and step by step building information.
http://electricfinn.wordpress.com/
If you are interested in building your own electric motorcycle, get as much information as you can! Sure, I'd love it if you ordered my Motorcycle building DVD, but checking over the eHonda blog, the EV Album, heck, even your local library, there is plenty of good information that will help you with your project!
Remember this isn't rocket science. Anyone can build their own electric motorcycle, and this guy did a great job!
-Ben