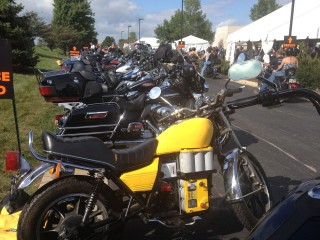 Since I live a bit west of Milwaukee, Wisconsin, it's hard not to notice an event like the Harley-Davidson 110th birthday bash. For the last week Milwaukee iron has been flooding into town from all over the country. Bearded and bandana'd bikers are here to have some fun.
I didn't really have any plans for visiting the Harley party, (as my motorcycle is a Kawasaki) that is, until I realized I couldn't get my favorite pizza.
Saturday mornings usually mean a trip to the farmer's market, and my favorite part of that is the wood-fired pizza. We have a local catering company that bakes pizzas in a mobile brick oven. They simply built an Italian Pizzaria style oven on a trailer, and bring to to farmers markets, corporate events, graduations, etc…. And they weren't at the market!
It's the only restaurant that I know locally that you have to track down on Facebook. I checked their status, and saw that they were at the local Harley-Davidson dealership – along with thousands of motorcycles.
Right now, I'm finishing off a solar charging system for my electric motorcycle. But with the batteries fully charged, I couldn't even try out my new charger. What I really needed was an excuse to drain my batteries. So, with a full battery pack and a hankering for pepperoni, I headed off to the Harley dealership.
It was a sunny afternoon, and an easy ride through the city to the dealership. Of course, I could hear it before I could see it. Acres of hogs is NOT a silent event. I quietly slipped into line right behind a group of baggers, and eventually into the parking area, where I backed into the first available spot.
Next to me, a guy and gal, both in black leather and sunglasses, noticed my bike and started asking a few questions. The cool thing about bikers is that they are all about "custom". I've found that the more unusual the cycle, the more people tend to like it. Everyone is always trying to make their cycle a little different than anyone else's. I explained how my cycle is mostly made from off-the-shelf parts from Milwaukee area companies (including the tractor repair aisle at Farm&Fleet.) I got an approving nod from the biker and his girlfriend.
When done chit-chatting, I realized that the girl holding the "Bikini Bike Wash Sign" that I passed on the way in was no longer there. Darn it, a real missed ph0to-opportunity. Oh well, I wandered off in search of pizza.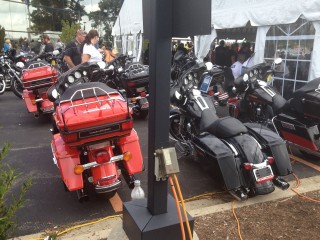 The dealership had a large outdoor and tented area of new cycles for sale. I perused through them, just checking out the price-ranges and options. I almost stopped dead in my tracks when I saw several motorcycles parked right next to an electric outlet with cords going to them. WHAT!? Electric Harleys!?!? WOW! Nope – too good to be true. My renewable energy mindset tricked my brain into an optical illusion. The power cords were all going into the tent  to run fans and the like, and the cycles just happened to be parked right in front of it. Will we ever see an electric Harley? Not likely for a commercial version, but I have a buddy who converted a sportster. I really hope he took his to an event this weekend.
Most of the event is about what you would expect – beer tents, bands, food vendors, t-shirts shops, and the usual suspects. I found the Flying Cow Pizza and grabbed a slice of hand-crafted Jalepeño/Pepperoni – slightly spicy, but with a hint of sweetness in the sauce and the natural smoke of the wood fire. As of yet, I have still not found a slice of pizza better at any restaurant than I can get from this wandering food stand.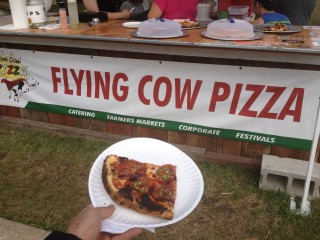 I did a walk around the whole event, and then decided to head back home. One the way out, I overhead snippets of other people's conversations. "…it's electric.", "Hey, look at that.", "…just batteries in that thing…"
Pretty cool  to  actually be able to HEAR things while riding a motorcycle. I also like listening to birds while out on a ride.
Once home, I went to plug the cycle into the solar charger, but unfortunately, it was late in the day, and the neighbor's trees were starting to shade my panel, so the most I could get out was about 50 watts of power. One downside of solar is it doesn't work at night. Oh well, I'm pretty sure the sun will rise tomorrow morning.
Keep Charged Up!
-Ben