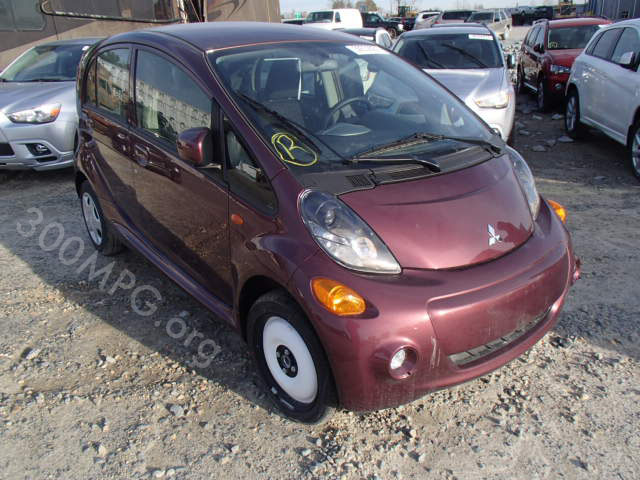 Oh my, what have I done now?Two days ago, I got a "hot-lead" on a Mitsubishi Miev Electric Car up on an on-line auction. There were a few odd little things about the auction that seemed to indicate that the car was actually BRAND-NEW off the dealer's lot!
The preliminary bidding was also extremely low, indicating that few people were interested in the vehicle. Not only that, but there were actually TWO 2012 Mitsubishi Mievs for sale!
So, I decided to bid on one.
Do I have money for one? Um, er, no, not really. I have a little money, but I can't go blowing it on electric car auctions! I have to do things like pay the mortgage and buy food. Hmm. Guess I'll have to start shopping at Aldi more.
Long story short, I was the winning bid, but the seller also set a really high "minimum" (Which was $30,000 – the full retail price of a brand new car!!!!) And on that auction site, the seller can simply not accept your "winning bid" or they can counter offer. As in "Hey Ben, how would you like to pay DOUBLE for the car what you just bid for it in the auction?" And I'm all "Hell NO, man!"
Ok – the only conversation that went like that was in my mind, but that's the way it felt. In reality, it was a computer generated e-mail that said "Would you like to accept the seller's new minimum offer?" And there wasn't any "Hell No!" checkbox to respond with, just a "Retain original bid" option.
This went back and forth like this at least SIX times over two days! Finally, today, I got the official word that I was the winning bidder, and at my actual winning bid price no less!
The car is in North Carolina, and I'm in Wisconsin, so I either need to talk to a trucker, or I possibly feel a road trip in my near future.
So, Ben, how DID you get such a good deal on a 2012 Miev? I'm glad you asked! Do the words PRIMARY DAMAGE: WATER/FLOOD mean anything to you?
That could mean anything from "This vehicle was at the bottom of a lake." to "It rained really hard, and we'd rather have the insurance company deal with it."
There was also a recent event you might recall – SuperStorm Sandy. There was literally a "flood" of flooded vehicles on the market after that. This vehicle is in NC, NOT New York or New Jersey, so it may have some water damage, but not what those poor vehicles in NY took.
SO 
 The vehicle appears to be in perfect cosmetic condition (other than missing the two front hub caps), but WHO KNOWS the condition of the motor controller, charger, computers, battery pack, etc, etc.
Please don't ask how much I'm paying for it. If it is possible to fix the car and get it to run, I paid WAY TOO LITTLE. If it's not worth anything but selling parts off of, I paid WAY TOO MUCH! 
I guess as long as (worst case scenario) I can strip it for parts to sell and make my money back on it, it's just one new adventure!
The title will allow for repair and legal use of the vehicle after an inspection (assuming it's repairable.)
The car is "Raspberry" color and has only ten miles on it, the keys are in it.
I still have to figure out payment, transporation, and my time-frame for removing the vehicle. Here's a pair of photos to tease you with.
Also, my wife hasn't killed me… yet. But I think she likes the color! 
PS: It is the base model in case you were wondering. Although there was little difference between the two trim levels. These cars are the Geo Metro of the EV world – they are not known for luxury. However, the listed value on the vehicle was slightly higher than a complete stock car, so it may have the upgraded radio, cold-weather package, or some such similar upgraded option.
I'm also NOT counting on the 120V AC adapter cord being included.
PS: Here's a link to a YouTube video somebody sent me that includes a Miev driving through water  deeper than the bottom of the car. It's at about 2:40 into the video. http://youtu.be/TvFjlF0nJMc?t=2m30s