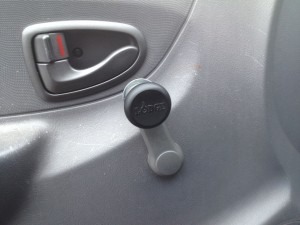 My youngest brother, Andrew, who is college age, is back from school for winter break. Seeing as how his college is about a five-hour drive away, he doesn't exactly make it home every weekend, especially since he doesn't have his own car. And since he's a college student, every dime goes to books and classes (although I'm sure he finds some money for pizza somewhere!)
While he was back, he decided it was time for a car, and borrowed the money from our parents for a 1.5L manual transmission Hyundai Accent hatchback. Looked like he got a square deal on it, and other than a dent in the rear door, and a rusty latch, it wasn't in too bad condition. Of the other small odd things wrong with it, it was missing the knobs from the manual window cranks. (Hard to roll down the windows without those!)
He asked for my help with the dent, as I had successfully pulled a big one from my wife's Pontiac Sunfire before with a large industrial suction cup I have. I headed over to meet Andrew and lend a hand. His friend Derrick was there too. (Remember him? He was the clerk at the gas station when I ran out of fuel a few weeks ago.) I grabbed the suction cup and we successfully pulled the large dent out. Not perfect, but a whole lot better than it was!
The three of us went out for a ride, so that I could check out the brakes, transmission, and suspension, and give my stock lecture on fuel-economy, winter driving, and driving a manual. We filled the tires with air to max. sidewall pressure, and I bought Andrew a basic tire pressure gauge at the kwiky-mart. Since we weren't too far from my house, we stopped in, as I had a gift for him – a magnetic hide-a-key and a cooking pot lid knob.
A pot lid knob? What's that for? Well, I'm a big believer that everything in this universe has a place, and it's not always what we think it may be.
A couple years ago, I bought an enamelled cast iron dutch oven. It's great, and was much more affordable than a particular French brand, but I wasn't very happy with the knob on the lid. It was only a black plastic knob. Not really the sort of thing I wanted on top of my favorite new cooking pot, especially how I was planning on using it at rather high temperatures (particulary for a certain Bread-baking technique.)
So, when I ordered the pot, I also ordered a nice replacement metal knob for it. The stock knob was removed, and replaced with the upgraded metal knob, but I sure didn't want to throw out a perfectly good, brand-new black plastic knob. So, I set it off to the side, knowing that some day, it too would find its proper place in the universe. When I found out that Andrew's new car was missing the knob for the window, it all fell into place. I knew the knob would have a new home. I grabbed a fender washer and 10/32 screw from my garage, and pushed them through the back of the window crank, and threaded on the pot lid knob, along with a little thread-lock adhesive. The knob is the perfect size. It's just right to get finger and thumb around and crank the window.
Perhaps a knob is just a knob, but sometimes it's a little more. You never know when something might be just right, take on some new life, and find its proper place in the universe.