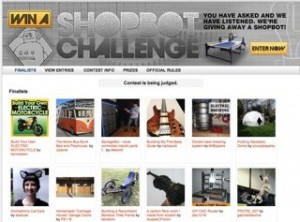 I was pleasantly surprised today.
I browsed my way over to Instructables.com, only to see that the BUILD YOUR OWN ELECTRIC MOTORCYCLE is a finalist in the SHOPBOT contest!
Even if I don't win the grand prize, since there's 20 finalists, and ten second-place prizes, it means I have at least a 50/50 shot at winning a laser-engraved Leatherman! If I won the big prize, that would be fantastic, but I have tough competition! I was sort of rooting for the VW Bunkbed. And it's going to be tough to beat out the DIY CNC Router! I'm also very impressed with the giant T-Rex and the "Cyclops" nixie-tube clock. Heck, there's a lot of great projects in this contest, and I have a feeling many of them are going to be my competition to beat in the MAKE IT REAL contest as well!
I guess we're all winners just for getting nominated!
But I'm pretty sure my motorcycle is still faster than the VW bus bunkbed!