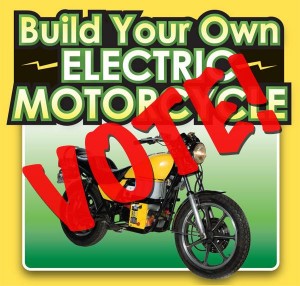 Hi everyone! It's spring election day in my little part of the world right now, maybe yours too!
Can't say I've ever been too thrilled by politicians. My vote didn't even count in the last several elections!
So how can your vote matter? Throw it behind projects that you believe in! For a while now, I've been working on energy efficient transportation, renewable energy systems, and all the DIY that I can throw at the web and put out to YouTube!
Web pages occasionally have contests for building projects. In fact, one of my favorite pages has not one, but TWO pretty big contests going on right now! The grand prize in both contests are expensive computer controlled tools. Things I would never be able to afford for myself. I entered my BUILD YOUR OWN ELECTRIC MOTORCYCLE in those contests.
If you are a fan of clean transportation, DIY can-do, and believe that everyone has a dream to make things better, please VOTE for my project in BOTH these contests! If we can win either of these contests, the tools will go to the local hackerspace, where they will be shared with a large group of creative individuals, thus fostering the creation of more bigger/better future projects!
To VOTE, please follow BOTH of these links, find the yellow and green BUIlD YOUR OWN ELECTRIC MOTORCYCLE logo, and click "Vote" under it!
VOTE in the MAKE IT REAL CHALLENGE
VOTE in the SHOPBOT CHALLENGE
Thank you SO MUCH for your support! In this case, your vote really does count! (Except for you, "Hanging" Chad….)