Yesterday, I hit the road to Chicago! It's a bit of a trip, as it's roughly two and a half hours travel – when NOT in heavy traffic. Throw in our typical summer road construction, and it's a bit of a drive.
I took the NON-tollway route that takes me right past miles of car dealerships in a row. Range Rover, Corvette, BWM, Saab, Mercedes, Porche, you name it. Just about every make of car you can think of. Seems like Chicago is the L.A. of the Midwest when it comes to cars, highways, and traffic.
Yet not a single one of those dealerships had an electric car. And that's exactly why I was headed to Chicago, to attend Nissan's DRIVE ELECTRIC TOUR and get a first-hand look at the Leaf, and take it for a drive.
The event was held on the Museum Campus, nestled among Soldier Field, The Shedd Aqurium, The Field Museum, and Adler Planetarium. You couldn't ask for better weather or location for an outdoor event. In fact, Chicago has a green roof on City Hall, and the Prius seemed to be the preferred model for taxis. I even saw a veggie-powered truck at the museum, and there's EV Charging Stations in the parking structure at Soldier Field.
Nissan's setup was an elaborate outdoor exhibit, part museum display, part rock'n'roll show stage (they DID have exterior LED lighting!) and part road course.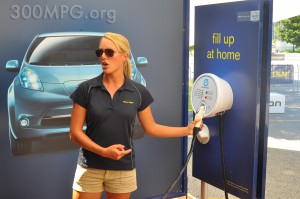 After signing in, small groups were taken through a virtual tour, showcasing the battery pack mounted on a wall, a charging station, and pointing out some of the specs of the display car.
Next was the actual test drive. Over a dozen cars were lined up in a multi-lane parking area, showcasing the various colors available. I got to hop in a car with "Chuck" who was friendly and no-nonsense. I asked permission to bring my video cameras with and the fine folks at Nissan were all for it. Once the tripod camera was in the back seat and the other on the dashboard, I slid in behind the wheel.
The first thing I noticed was there was no ignition. "Aha!" I leaned my lesson from when I took the Chevy Volt out for a test drive – there's no need to put a key in an ignition – simply have the key on you when you hop in the car, and press the power button.
With the windows rolled up, and the car on, the air-conditioning kicked on – pouring cool air into the car, but WITHOUT a gas engine to run it! In a quick rundown, Chuck pointed out the instrumentation, and then we took off.
As with all electric cars, acceleration is smooth and the car is QUIET! The interior of the car is clean and modern. The seats are very comfy. I did notice the last driver had the driver's seat headrest cranked up. I'm 6 feet tall and had enough head room. I wonder how tall the last driver was though!
The Leaf has a compact steering wheel and features speed-dependent electric power steering. That means it's really easy to turn the wheel, and how much power steering you get depends if you are making slow, tight turns in a parking lot, or just making a lane change on the interstate.
The actual test drive itself was on roads in front of Soldier Field and the park, up to the Planetarium and back. No trip on the tollway here, but enough to get a fair feel for the car. When told to make a u-turn, the car has a tight enough turning radius for me to be able to tip over the video camera I had on a tripod in the back seat. (I did the EXACT same thing in my VOLT test-drive, although the Leaf can make tighter turns.)
Avoiding in-line skaters and the Segway tour, we made our way back around to the original parking lot, where I was encouraged to ask any technical questions of the product specialists. As Chuck so plainly stated, he wasn't an expert in the technology, but was basically there to keep me from stealing the car!
I stuck around the test drive area for some while, getting still photos of the car and asking a few more questions – what trim level are available? (Two. One of them with a small solar panel.) Where's the spare tire? (There isn't one, but I'll show you where the Fix-A-Flat and compressor is stored.) Does it support DC Fast Charging? (The SL model does!) How do you charge a dozen electric cars in the middle of a parking lot? (They bring a very large generator on a truck!)
I shot a little more video with one of the Nissan Product Specialist, and then headed back to where I was parked. On the way, I stopped to shoot some video at the two EV charging stations at Soldier Field.
I don't get to Chicago very often, so I have been telling myself that the next time I go there, I would stop at the Chicago TESLA dealership. When planning my trip, I saw that Tesla was almost exactly right ON my route home!
About 20 minutes later, I found the dealership, and circled to find some parking. Fortunately, a side street was closed to parking, due to street sweeping until not long before I got there. Free parking! It felt like the deal of the day after paying $16 for up to four hours at Soldier Field.
Inside Tesla, it was quiet. Just a small place, the interior was simple, a few desks, a bar-height table with large-screen Mac computer parked at the Tesla Web page, some nice photos of Roadsters animating on a plasma screen on the wall. And in the corner, a $156,000 Tesla Roadster Sport in bright red with black carbon-fiber accents and cream leather interior.
Nobody was in the office area, but I could see through the glass wall that there were several men in the shop. The world's CLEANEST auto shop. No oil or grime in there at all, just a carbon-fiber beauty up on the lift.
One of the Tesla sales people came out to greet me. Super friendly guy. Di-yo? Is that how you spell his name? Anyways, I explained how I was an electric car enthusist/DIY builder/blogger and just wanted to come check the place out.
We had a great conversation for a while. A prospective buyer came in while I was there. He said somebody at his health club had a Roadster, so he had to come check it out. Seems like word-of-mouth may be Tesla's best advertising.
While stopping at Tesla meant I would now be leaving Chicago at 4:30 PM on a Friday afternoon, it was worth it. I got a photo of me in the car, and left with a Tesla coffee cup. (I did eye up the remote controlled toy Tesla car….)
Looks like the city of Chicago has been doing some great work in trying to become a more eco-friendly place. It's an exciting time to be in when electric cars are now just on the forefront of becoming mainstream again (as the were 100 years ago!)
If you get a chance, take a Leaf for a test drive, stop by a Tesla dealership, or find your local chapter of the Electric Auto Association and build your own electric car.