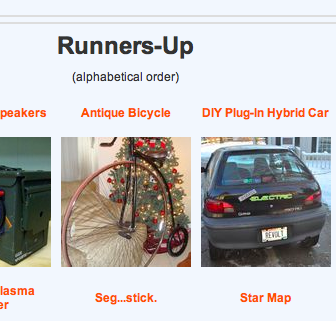 While the recent big excitement was winning in the Instructables/Craftsman contest, there was another contest I entered as well, also through Instructables. This contest was sponsored by a laser-cutter company. The Grand Prize being a laser cutter worth about $7000.
Well, the final judgement has just been announced…… and I'm a runner up! Looks like I'll be getting a t-shirt and a $50 gift certificate for a mail-order laser cutting service.
What can I do with that? Carve the Open ReVolt Logo into the controller case? Make keychains promoting clean transportation? Who knows!
Here's a link to the winners in the contest: http://www.instructables.com/contest/epilog/
You should watch the video of the grand prize winner. It's not transportation related, but it is entertaining!
Here's a link to the company the gift certificate is for. http://www.ponoko.com/
Do you have a good idea for the best use of my prize? If so leave a comment below!