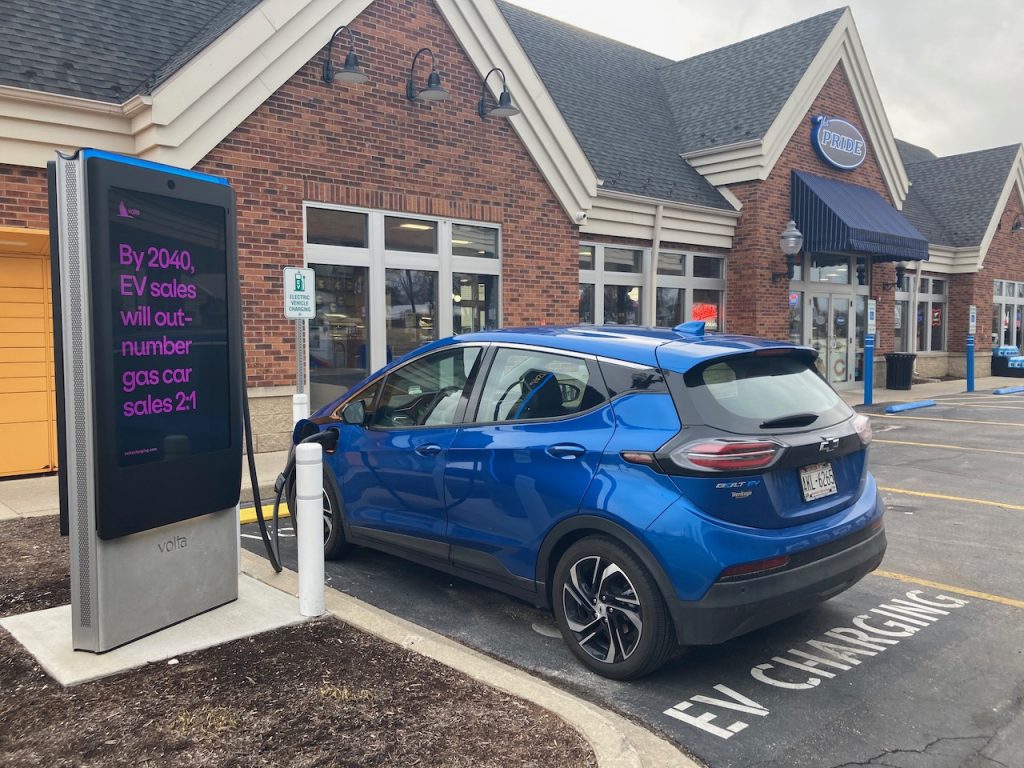 The other day, I had something that is unfortunately not as common as it should be: a pleasant charging experience.
First, let's back up a moment and say that the VAST MAJORITY of all electric car charging is done at home. Plug the car in, walk away, DONE! It's about as much work as plugging in a cell phone to charge.
What I am talking about here is charging out in public, at a remote location, because one has to in order to be able to return home.

Our 2023 Chevy Bolt EV has an official EPA rating of 259 miles per charge. Of course, that's less in the winter for a number of reasons. How a person drives (lead-foot) and many other factors can (and DO) also shorten range.
In this case, I live in south-eastern Wisconsin, and needed to work in the greater Chicago, IL area for the day. Checking with Google maps told me it would be about 135 miles, each way (270 miles+ total.) Even on the best day, my car was simply NOT designed to go that far on a single charge.
So, I would need to be able to recharge while I was there.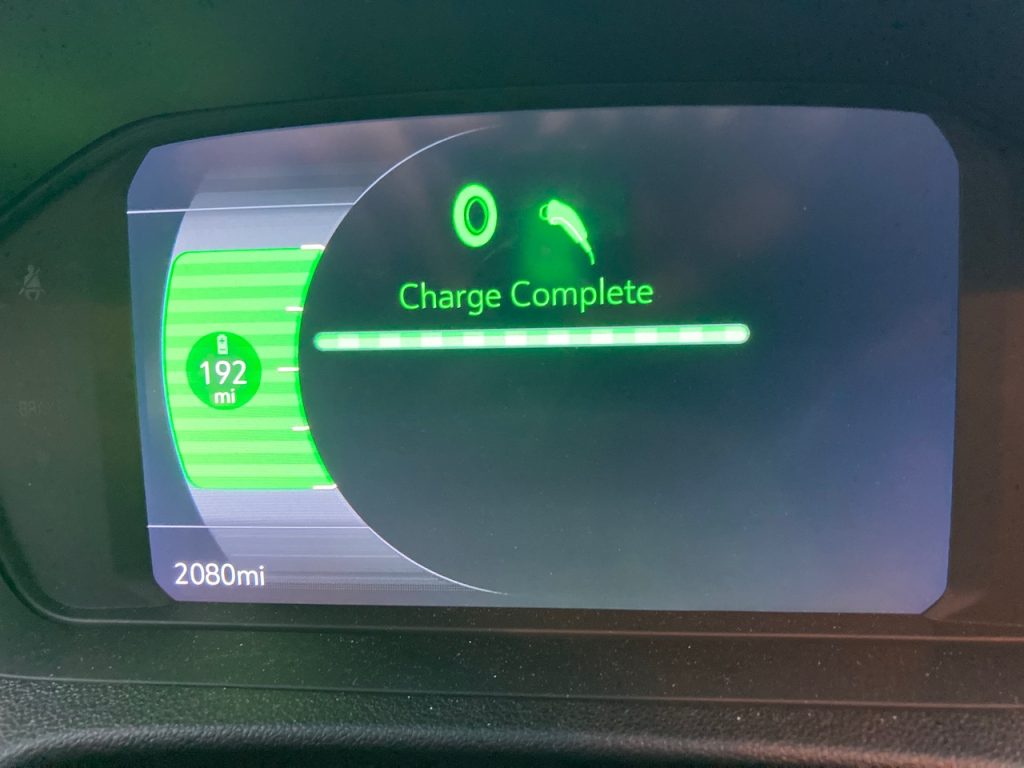 HOTEL CHARGING?
I was already going to head down the night before (AFTER working an evening shift!) and had a hotel room. Although many hotels now DO offer electric car charging, that one I was staying at DID NOT! The client was paying for the hotel room and it was already booked, so I didn't have any say in going to a different hotel.

No problem! I had thought ahead and knew that at the corporate location I would be working at also had employee EV charging, and quite a few spaces too! I also checked PLUGSHARE and saw that there were a few DC Fast Chargers in the area I would be working. If needed, I could always hit one of those. I preemptively downloaded an app for the Volta chargers in the area.
WORK CHARGING?
The next morning, I drove to where I would be working for the day. Sure enough, there were LOTS of charging stations in the parking lot. Probably 2/3rds of them were already in use, but there were still several available for me. Unforunately, those Chargepoint stations wouldn't show up in the app, so I couldn't use my phone to activate one. No problem, I pulled out my worn-out old Chargepoint RFID card and held it to the machine… only to get a "CARD INVALID" error.
My understanding is that for companies who install Chargepoint stations for their employees, there's a system where the employer can give out codes to the employees who then add them in to their account. Only then do the stations recognize that person's card and allow them to charge.
It sure would be nice if guests and visitors could charge too! Maybe just have ONE station set up for guests to use!

Oh well, I had to get to work. I still had essentially half a battery, so no worries about having to charge all day. I'd take care of it when I was done.
The job went well, and since it was also an early start, we were done before 4 PM.
Getting ready to leave, I almost hopped in the wrong car! There was a blue Chevy Bolt parked just a few spaces closer than where I parked, with my car's position obscured.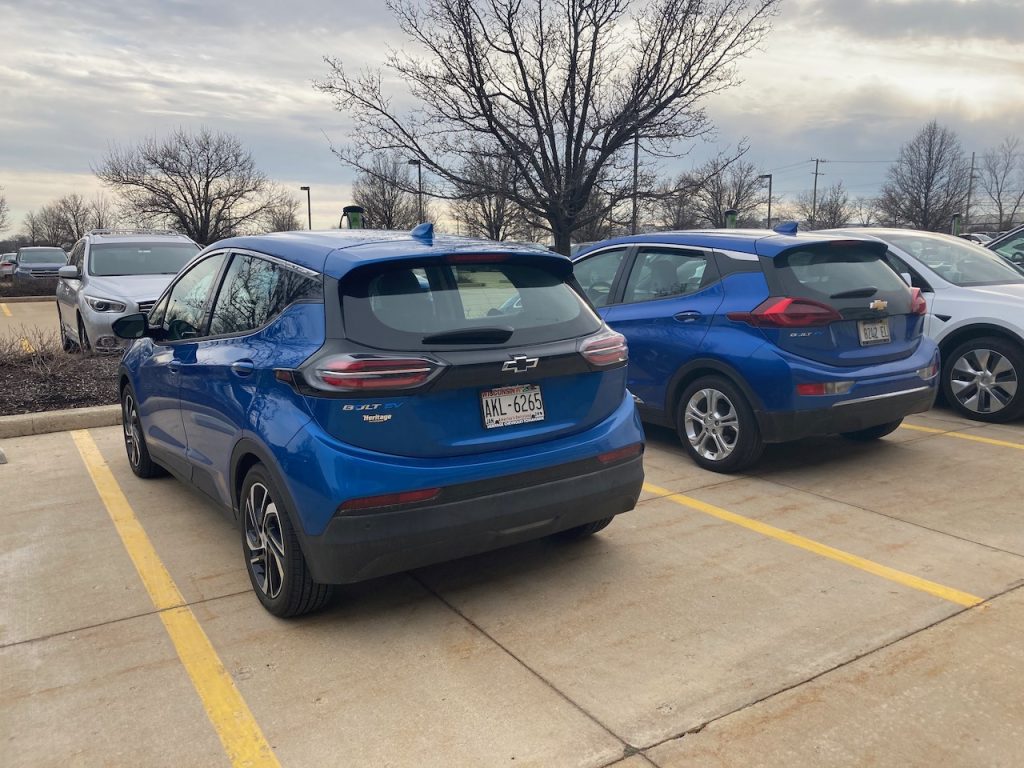 I had to pull my car over to take a look at the minor differences between the two.
The different rims were immediately noticeable. After that, I saw that some of the trim was a little different, and the other car had the older "curly-cue" tail-lights. Other differences included the backup lights and looking into the interior, the inside color and gear selector.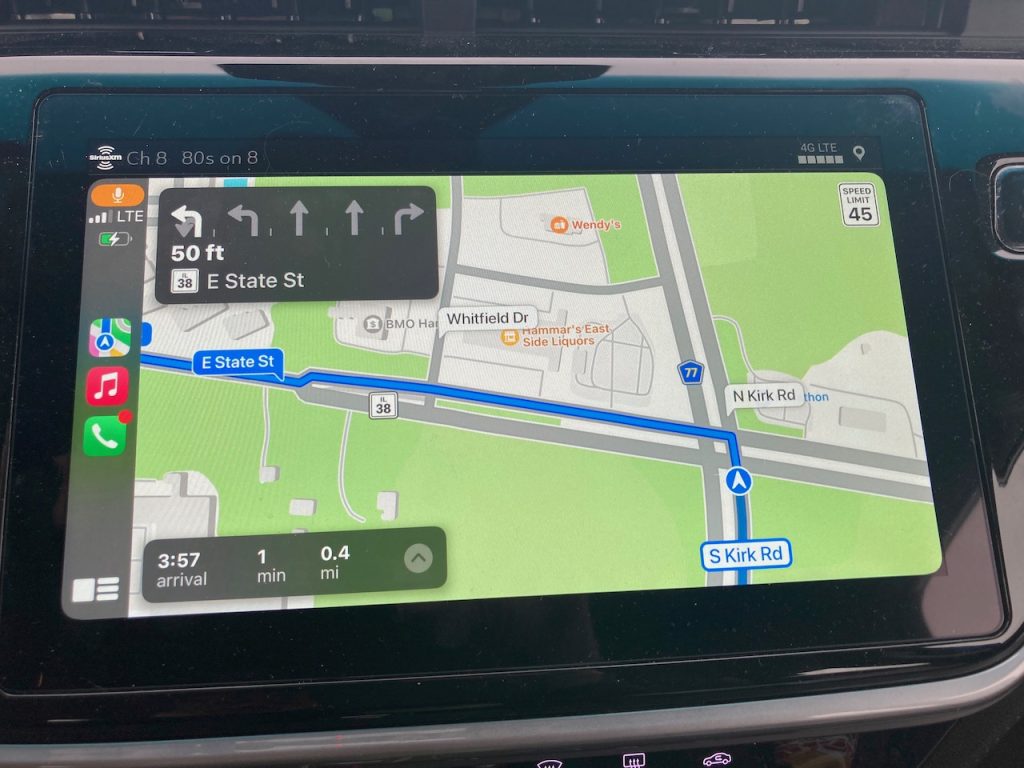 DC FAST CHARGING!
After geeking out over "twinning", I followed the map in my Apple Car Play up the road to the nearest CCS DC Fast Charger. This was located at an Amoco gas station owned by the "Pride" chain.
The charging station was immediately obvious by its convenient location near the building and the LARGE video display. This was a Volta station – a brand I hadn't used before.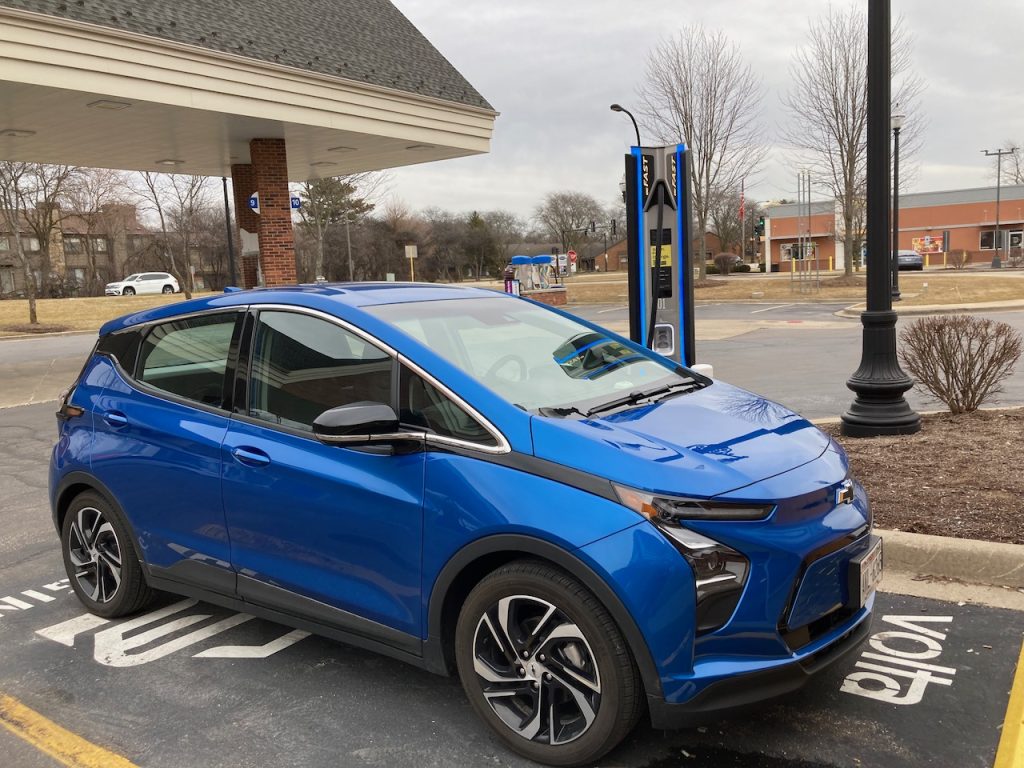 The controls were pretty obvious. Some simple directions told the user to download an app. A giant QR code made that hard to miss as well. I did NOT see any RFID card reader on it, nor did I see any 1-800 phone number to call if needed. The good news is that it didn't need it.
I just opened the app, clicked on the icon where I was on the map, and was pretty much ready to go. Since it was the first time I used this, I DID need to enter credit card info in the app. But with that, I just plugged in the car and started charging.
One thing that was extra nice was the app told me the first ten minutes of charging were free at this location. Perfect for a gas station! After that, the cost was $0.33 per kilowatt-hour. (It's important to note to difference in paying for an amount of ENERGY versus an amount of TIME at a station! Some charge per minute! If your car charges more slowly, you essentially pay 2 or 3 times MORE than another car that charges faster!)
Since the car was now charging, I took the time to head inside. I used the restroom and was pleasantly surprised that the gas station had a rather nice seating area! There were power outlets around which included USB ports on them. Perfect location to spend a little time while waiting for a charge!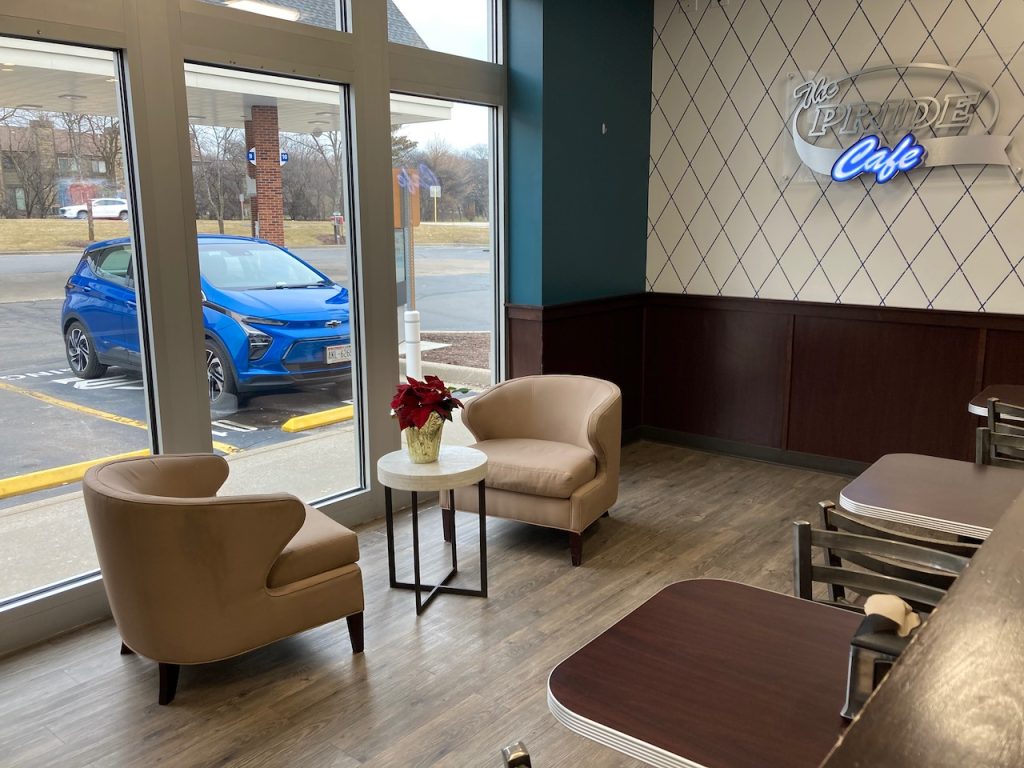 The gas station didn't have much for hot food, but since I still had a two and a half hour car ride ahead of me, I bought a cold sandwich and ate it in the cafe area. I would have grabbed a coffee as well, but I already had a canned energy drink in the car which I had brought with me.
Outside, there was also a number of picnic tables, which I would have tried if the weather was a bit nicer. Behind the gas station were many other businesses close by, including a pizzaria. Too bad it was after lunch hours, which is when they do pizza by the slice!
On the other end of the parking area was another Volta station – this one for J1772 L2 charging.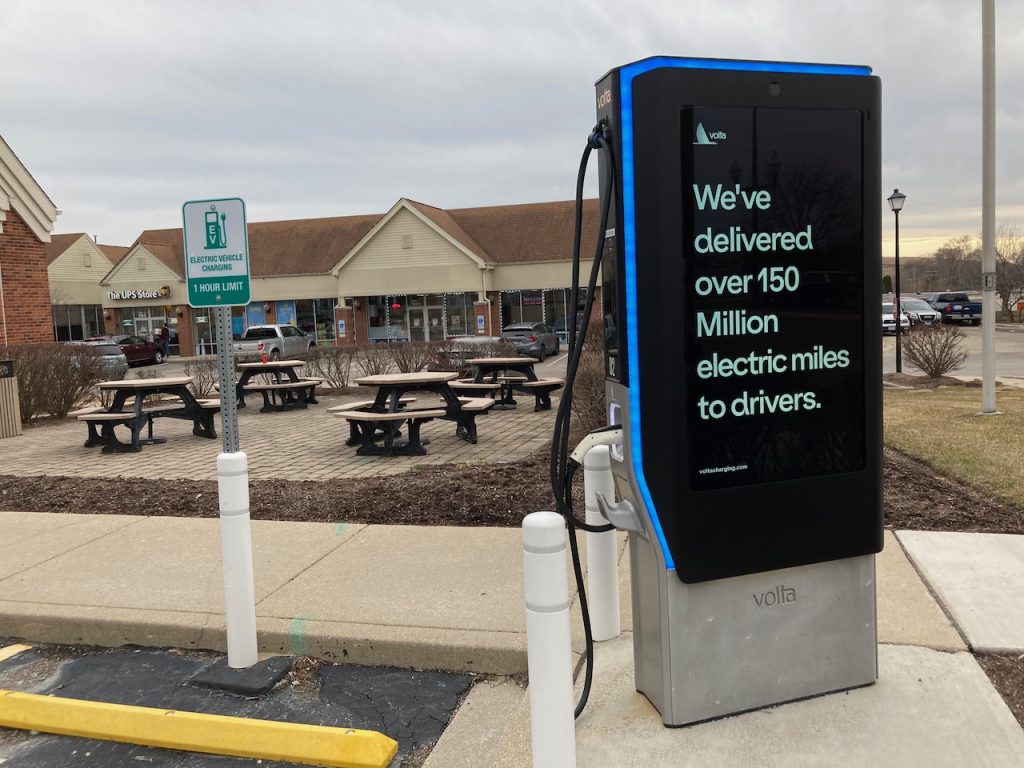 In total, I spent about half an hour at the gas station, which was really more than I needed. I wanted to make sure I had plenty of extra juice to get home… just in case – change in weather, detours, etc.
The "Advanced" setting of the display in the Bolt shows three numbers on the "Guess-O-Meter". Maximum range, estimated average range, and minimum range. I made sure the MIN number was at least what I needed to get back home.
After that, I pointed the car north and started driving.
I had already chosen my route partly because it was actually fewer miles, but also because it avoided tolls. The road ran through a number of towns, so the speed limit varied, but was 35-55 MPH for most of the drive. The weather was also on the warmer side for this time of year, so I had the heat completely off for part of the trip.
I also found that the ONE PEDAL DRIVING feature worked really well, since I was going through lots of traffic. This mode greatly increases regenerative braking. While that's not always the most efficient way to drive, it works wonders in stop and start traffic!
I think that lower speeds, turning off the heat, and ONE PEDAL DRIVING all helped improve the efficiency of the return trip.
When I had finally made it home, the average range remaining was 65 miles. What's really interesting about that is it's approximately how much energy I put in at the fast charge station! In theory, I could have NOT recharged AT ALL and just barely made it home! But why would I want to do that, when there were charging options available to me. Having never made this trip before, I had NO IDEA exactly how much energy would be needed!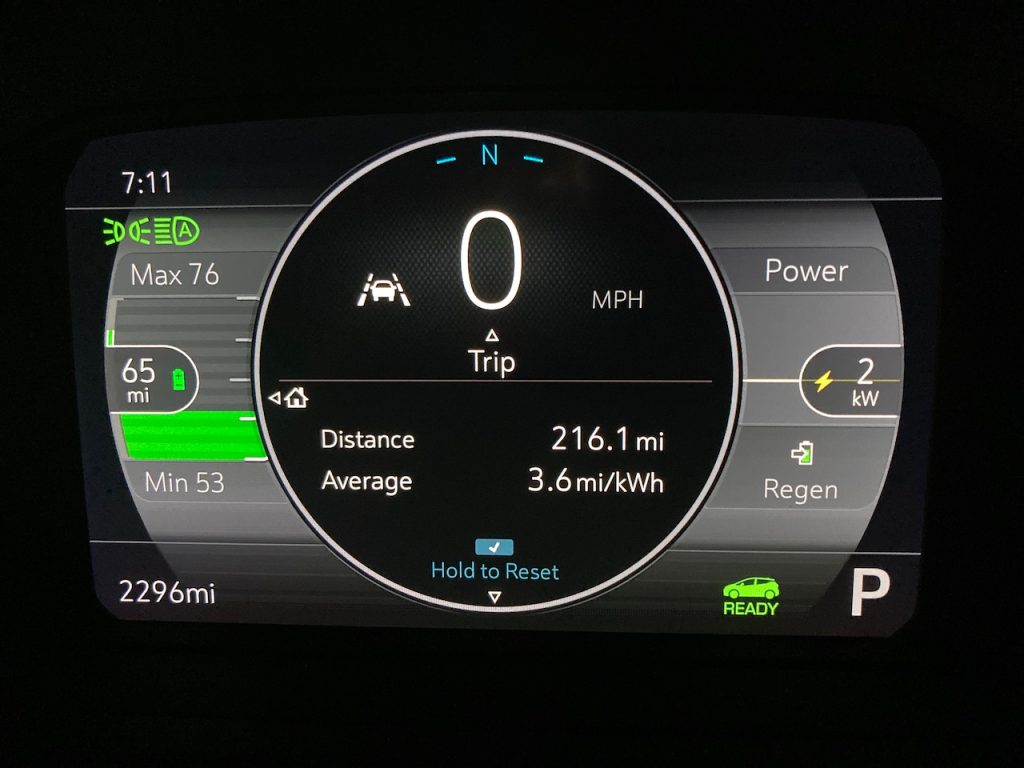 Total cost at the Volta DC Fast Charger was $3.16. The sandwich cost more than that.

OK. So when it comes down to it, what did I actually like about this charging experience?

EASY TO CHARGE
I just opened the app and then plugged in. I did have to add credit card info, but only because it was my first time ever using this brand/account.

GOOD FACILITIES
Right on a main road on my way. The gas station was right there. It had clean bathrooms. There was a nice seating area. Electric outlets and USB. Plenty of food and drink. Other shops and restaurants in easy walking distance.

FAIR PRICE
I only paid $3.16. The billing was also for ENERGY instead of for TIME.
I've seen other stations where a person has to pay a $10 fee simply to get started and then pay a fee per minute after that.

NEGATIVES?
Really, the only thing I could think of is if there was MORE than one DC Fast Charge space. Tesla Superchargers are famous for having 6, 8, or 10 stalls in a single location. On the other hand, there were other DC Fast chargers around. If this one was occupied, I could have found another.
I guess what it comes down to is that it felt nice to have a charging experience that was a little more like how they ought to be. The charging station should be simple and just plain work. There should be facilities available for restrooms, food and drink, and it doesn't hurt to have a nice seating area as well.

I'm looking forward to seeing more fast charging in more places for convenient and affordable charging when needed.

Until next time, stay charged up!
-Ben Nelson