Wow, what a week it's been! The real highlight was stumbling on the thrift store score of the century…

Let me start off saying that it was an unusual set of circumstances.

The job I was going to be working on earlier this week was cancelled last minute. That job was more than an hour drive away in a direction I'm not usually traveling. However, I decided to head that way anyhow to do a few miles on a hiking trail there, part of the Ice Age Trail.

I've been working on that both for general exercise and continuing long term recovery from a vehicular collision in 2018, as well as a challenge the Ice Age Trail Foundation has going on right now.

I brought my electric bike with so that I'd be able to hike one direction, and then bicycle back to my car.

After my hike, I thought I'd stop by the Habitat for Humanity ReStore. That's a thrift store with a focus on home materials. You can often find doors, flooring, tools, light fixtures and similar.

What I wasn't expecting to find was an entire Generac PWRCell Solar Inverter and Battery system!

I turned right after walking into the store and the very first thing I saw was solar components sitting on the floor in the corner by the manager's office. His door was open and he was on the phone. I took a quick look at the components and noticed there was no price or other information.
Once the manager was off the phone, I asked him about the solar equipment. He said it was recently donated and the previous owner said the one inverter worked while the other didn't, and the batteries were two and a half years old. The store was asking $1,000 for everything.
Of course, the other issue with this is there would be no warranty, it wasn't a "turn-key" system, and a person would actually need to know what they were doing.

Fortunately, I had done some sub-contracting work with a solar company and helped install the first two of these systems in the state, back when it was Pika, who Generac bought the system from.

My rule of thumb with thrift stores is that if you see something you like, BUY IT, because it won't be there when you come back! I also didn't have any room in the car, as my electric bicycle was taking up all the cargo space!

I asked the manager if they ever get in any bike racks. He said they did occassionally, and pointed me to where in the store they might have one. Sure enough! There was one for sale, a Yakima 4-bike rack that mounts into a 2″ hitch receiver! That's pretty much EXACTLY what I would have been looking for anyways!

I paid for the bike rack and solar equipment. Then I took the rack outside, removed the bike, and made space for the solar gear.
After that, a store employee and I loaded all the solar equipment into the car. It took up ALL the cargo space, including having the back seats removed and the passenger seat slid forward. I hooked up the bike rack and mounted the bike to it.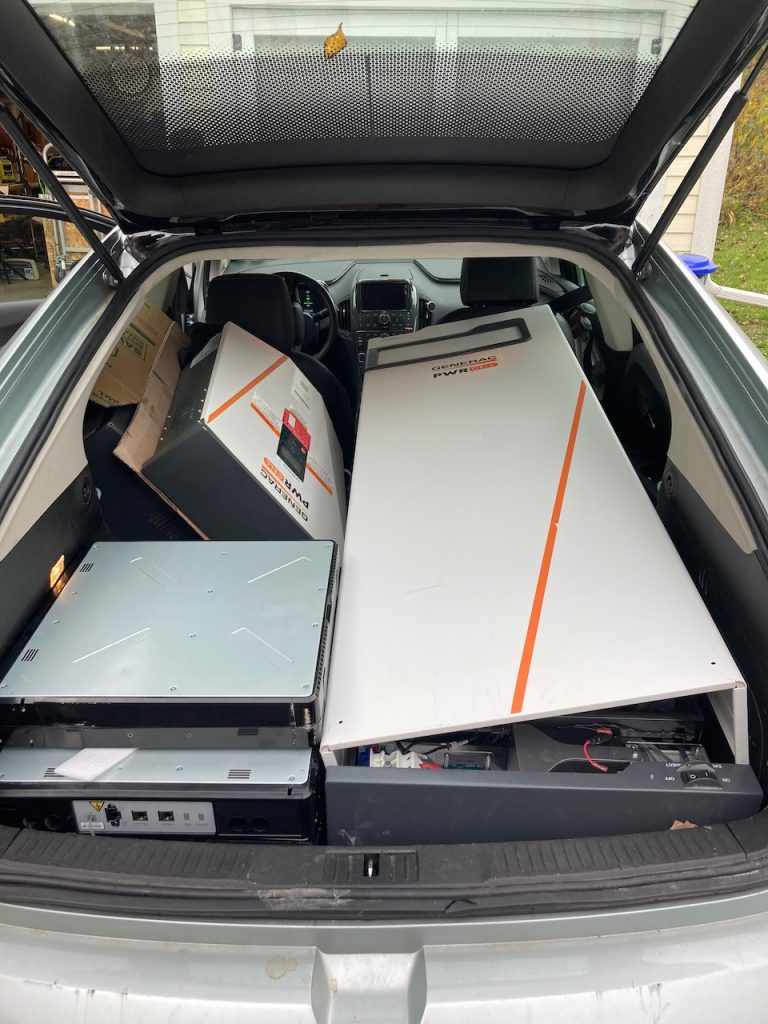 Once home, I unloaded everything, but any testing work would have to wait. I was going to be very busy with work the next day and had to take care of things for that.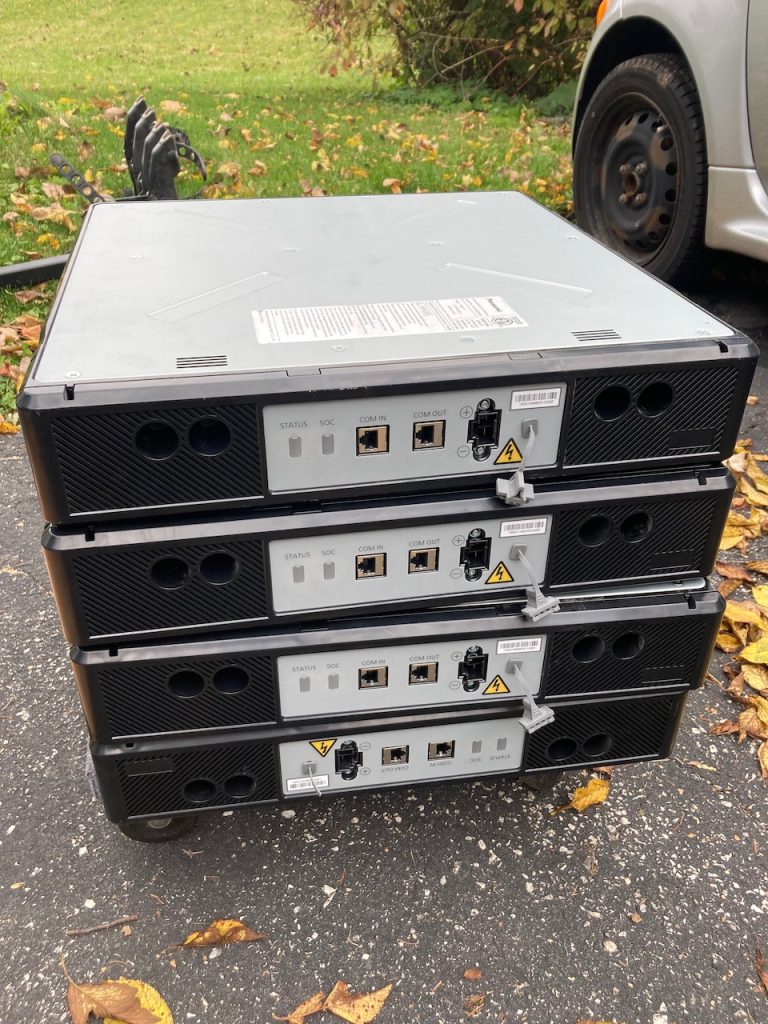 Another day later, I had a chance to take a look at the gear. I wanted to set it up for testing. Unfortunately, doing it right really means a full-install, which is a lot of work, and NOT what I wanted just to test. So, I simply had the inverter laid out on what space I had – the floor or the hood of my (electric) lawn tractor!

I installed some temporary pig-tails of NEMA 14-50 for an input and a 30A twist-lock output. Running power to either inverter, both had the display and backlight turn on.

I started going through the menu and check out the programming.

I also built the battery. The battery is a large vertical rack with wiring, a black-start 12V battery, communications, and some other parts. Four to six battery sections mount inside that and then a cover goes over everything. I leaned the case up against the wall and starting building the whole thing. The battery sections are heavy, and there's a number of clamps and grounding connections that need to be installed.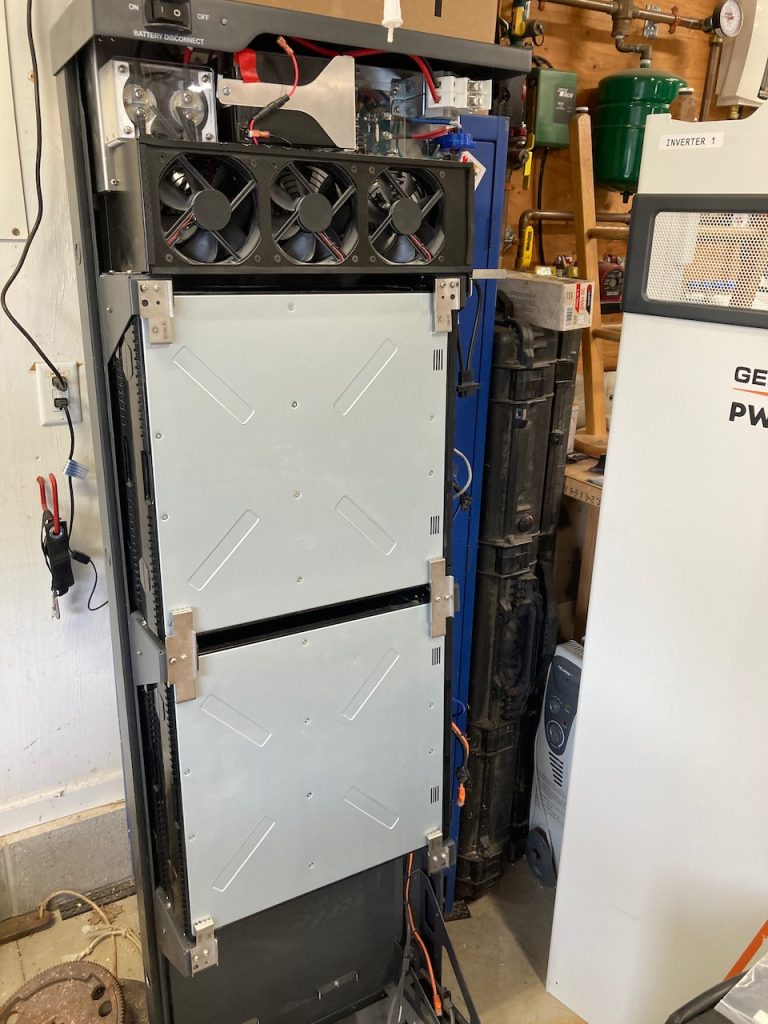 Then I ran wiring from the battery to inverter. This system runs everything on a DC BUS at about 360VDC, so I made sure to use wiring rated with 600V insulation. The upside is that at high voltage, it's pretty low current, so some 12 gauge wiring would be fine for testing.

It took a bit of troubleshooting to activate the inverter and connect the battery. But when I did, IT WORKED!
I was able to try several modes and got the inverter to run from the battery in a simulated blackout situation – which was just me turning off the breaker powering the inverter.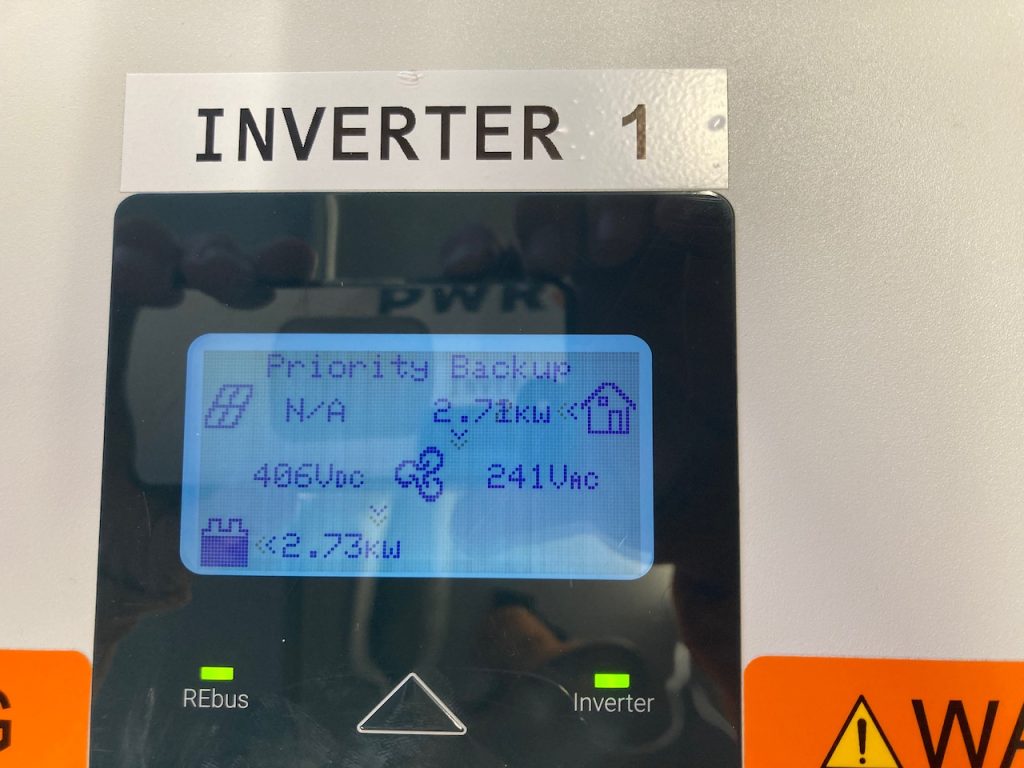 Even better than that was AC COUPLING!
The inverter is "Grid-Forming", meaning that it makes a nice stable 60 hz 120/240VAC, every bit as good (or in some cases, better than) as what comes in from the grid. This allows my Enphase micro-inverters to power on. Normally, grid-tie inverters automatically power OFF when disconnected from the grid as a safety feature. The down-side of that is the solar panels are USELESS during a blackout! No power from them at all!

I was now able to get the solar panels to turn on, and directly use the AC power output from my micro-inverters.
But what if I made more power than I'm using and the extra wouldn't be able to go out to the grid? To my surprise and delight, the extra automatically went through the Generac inverter and IN TO the BATTERY! I was able to get 4,000 watts of power charging it! (The full amount I was producing on a not completely sunny day.)
My solar panels are rated at 5,400 watts on the AC side of things. The battery is 10kWh capacity. So, in the middle of a sunny day, I could charge the battery from 0-100% in about 2 hours! (See the video in the link!)
https://www.youtube.com/shorts/MKsmuTTA3Zk
I'll need to do some further testing and after I'm done, do a proper equipment installation, but I sure am excited about this!

For $1,000 I got the equivalent of a $12K-15K system which not only adds battery backup power but ALSO means my solar panels are useful in a blackout. What a great upgrade!

It also means I'd like to add more solar panels. I already have the solar trailer in the back yard. Using this system to add in those panels to use them for grid-tie to reduce my electric bill further would be fantastic! That would likely also mean some trenching and purchasing the DC Optimizer for the Generac system.

Until next time, stay charged up!
I sure will!
-Ben